Yamay is one of the most trusted and reliable smartwatch brands that gives you high-quality smartwatches at a very cheap price. If you want to know something special about Yamay Smartwatch then you are in the right place. In this guide, I can read a complete Yamay Smartwatch review that is really helpful for you.
If you are looking for some special wearable that comes with all the necessary features but it has a low price tag then your Yamay smartwatch is best for you. This smart wearable gives you all the important features that are found in every fitness watch and help you achieve your fitness goals.
Moreover, there are also some special features in this smartwatch which I tell you in this guide. Especially there are 9 sports modes, includes different indoor and outdoor activities. I am sure after reading this guide you will be able to decide if the Yamay smartwatch is good for you or not?
[lwptoc numeration="decimal" numerationSuffix="dot" toggle="0″]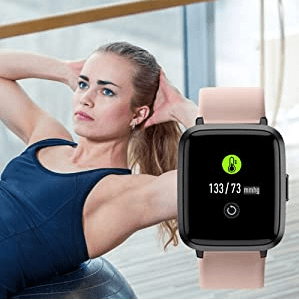 What is Best in Yamay SmartWatch
It comes with multiple features that give you a lot more help to track you all day's different fitness activities. You can easily track your heart rate, blood pressure, blood oxygen level, calories counter, step counter, and other such things.
Thanks for its long-life battery that helps you to track your fitness goals for a long period of time. There are also 9 different sports modes includes Walking, running, hiking, cycling, treadmill, fitness, spinning, Yoga, and mountaineering.
I am sure you can't find such features' smartwatch at a cheap price. Also' the Yamay smartwatch comes with IP68 waterproof standard you can also wear it during swimming. There are also a lot of amazing features which I will discuss in this article.
What I don't Like in this SmartWatch
You know along with pros there are always some defects and deficiencies. This smartwatch has a low-quality design. Sometimes this Yamay smartwatch gives you inaccurate results especially when you measure blood pressure and blood oxygen level.
There is also no NFC feature in this smartwatch. Also, sometimes its mobile app doesn't sync with the watch on an accurate and continuous basis.
Pros:
Best Budget SmartWatch
WaterProof
Includes a lot of features
9 Sports Modes
Long Battery life
Easy to use and setup
Universal Compatibility
Comfortable and Soft Band
Bands are interchangeable
Cons:
No premium Quality
Sometimes give you inaccurate results
NO NFC feature
Price and Availability
There are a lot of other smartwatches available in the market but their prices are so high. If you want to buy some cheap and best budget smartwatches then the Yamay watch is the best option. This smartwatch is available across the globe.
Features- Yamay Smartwatch Review
You should see some of the important features before buying any smart wearable. Yamay smartwatch gives you all the necessary features that help you to measure your daily fitness activities. Let's see all of its features and functions.
Design:
This smartwatch comes with a square-shaped dial which is very common and looks quite elegant. A highly durable material is used named TPE which basically a mixture of both plastic and rubber. Overall, the Yamay smartwatch is very comfortable and has a very soft band.
In addition, the display (3-inch) of this wearable is bright and has a high resolution. You can also adjust the brightness level per your need. There is a total of three different colors available you can choose any of them according to your choice.
Main Tracking Features:
Like all other smartwatches, the Yamay smartwatch also has several important features. Like it measures your heart rate, blood pressure, blood oxygen level, step count, distance measure, and sleep tracker. But one thing I love about this wearable is its calories tracking feature which really helps you to balance your diet and achieve fitness goals.
9 Sports Mode:
No other cheap smartwatch comes with 9 important supports mode. This smartwatch is also a perfect choice for Sportman because it gives you 9 sports modes. These modes include; Walking, running, hiking, cycling, treadmill, mountaineering, spinning, yoga, and treadmill.
There is also some other Yama's variant available which gives you a couple of extra sports mode but You can also buy that one. But according to you my recommendation you should buy this Yamay's variant.
IP68 WaterProof Standard
This smartwatch comes with IP68 waterproof technology means your wearable is totally waterproof. You can also wear this smartwatch during swimming, bathing, etc. In addition, this smartwatch is also scratch, and dustproof.
Connectiivty
Yamay smartwatch has universal compatibility you can connect it with your android phone as well with your iOS phone. But you should have android version 4.4 or above and the iOS version should be 8.0 or above. There is also an app that you can install on your smartphone in order to see the insights of your daily activities.
Notifications
During your exercise, you can remain updated with Yamay's smart notification system. You can read different messages directly on your smartwatch includes SMS, calls, social media notifications. This one is a really helpful feature that enables you to never miss anything important. In some situations, you can't access your smartphone at that time this watch will helps you to remain updated.
Long Battery Life
No other smartwatch with such a cheap price tag gives you long battery life. But Yamay smartwatch gives you 10 days of long battery life. Such a long battery helps you to measures your daily fitness goals for long period. In addition, there is the magnetic charging method which allows you to charge your smartwatch anywhere anytime. You just need to put your watch on charge for 2 hours and then use it for a maximum of 10 days.
Dial Customization
Now you don't have just one static theme on your smartwatch's dial. You can change or customize your dial as per your choice. And this is the best feature that I really like. You can choose either digital dial, analog-style, or any custom dial. This feature is very rare in the cheap smartwatch. But all the Yamay smartwatches allows you to customize your dial.
Weather Forcast feature
Another amazing and special feature of this smartwatch is the weather update. When you connect your smartwatch with your mobile phone, a weather icon will appear on the screen by tapping on that icon you can see the current weather situation. You can also make settings in weather measuring parameters e.g; you can change Fahrenhight into Celsius.
Alarms
In most cases, you can't access your mobile phone or your phone's battery is deas. In such a situation smartwatches play an important role to give you the necessary features like Alarms. You can set alarms on this smartwatch and also change the tunes of your alarms.
Yamay SmartWatch App
No smartwatch will be perfect if it doesn't have an app. Yamay watch comes with an app that you can install on your android phone as well on the iPhone. After installing the app just connect your smartwatch with the app and boob!!! now you lot more to explore.
You can see detail and insights of your daily fitness activities on your smartwatch that helps you to give motivation. And a daily basis you can improve your exercises or workout. It really helps you to achieve your fitness goals.
Interchangeable Band
You can also change your bands. There are a lot of colorful bands available and it's quite simple and easy to change bands. Firstly you need to remove the silver pins and then gently pull off the band. Now again one-up each of the pins next to the corresponding hole located at the base. Now place the new strap against the case in order to line up the pin before releasing the lever. Once you release the lever pins will automatically fix in place
GPS
This smartwatch also allows you to measure distance during your different exercises. You need to connect your Yamay wearable with your smartphone GPS and it will automatically show you how much distance you cover. I tested it and it gives you highly accurate results that help you to set your daily fitness goals.
Real-Time Result
Not all other smartwatches with such cheap prices give you real-time data. Yamay smartwatch is perfect for measuring real-time heart rate and blood pressure. In addition, you can also measure your heart rate and blood oxygen level in the app. This one is also an amazing and helpful feature.
Camera and Music Control
Connect your smartwatch with your smartphone in order to control your smartphone camera. Now with just a single tab on your watch, you can capture amazing photos on your smartphone. This means this smartwatch acts as a remote control for your smartphone camera.
On the other hand, you can also control the volume and position of music via this smartwatch. For doing this you need to connect your Yamay smartwatch with your smartphone.
Should You buy such a Cheaper watch?
You know there are a lot of other expensive watches available but not everyone can afford such smartwatches. So everyone from us looking for the best budget-friendly smartwatch that gives a lot of things at a cheap price. And also it's quite difficult to search for the best wearable under $50 because not all are equal. Some watches don't give you important fitness features.
But I think the Yamay smartwatch has all those features which help you achieve balance in your daily routine. This is your best companion and will never underperform and disappoints you.
This smartwatch is made on large capacity and low power consumption design which is very rare in smartwatches. And to be honest you can't find such a smartwatch in such cheap price tags.
Is it best for Females?
To remain fit and healthy women also need to do different exercises. And this smartwatch is the best trainer for your daily routine exercises. Especially this watch supports female health trackers. It can track menstrual cycles and helps female to prepare for their next ovulation. Not all fitness trackers have this special feature.
I saw that women prefer jogging in the morning or in the evening because it allows them to remain healthy and fit. During your morning or evening walk, this Yamah fitness watch is your best companion which measures your steps, distance, and calories burned. So don't forget to warn this smartwatch during your jogging.
Another best feature for females in this wearable is Yoga mode. This feature helps them to accurately perform Yoga and gives you a complete insight into your daily Yoga. Similarly, Females also love cycling and again Yamay smartwatch helps them to measure distance during cycling and measure other important factors.
Conclusion
This Yamah smartwatch is the best thing for beginners that gives you all the required features and functions. At a cheap price, you can make the best fitness companion that helps you to achieve your fitness goals. From the above Yamay Smartwatch review, I hope you are now able to decide that either this smartwatch is perfect for you.
If you have a fixed budget and you should go with this smartwatch, this one is the best smartwatch under $50. Although. there are also few other models of this watch available in the market. But I prefer you to Buy the Yamay smartwatch 2020 version.
You can but it from my affiliate link in this way I can also make some pocket money for me and my home. Thank you so much for reading this article.
Can I control audio apps like Pandora, TuneIn, Spotify, etc
Yamay Smartwatch can control Pandora and TuneIn, but this wearable can't control Spotify. But you can connect to the technical staff, technical staff will continue to improve this product, making it better and better.
What is the price of Yamah Smartwatch?
This is a cheap and budget-friendly smartwatch you can get this wearable in just $45
Is this watch is compatible with iPhone
Yes, this watch has universal compatibility.
How long does the battery last under a single charge
It depends on the usage of the smartwatch, what features you are using, and how long you sports mode. But its average battery time is 7 days under a single charge
Can I buy an extra charger?
Yes, If you need an extra charger you can easily buy it from amazon
Can I play music on this smartwatch?
No, you can't play music on it. But you can control your smartphone's music volume and songs selections. For doing this you first need to connect your smartwatch with your smartphone.
Does it only work if you use the app?
No, the Yamah smartwatch can also measure various activities without connecting to the app. But for the first time using a watch, you require to connect it with your smartphone.
What is the name of Yamay Smartwatch App?
Veryfitpro, you can download this app from Google Play store in case of android phone, and from iPhone install this from Apple store.
What is the Screen Size?
The size of dial is 1.65×1.42inches(4.2×3.6cm). The eighth picture in the product Picture can see the screen size and strap size.
What is the return policy on this?
Amazon has a 30-day no-questions-asked return policy. And this smartwatch offers a 12-month warranty
How to change the time and date on Yamay smartwatch?
You do not need to set a time and date on your smartwatch. It will automatically sync with your phone after you connect via "veryfitpro" app.
Is this smartwatch is WaterProof?
Yes, Yamah smartwatch comes with an Ip68 waterproof standard, you can also wear it during swimming and bathing, etc.
Does it support magnetic charging?
Yes, this smartwatch supports magnetic charging technology. You need to put this watch on charge only for 2 hours and its battery will fully be charged
Can I interchange bands?
Yes, you can interchange bands and choose your favorite band, There are lot of other colorful bands available depending upon the outfit, sports, and modes.s
How can I sync outlook ios email and calendar alerts?
Firstly, make sure that your smartwatch is connected to your phone. Now from your phone go to Settings>Notifications>VeryFitPro>Allow Notifications;
2. Now Turn on SMS Notification in the'VeryFitPro' app: Just Open App>Device>SNS Alert>Allow notification>Switch on SMS>Click'√' icon to save–>setting done.
3.Please make sure that message' notification is also open in your phone's setting: Setting>Notifications>'Messages'>Allow Notifications;
Note: Turn on the calendar reminder in the app Make sure Lock Screen/Notification Center/banners are open.
Run'VeryFitPro' app in the phone background and make sure the device is paired with your phone successfully.