Xiaomi has recently launched its new flagship with the name "Mi band 6". The band looks similar to its predecessor and packed with some new and exciting features.
Do you know that Amazfit Band 5 and Xiaomi Mi Band 5, both fitness trackers are owned by the same company? Interestingly, Huawei owns Amazfit, and it also has a partnership with Xiaomi.
I know you guys are curious to know which one is the best fitness tracker.
| Features | Mi Band 6 | Amazfit Band 5 |
| --- | --- | --- |
| Display | 1.56" AMOLED | 1.1" AMOLED |
| Weight | 12.8 g | 12 g |
| GPS | No | No |
| Alexa Voice Assistant | No | Yes |
| PAI Health Assessment System | No | Yes |
| Sports Modes | 30 | 11 |
Read More:
Xiaomi Mi Band 6 vs Amazfit Band 5: Battery Life and Price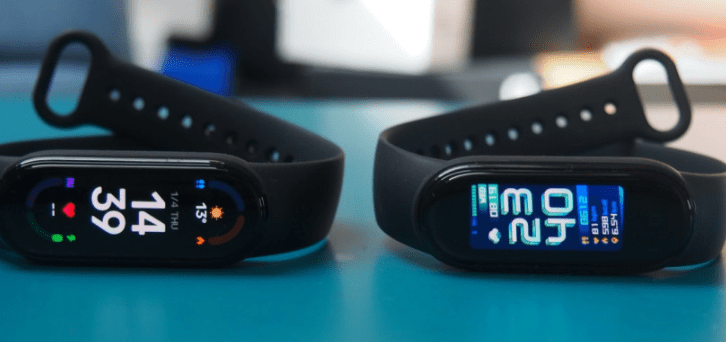 First of all, let's talk about battery life. You probably think both trackers offer the same battery life. Well, the battery life depends on the features they offer and the screen resolution.
But interestingly, both Mi Band 6 and Amazfit Band 5 come with a 125mAh battery.
Xiaomi claims that Mi Band 6 can last up to 14 days on a single charge while Amazfit Band 5 lasts for 15 days and 25 in power-saving mode. There is no such power-saving mode present in the Mi Band 6.
Similarly, if you see the screen size, the Mi Band is a bit large compared to Amazfit. That's why there is one day difference between their battery life.
Price:
Thanks to Xiaomi and Amazfit that offer the best budget fitness trackers. As I already told you, there is not much difference between the price tags. Mi band 6 offers three different variants with separate price tags.
Xiaomi Mi Band 6 (Global, no NFC): $53

Xiaomi Mi Band 6(Chinese, NFC): $42

Xiaomi Mi Band 6 (Chinese, no NFC): $35
While Amazfit Band 5 has no variant and it costs $39. There is a slight difference between prices. But the Global version is pretty costly as compared to the non-NFC variety.
Note: There are some affiliate links, if you buy any tracker from my link it will help me to earn some small money to feed my family.
Best Offers Hurry up!!!
Xiaomi Mi Band 6
Imitating 3D tempered glass

SpO2 check

5 ATM water resistant

Multi Sports modes

12 months warranty
As we mention, both fitness trackers are manufactured by the same giant, so there is not much difference between their designs. Both trackers offer AMOLED screens with high resolution that looks sexy.
What is the difference?
Mi Band 6 has a slightly larger dial, and it comes with a 1.56″ AMOLED display while Amazfit Band 5 has 1.1″. Similarly, the screen resolution also differs. In Mi, you will get 152 x 486 resolution, and in Amazfit Band, there is 126 x 294 screen resolution.
You will clearly see the screen of both fitness trackers under direct sunlight. At the side, there is a capacitive button in both fitness trackers.
They're both built with 5 ATM water resistance, making them both suitable for swimming and showering. The way of charging and charging cables are the same in both.
The Amazfit Band 5 is available in three different colors; orange, olive, and midnight. And Mi Band 6 has three different variants, Global, China (non-NFC), Chine (NFC).
Amazfit Band vs Mi Band 6: Health Tracking Features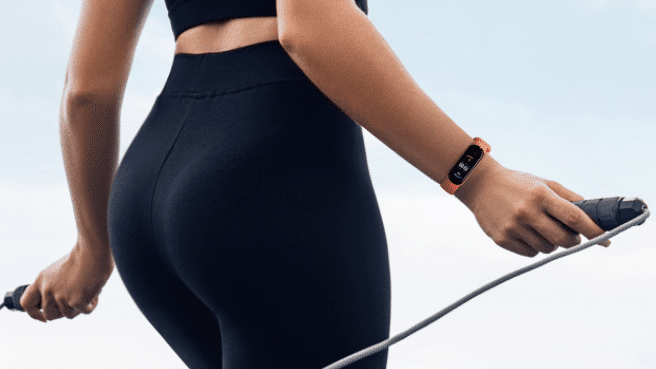 Amazfit Band 5:
You will get a lot of exciting health-tracking features that help you to achieve your fitness goals. It includes six-axis motion sensors that track different activities and show valuable metrics.
Under the hood, there is a Blood Oxygen saturation monitor, 24/7 heart rate, sleep tracker, Women's health tracking, PAI Health Assessment System, Calories & steps counter.
The unique feature is PAI Health Assessment that gives you a score based on your all-day performance. The accuracy and efficiency are pretty good in Amazfit Band 5. Similarly, its smart sleep tracker analyzes light sleep, REM, Awake, Naps and shows more deep insights that allow you to improve your sleep.
Xiaomi Mi Band 6: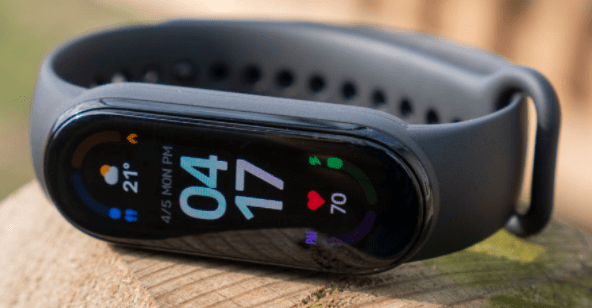 This time Xiaomi adds a few exciting features; in comparison with its predecessor, you will get a SpO2 sensor. The band monitors 24/7 heart rate, calories, steps, sleep. Besides this, you will get 30 fitness modes and also PAI (Personal Activity Intelligence).
There are no such extra features like SpO2, PAI, and sports modes in previous Mi band models. This is an additional achievement of Xiaomi Mi band five, which is appreciable.
Difference:
The only difference between these two trackers is sports modes. Mi band 6 comes with 30 sports modes, while Amazfit has 11 modes. Plus, Xiaomi also put six auto activity tracking modes that are very useful.
Mi Band 6 Vs Galaxy Fit2: Check out
Amazfit Band 5 vs Mi Band 6: Other Features
This time Mi Band 6 is packed with a lot of exciting features. A significant change in this band is Proximity and Barometer sensors, which is not present in its predecessors. Unfortunately, Amazfit Band 5 doesn't offer a Proximity and Barometer sensors.
Similarly, Mi Band 6 lacks Alexa Voice Assitance. We expected that Xiaomi would add a Voice Assistant to its Flagship, but I don't know why the brand didn't add this.
With an Alexa assistant on your wrist, you can ask a question, check the weather, get translations, set alarms, timers, create shopping lists, and control your smart home devices.
Besides this, both smart trackers can view notifications, calendar, control music, and remotely control your phone camera. Many watch faces are available in both the fitness trackers, and you can also customize these by adding more widgets.
Amazfit Band 5 has 45 different watch faces available for download and two built-in custom watch faces. You can use some other photos or your own picture as the watch face. Mi Band 6 wins over watch faces, as it offers over 100 beautiful dial faces. Among them, ten are customizable, and the rest are themed with the cutest anime characters.
Final Words (Mi band 6 vs Amazfit band 5)
You saw most of the features are the same in both fitness trackers. It's up to you which band attracts you and your wrist. From a budget point of view, there is not much of a big difference.
If you buy the NFC version of Mi band six, it's just $2-$3 expensive. The downside in Mi Band 6 is you will not get Alexa Voice Assistant. All the other health-tracking features are again the same; both tracks offer SpO2 and PAI Health Assessment System.
At last, I hope you guys will enjoy this article and know you can decide which fitness tracker is best for you.
The Smartwatch that I'm Using
Hi! I am Saad Dastagir, an enthusiast of smartwatches and fitness trackers. This blog is created to bring my personal experience with smartwatches in front of you. Our team tests different types of smartwatches and fitness gadgets constantly and shares hands-on experiences with you.