Unquestionably, the watch clasp is an essential component of any timepiece. It is a component that connects the two bands of the timer on your wrist.
The primary function of any watch clasp is to secure a timepiece to your wrist while also assisting you in properly sizing it. If you don't have a clasp on your watch, it'll drop off!
Watch clasps come in a wide variety of designs to suit various wristwatch styles. The buckle and the deployment clasp are two of the most common options. Many different watch clasps can be found within these two categories, making for an extensive list.
In this article, we'll look at various types of watch clasps so you can make an informed decision about which one is right for your timepiece.
So, without further ado, let's look at the different types of watch clasps.
Related Posts:
Types of Watch Clasps
When it comes to watch clasps, deployment clasps and buckles are the two most common options. Deployment clasps are more common on metal watches, while pin buckles are more common on leather and rubber watches. There are also other types of watch clasps that fall into these two categories.
The following is a list of the most common watch clasps:
Deployant clasp

Push-Button Deployant Clasp

Fold-Over Push Button Deployant Clasp

Double-Locking Fold-Over Clasp

Butterfly Clasp

Jewellery Clasp

Sliding Buckle

Tang Buckle

Diver Clasp

Safety Strap Clasp

Toggles Clasp

Flip Clasp

Velcro Strap
1- Deployant clasp
The deployant clasp is also recognized as a deployment clasp or a deployant buckle. It was created in the early 1900s by Louis Cartier. Only metal watches have this clasp type, which is the most common. They are compatible with various straps, including steel and titanium, leather and rubber, and synthetic materials.
This type of clasp can be opened into three sections, allowing you to slip your wrist into the band. When compared to other kinds of pins, deployments are easier to use.
In addition to being very secure, deployant clasps are a great option. With the lock, the watch stays on your wrist, which isn't always the case with buckle-closed wristwatches.
Furthermore, they include push-button locks with spring-loaded buttons that the wearer can push to unlock the lock. In some cases, deployants are equipped with a fold-over security tab that prevents them from being accidentally opened while being worn.
However, watches that use this clasp will need to be resized by a professional because the process often necessitates removing pieces of the metal band.
2- Push-Button Deployant Clasp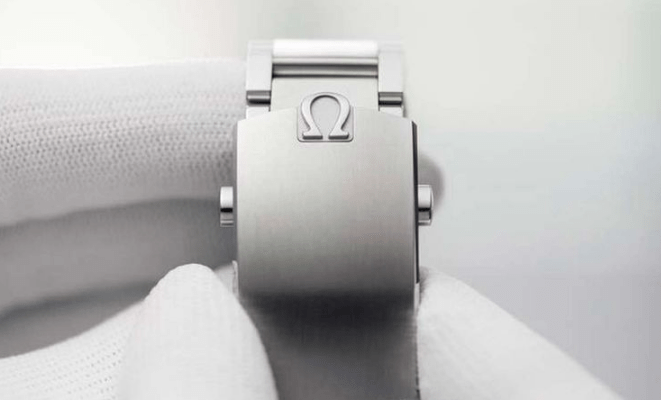 Push-button deployant clasps are similar to regular clasps in many ways, but there are a few notable differences. They're simple to use, easy to open, and more secure than regular clasps.
Compared to regular deployant clasps, push-button clasps are visibly easier to use. This deployant clasp has push buttons that make it much easier to open. When you want to remove your watch, you have to pinch both clips simultaneously, one on each side of the clasp.
Since the buttons prevent the clasps from opening independently, they are more secure than regular deployant clasps.
Because of this, push-button deployant clasps are designed to be a lot more discrete than standard clasps. It is easier to hide the clips on these watches because the rest of the watch covers them.
3- Fold-Over Push Button Deployant Clasp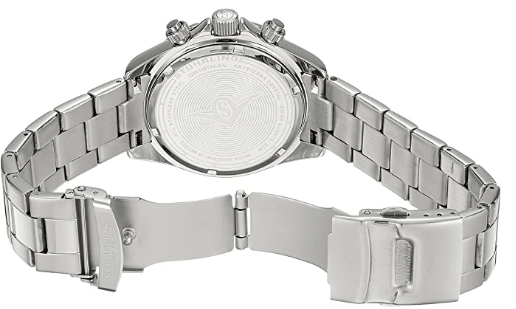 To ensure that your watch doesn't fall off your wrist, take a closer look at this. As the name implies, this watch clasp is a traditional deployant and push-button design hybrid. Furthermore, they are often found on more expensive Rolex and other diving watches.
They are hinge-based and can have a double locking mechanism and a push-button release.
A snap latch connects to the main watch clasp and push buttons for quick adjustments. These clasps are commonly found on high-end luxury watches and diving watches, and they are nearly impossible to remove without considerable effort.
As a drawback, these clasps are more noticeable than a standard deployant clasp when worn. Some may find it a bit clunky, but others are ready to sacrifice their watch's discretion to keep it safe.
4- Double-Locking Fold-Over Clasp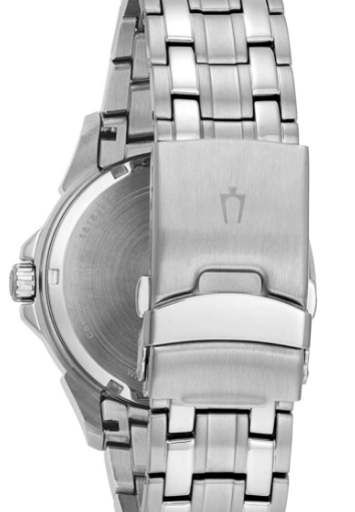 Double-locking fold-over clasps are commonly used in sports watches, and they are made of stainless steel. This clasp has an additional flip lock safety tab for added security when folded over.
This clasp is ideal for sports watches because they are more likely to fall off the wearer's wrist due to their more significant movement. This type of clasp comes with an additional safety tab that prevents any damage caused by the carelessness.
5- Butterfly Clasp
The butterfly clasp is ideal for those who prefer their clasps to be less noticeable. It is also known as a hidden deployant clasp. This clasp is safe and provides a flawless appearance, and it's commonly found on dress watches.
There are two metal hinges on each side of a butterfly clasp, which fold together and outward like wings. To make sure that a butterfly clasp stays on your arm, press both buttons together and tuck the wings back together to lock them in place.
Pins are used for attaching butterfly clasps to watch straps. A button is used to open some of the butterfly clasps. Furthermore, it's the most stylish watch clasp you'll ever come across. As a result, it's standard on dress watches and other high-end timepieces.
However, the only way to get them resized is to take them to a professional.
6- Jewellery Clasp
It's worth noting that this clasp is a common feature in lower-priced watch brands, particularly those that specialize in women's timepieces. It is also available in a variety of shapes, sizes and colors.
The process of making a jewellery clasp is pretty simple. It comprises two primary components: a latch on one side and a hole on the other. Once you've folded it over and snapped it shut, you're ready to go. To unfasten it, lift the clasp away from the latch.
The best part about jewellery clasps is that they're usually very adjustable. It is common for a watch to have a chain of openings, which can be easily removed. You can adjust the length of the watchband to fit your wrist perfectly.
7- Sliding Buckle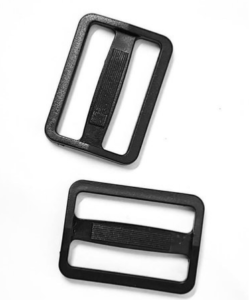 This mechanism is an unusual twist on the pin buckle. Rather than having a pin inserted into a hole, the buckle on this system can be slid along the bracelet and clamped down at any point, securing the bracelet tightly.
As a bonus, this mechanism can accommodate wrist sizes ranging from small to large, eliminating the need for a pin buckle.
This watch clasp is standard in dress watches, and it's ideal for formals and business casuals.
8- Tang Buckle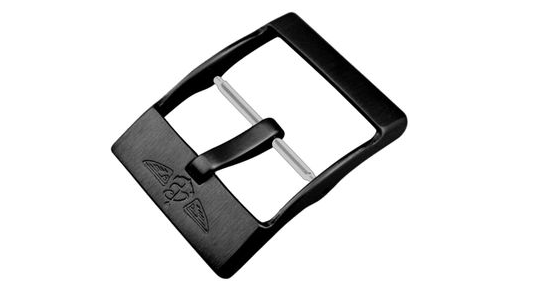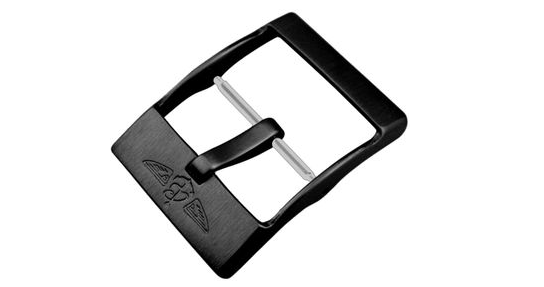 Among watch straps, this is one of the most widely used options. It is common in leather, silicone, and textile watches, as well as on tactical timepieces. There is a pin that holds the watch to your wrist.
Also, the band is punctured with several holes, and you insert a pin into one of these holes. It enables you to fine-tune the fit of the watch without having to have it resized, making it more convenient.
The pin is typically made of stainless steel for leather and textile watch straps. There are two options for buckle material: metal or plastic.
Sadly, the pin can become loose and fall off with these kinds of clasps. However, this is especially true for less expensive timepieces whose pins loosen at random due to wear and tear.
Another drawback of this buckle type is that it's not as secure as metal ones. You risk the buckle cracking and the bracelet falling off your wrist if you wear it.
9- Diver Clasp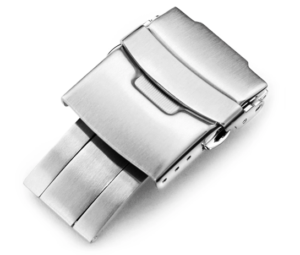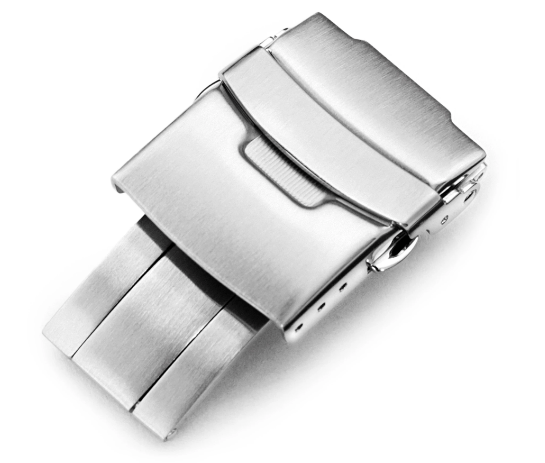 Double-lock clasps are standard on dive watches for extra protection. A fold-over clip known as a "dive clasp" or "security clasp" opens to one side but has an additional flap to keep it closed. They're attached to the watch strap using a spring bar in most cases.
Most divers' clasps are made of stainless steel. The watch clasps are also available in various metal finishes and coatings, including black coating, IP gold, polished and brushed.
10- Safety Strap Clasp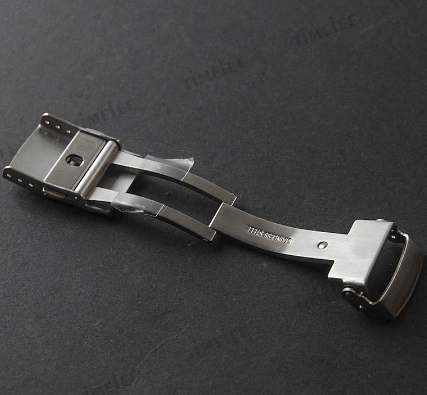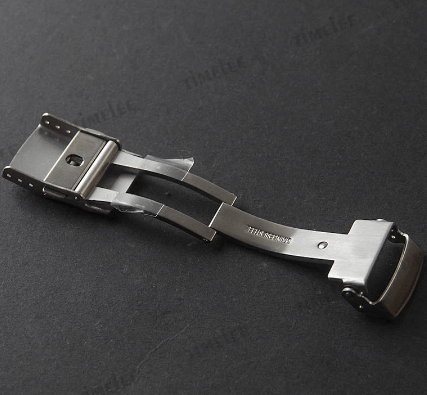 This type of clasp is also known as a deployant clasp with safety. Non-metal bands like leather, rubber, and silicone can benefit from clasps woven into the band itself, making them ideal for grips.
On the other hand, safety strap clasps are the most difficult to adjust because they require the proper tools. To shorten the band, cut off the ends and remove the excess band. Afterwards, re-attach the clasp to the watch's band.
11- Toggle Clasp
Toggle clasps, which are not as common as other clasps, are challenging to find in watches because of their rarity. They are used in bracelets that are part of a costume or chain in most cases. A bar that locks into place is attached to the bracelet with a ring on one end.
As a result, they are favored by jewellery makers because of their beautiful designs and ease of hooking and unhooking. They can be found in a variety of shapes and sizes as well.
12- Flip clasp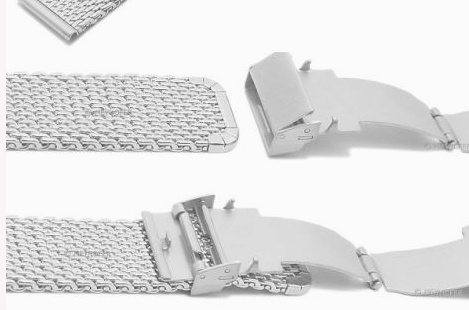 Flip clasps are made up of a single hinge that opens to the opposite side of the bracelet. These can come in various shapes and sizes, but they're typically stainless steel. These, on the other hand, are not suitable for use with metal watch bands. It is instead used with watch straps of synthetic and silicone materials.
Some flip clasps feature a push-button release to make opening and closing the clasp easier. Push buttons provide additional safety on some and pressure on the grip on others.
Flip clasps, like safety strap clasps, are similar in many ways. The only noticeable difference is that, like regular tang buckles, they are connected to the strap using a spring bar.
They are, however, inconvenient in terms of adjustability. You will not correctly fit the watch to your wrist unless it is done by a professional.
13- Velcro Strap
Velcro watchbands are the best option if you're looking for something simple and adjustable. The straps used by velcro watches are some of the most durable you'll find on the market, making them an affordable option.
The good and bad things about these straps tend to be quite long. It is common for Velcro watchbands to be wider than other watch straps. It makes it simple to adjust the size around your wrist, but the velcro is often visible when you turn your wrist, which can be an eyesore.
In addition, cleaning is a huge hassle. Those who work in professions that expose them to many fluids and dirt should avoid them as much as possible.
Velcro straps are also typical on nylon watch bands, and they are most commonly found on sports or children's watches.
Thus, a velcro strap may be the ultimate solution for those who don't want to deal with holes or a buckle enclosure on their watch.
Conclusion
To conclude, it's all about the most common types of watch clasps, so that's all for now! Even though each has its advantages over the other, the wearer's personal preference and watch type is usually the deciding factor.
Hopefully, you'll find this article interesting and informative. Please feel free to ask any questions in the comments section. Thank you.
Syeda Masooma is a fitness enthusiast and running enthusiast who loves to write about the latest fitness gadgets and running tips. She has been running for over 10 years and has completed several marathons. She is passionate about helping others reach their fitness goals and loves to share her knowledge and experience with her readers. Syeda is also a certified personal trainer and nutritionist, and she has a degree in Exercise Science. She is always looking for new ways to help her readers stay motivated and reach their fitness goals.