Wearable technology, such as smartwatches, is no longer a novel innovation on the market. They've been around a long time and come in various designs, sizes, and colors. Additionally, there is a wide variety of high-quality smartwatch manufacturers. As a result, you may wonder, "How can I determine which smartwatch is best for me?"
It might be difficult to know what to look for when purchasing a smartwatch, but this guide will help you make the right choice.
Here, we'll break down the different types of smartwatches and highlight the important features that they all have. Also, we'll discuss the advantages and disadvantages of each kind of smartwatch so that you can make an informed decision.
So, without further ado, let's get started.
Related Posts:
17 Different Types of Smartwatches
The list below includes 17 different types of smartwatches designed for specific purposes. These are:
1. General-Use Smartwatches
The general-use smartwatch is the most widely used type of smartwatch. These can be used for various purposes, from checking your phone's notifications while driving to listening to music while exercising.
General-use smartwatches from well-known manufacturers like Samsung and Apple are widely available for everyday use. Many devices will include GPS, call-making/receiving capabilities, and media controls.
There are a variety of operating systems (WearOS or Tizen) available for wearable devices that can handle a wide range of tasks. The disadvantage is that they are typically power-consuming, which means you'll need to recharge them daily.
Example Model:  Apple Watch Series 5 and Samsung Galaxy Watch Active3.
2. Classic Smartwatches
The most stylish watch on this list is a classic smartwatch. These smartwatches have got a clean and modern look. Stainless steel, gold, and rose gold are just available options for men and women, respectively.
Smartwatches of this type are typically less than $200 in price. They have a timeless style that can be worn at any event and is suitable for both men and women.
Also, sports functions like step counters and pulse monitors are commonly installed in the devices. On top of that, the displays are typically larger and better. It, however, comes at the cost of battery life. The smartwatch must be recharged every one to two days, depending on usage.
In addition, Bluetooth technology allows you to connect your smartwatch to your phone. As a result, you won't have to worry about losing contact with your smartwatch.
Example Model: Fossil Gen 5.
3. Fitness Focused Smartwatches
People who want to keep tabs on their fitness routines and health will appreciate the availability of smartwatches that are specifically targeted at this market. A smartwatch can tell you a lot of things, including how many steps you've taken and how far you've gone.
The fitness smartwatches use lighter materials for their casing, such as aluminum or plastic. Further, the manufacturers use a silicone strap that fits snugly around the wrist for the user's convenience.
While discussing features, some fitness smartwatches can also function as standalone watches that allow you to make or receive calls without connecting to a mobile device.
In addition, fitness-oriented smartwatches frequently feature onboard music storage and Bluetooth capabilities. Fitness trainers who don't want to carry their smartphones while running will find this convenient.
To keep track of your travels, they'll have GPS and an accelerometer, and you should be able to use them with popular fitness apps like Strava or Google Fit.
Example Model: Garmin Forerunner 245 and Fitbit Charge 4.
4. Companion Smartwatches
Smartwatches that connect to smartphones allow you to receive notifications, messages, and phone calls on your wrist.
Aside from fitness tracking and voice-controlled music playback on your iPhone, users can also use these devices to make NFC payments for items such as Apple Pay.
The new companion smartwatch is a must-have accessory, stylish, and packed with useful features. For the user's convenience, the cutting-edge design incorporates a touch-screen interface. It is undoubtedly the most up-to-date type in a long line of wearable technology!
Example Model: Samsung Galaxy Watch and Fitbit Versa.
5. Rugged Smartwatches
As the name implies, rugged smartwatches are built to withstand the most extreme weather conditions. Because of their durable and high-quality body, they can withstand dust, water drops, sand, dirt, and even some degree of drop shock.
These smartwatches also include features like fitness trackers so that you can keep track of your workouts while cycling, swimming, and so forth. Sports metrics like your heart rate, the number of calories you've burned, and more are all displayed on the device's screen.
Example Model: Casio G-shock Mudman Compass and Suunto Core.
6. GPS Smartwatches
Hikers, mountain climbers, and other outdoor enthusiasts have long used GPS watches, which have evolved into GPS smartwatches. Compared to different smartwatches, GPS models tend to be more expensive than the rest.
When tracking your workouts, both GPS smartwatches and fitness-focused smartwatches are similar. A GPS watch's accuracy and real-time feedback are what set it apart from other GPS devices. If you're running or cycling, they'll keep track of your location and send you precise routes. You can also see your pace in real-time.
However, when it comes to tracking your activity, a fitness-oriented smartwatch relies more on the watch's compass and accelerometer. It is a great watch for those who are just starting in the fitness world, but it isn't reliable enough for professional athletes.
Thus, wearing a GPS watch is the most accurate method of keeping track of time.
Using these watches, the user can see their current location, the distance they've traveled, and even the direction they're looking in – even without an internet connection!
Example Model: Apple Watch Series 6.
7.  Standalone Smartwatches
Smartwatches that work independently of a smartphone are called standalone smartwatches. To make or receive calls, text people, listen to music and use various apps, you can use any cellular network or LTE. It eliminates the need to lug around a heavy smartphone.
Standalone smartwatches with powerful capabilities are available from various companies, including Apple and Samsung. Additionally, they include features like heart rate monitoring and GPS navigation so that users can get the most out of their fitness trackers.
On the other hand, these watches are not meant to replace smartphones. The displays are too small, and the operation is complex and difficult. Also, the battery is so small; it can't power the device for more than a day.
Example Model: Samsung Gear S and Apple Watch Series 4.
8. Budget Smartwatches
If you don't want to spend a lot of money on a smartwatch, a budget smartwatch might be a good option.
In general, a low-cost smartwatch will show your notifications, track your daily fitness goals such as steps taken or calories burned, and control media.
They're super affordable, with budget models starting at less than $50. Because they can't download apps, you'll only be able to use the features that come preloaded.
As a bonus, due to their limited functionality, they have excellent battery life, often lasting weeks on a single charge.
Example Model: Yamay Smartwatch
9. Luxury Smartwatches
Since its debut in the early 2000s, luxury smartwatches have come a long way. These high-end smartwatches are made for people who want to look good while also carrying a useful gadget around with them.
Numerous luxury watch brands produce high-quality timepieces. Some of these are Breitling, Frederique Constant, and Tag Heuer.
Like a typical smartwatch, these devices include features like activity tracking, fitness monitoring, and global positioning system (GPS) capabilities.
It's also worth noting that many luxury smartwatches use the same underlying platform as general-use smartwatches, such as Google's WearOS. The primary difference is that you're paying a lot of money for the high-end appearance and well-known brand.
Example Model: Breitling Exospace B55 and TAG Heuer Connected Modular 45.
10. Sports Smartwatches
Smartwatches for sports activities come in a variety of styles and sizes. These smartwatches are similar to fitness-focused ones, but they have different apps or features to help with the specific sport.
Several smartwatches on the market are specifically targeted for a specific sport. The Garmin Approach is one such example of a golf smartwatch. These often come with course maps and GPS to help you navigate, as well as automatic tracking of how many shots each hole requires.
Mountain climbing smartwatches are another popular example; these rugged watches are made to withstand extreme temperatures and have screens that work well in direct sunlight.
There are also watches made specifically for rowers, mountain bikers, and even skiers. Also, they're water-resistant and equipped with GPS, so they'll still work even if it's raining outside.
So, if you want to keep track of your workout stats while out for a run, hike, swim, or bike ride, then these sports smartwatches are the best option.
Example Model: Garmin Forerunner 35 and Polar Ignite.
11. Hybrid Smartwatches
If you want the best smartwatches, you need one that looks like a regular watch but does more than just tell the time. A hybrid device is a cutting-edge innovation that fuses a traditional mechanical timepiece and a smartwatch.
A processor, sensors, and wireless connectivity are all included in a hybrid smartwatch. Additionally, these smartwatches have Bluetooth connectivity, which allows you to connect your smartwatch to your phone via a Bluetooth connection.
Moreover, they have a slew of features for keeping tabs on your physical well-being, including the ability to track your steps, pulse, and sleep.
Most hybrid smartwatches have a small smartwatch screen integrated into the main watch face, but this may only be large enough to show your daily step count or notify you when you have a new notification from your smartphone.
The hybrid smartwatch has a long battery life, one of its major advantages. In contrast to other smartwatches, this type of watch typically consumes less battery.
Example Model: Withings Steel HR Hybrid Smartwatch.
12. Camera Smartwatches
Smartwatches with built-in cameras are the latest craze in fashionable wristwear. These devices have video cameras built-in, allowing users to record videos and take photos.
Like any other smartwatch, you can use Bluetooth to connect it to your phone and access various features. For instance, you can make or receive phone calls, send or read text messages, look at notifications, open emails, and use other apps.
You can also save your photos and videos on this device because it has an internal storage capacity and a memory card slot.
Another fantastic feature is that they have a long battery life when fully charged. It'll undoubtedly last 12 hours.
Example Model: Refly 4G Smartwatch
13. Spy Smartwatches
Spy smartwatches have a high-tech camera built right into the watch face. Using a smartwatch, you can discreetly record videos and photos by pressing the watch on/off button.
The spy watches come equipped with night vision cameras and long battery life to ensure clear recordings. A large storage capacity is also included so that you can store all of your recorded clips in one place before moving them to another device.
Additionally, spy smartwatches have simple and elegant designs that should be comfortable on your wrist and not draw any attention, making them ideal for surveillance.
Example Model: Liyahha Home and CIGONG Smartwatch.
14. Waterproof Smartwatches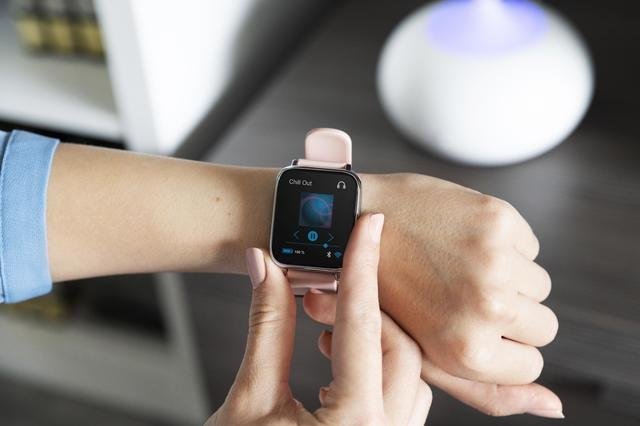 Waterproof smartwatches are becoming more popular. Many newer models come with IPX-certified sensors, which can protect them from water damage for up to an hour.
The best waterproof smartwatch allows you to check your messages and phone calls even when raining. It is not permitted to be used while swimming or participating in any water sport. However, they can operate underwater with ease.
These smartwatches are labeled with various grades, such as "5 ATM" or "10 ATM," to indicate their water resistance. Water resistance is limited to a maximum depth of 100 meters. In the same way, watches with the 5 ATM mark can withstand pressures of up to 50 meters.
If you want to wear your smartwatch underwater, you'll need a watch that can withstand pressures greater than 100 meters (or 328 feet).
In addition, waterproof smartwatches have GPS built-in and can easily monitor heart rate, stress levels, and other statistics.
Example Models: Apple Watch Series 7 and Garmin Vivoactive 4.
15. Kids Smartwatches
There are numerous advantages when it comes to giving young children smartwatches instead of smartphones. To provide you with an idea, you can use a GPS tracking device or a two-way phone call to keep track of where your child is at all times.
Additionally, some smartwatches for children come with educational games, GPS trackers, and SOS buttons that help both parties keep track of each other and provide a sense of security.
Moreover, smartwatches for children over the age of six are available. The built-in calendar, time, and tracker features make them useful. If your children are interested in photography, some smartwatches also include a camera.
Example Model: Tick Talk 4 and Apple Watch SE
16. Women Smartwatches
When it comes to a woman's smartwatch, it can either be a fashion statement or simply serve as an everyday timepiece. Wearing a heavy and bulky watch on a woman's wrist is no longer acceptable, so they're turning to smartwatches.
Menstrual tracking, heart rate, sleep patterns monitoring, and stress management are just a few of the features that many women-specific smartwatches offer. Women concerned about their overall health and well-being will find this more appealing.
Women's smartwatches come in various styles, all of which have a sleek feminine feel to them. Because they are small, they are designed to be light and comfortable to wear.
Example Model: Casio Baby Pink G and Fossil Women's Gen 4 Venture
17. Unisex Smartwatches
Men are no longer the only ones who wear smartwatches. There are now gender-neutral smartwatches, and they can be worn comfortably by both men and women! Indeed, unisex smartwatches are the perfect combination of fashion and technology wrapped around our wrists.
Previously, wearables like watches were bulky and only worn by men. However, there has been a rise in lightweight, minimalist-designed smartwatches that cater to everyone's needs.
Smartwatches these days are packed with the most up-to-date features. Whether you're tracking your progress, checking on your phone notifications, or gauging your stress levels, these timepiece does it all with ease.
Example Model: Amazfit GTS 2 Mini and Samsung Galaxy Watch Active 2.
Conclusion
To conclude, it is all about the different types of smartwatches. There are 17 different types of smartwatches designed according to specific needs.
If you've read this post, we're confident that knowing the different types of watches available will help you find the right one according to your requirements.
Thank you for reading!
Syeda Masooma is a fitness enthusiast and running enthusiast who loves to write about the latest fitness gadgets and running tips. She has been running for over 10 years and has completed several marathons. She is passionate about helping others reach their fitness goals and loves to share her knowledge and experience with her readers. Syeda is also a certified personal trainer and nutritionist, and she has a degree in Exercise Science. She is always looking for new ways to help her readers stay motivated and reach their fitness goals.