Tissot is a well-known watchmaker that produces high-quality timepieces. It has been established for over a century and is famous for producing high-quality watches at a reasonable price.
Also, Tissot is one of the most successful Swiss brands–the firm has spent ages perfecting its technique to watchmaking, and they keep producing gorgeous, fashionable timepieces.
In this article, we're going to look more closely at Tissot watch reviews, their history, the quality of their watches, and their movements. We'll also go into greater detail regarding their most popular and best-selling timepieces in the following sections. 
But, before we get into the Tissot Watches reviews, let's have a look at the company's history.
Related Posts:
Tissot: History
Tissot is regarded as an entry-level Swiss luxury watch brand. It was formed in 1983 by Charles-Félicien Tissot and his son Charles-Émile Tissot in the Swiss city of Le Locle.
The company created many gold pocket and pendant watches in the beginning. Around 1853, the company produced watches for export to the United States, and in 1858, a branch was opened by Charles-Emile in Russia.
In 1907, they established their new firm in Le Locle. During this time, the company began making revolutionary watches for men and women. 
This company is committed to tradition, and its traditional innovative design will drive any watch collector crazy. That is why most watch collectors must have a Tissot timepiece. After 1920, the company gained immense popularity and expanded its product line to include a variety of innovative timepieces.
As a member of The Swatch Group since 1983, Tissot is one of the world's largest watch manufacturers and distributors. Furthermore, the company has received numerous accolades and awards for producing the finest timepieces.
Tissot is also known for producing timepieces with a sleek, minimalist style, and it is now expanding its collection with a number of the most exquisite models. There can be no doubt that Tissot is a significant player in the watch industry.
Build-Quality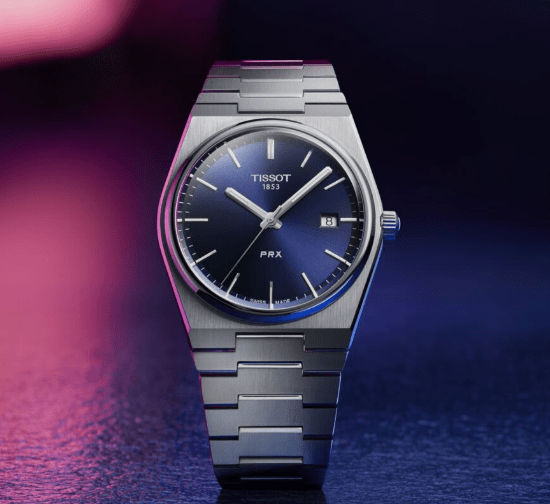 Tissot is a watchmaker renowned for producing high-quality timepieces at a reasonable price. It is well-known for its elegance and high-quality materials.
Tissot uses solely stainless steel for the majority of its watch casings to ensure the best quality. On the other hand, high-end Tissot models are frequently gold-plated for a subtle finishing, whereas sports pieces are occasionally coated with PVD for enhanced durability.
Tissot watches include sapphire crystal windows for excellent dial protection and longevity. It's thought to be a high-quality material, and it's resistant to scratches and physical shocks.
Depending on the model, the bands can be metal, leather, nylon, or rubber. To ensure precise timekeeping, Tissot uses the ETA movement. Additionally, they employ both mechanical and quartz movements.
Tissot also made solar watches, automatic watches, and other high-end timepieces like Chronographs. Furthermore, the water-resistance of these watches varies, ranging from 30 meters to 100 meters on average.
Style & Design
Without a doubt, Tissot offers a vast array of designs in various styles and for a range of uses. Thus, you should pick one that is best suited to your needs.
Tissot watches are known for their excellent design and craftsmanship. Because of this, many watch enthusiasts regard the brand as an "affordable luxury" option.
They've made a wide range of automatic, mechanical, chronograph, and dress timepieces. Also, they make minimalist watches that are lightweight and comfortable to wear.
Tissot also has a broad range of watches with distinctive designs, owing to its reputation as the master of stylish timepieces. So, if you're seeking a lovely timepiece, look no further than this brand.
The company offers both traditional and modern designs in addition to classic styles. It's most apparent in their digital and smartwatches, respectively.
Another positive aspect of its design is the in-depth detail. You'll notice that Tissot watches are meticulously designed in terms of aesthetics, transparency, and diamond carats.
Pricing
Tissot manufactures high-quality watches at moderate costs, making it one of the top Swiss watchmakers.
Without a doubt, the fact that Tissot watches are affordable is a significant element in their success. Tissot can meet your needs, whether you're on a budget or looking for something truly luxurious.
Tissot watches range in price from about $200 to over $2,000, depending on the series. Their most affordable model, a quartz watch, costs only $185. However, the most expensive watch is the Tissot PRS 516 Automatic Chronograph, which costs $2,750.
Thus, Tissot is a fantastic alternative if you want a high-grade Swiss watch produced with superb quality but at a lower price than its luxury Swiss peers!
Warranty Policy
Tissot watches are protected by a two-year international warranty from the date of purchase, with particular terms and restrictions applicable to each watch. Customers must provide a valid warranty certificate to file a warranty claim.
The international warranty covers both material and manufacturing flaws. If a person shows a valid warranty card, these will be fixed or replaced as needed at no cost to the owner.
However, the international warranty does not cover the watch's battery, regular wear, and tear, or any damage to the watch caused by the owner's negligence.
Best-Selling Models of Tissot
Following are some of the best-selling models by Tissot.
1. Tissot Unisex T-Touch Connect Solar Smartwatch
Product Specifications:
| | |
| --- | --- |
| Display Type | Analog-Digital |
| Case Diameter | 47.5 Millimeters |
| Case Material | Antimagnetic titanium case |
| Band Material | Rubber |
| Dial Color | Black |
| Movement | Swiss Tactile Quartz |
| Water Resistance Depth | 330 Feet |
Tissot's T-touch Connect solar smartwatch is the best choice for you if you want a watch with a more traditional look. It appears to be much more elegant, lightweight, and convenient due to its slim design. In addition, it is a timepiece that you can wear all day long.
The titanium case of the T-Touch Connect Solar has a diameter of 47mm and a thickness of 15.30mm. This watch boasts a scratch-resistant ceramic bezel and an antimagnetic titanium case for extra durability.
This watch features a barometer, altimeter, and compass, which may be utilized for outdoor activities and provide reliable readings. Also, the watch has a step counter and can track how many calories you've burned.
The battery life of the watch is its main selling feature. The watch can run on solar energy for up to six months. Moreover, you can wear this watch when swimming or bathing because it is water-resistant to 100 meters.
Unfortunately, this watch is not ideal for persons with small wrists due to the big case diameter. On the other hand, people with wide wrists can benefit from the features of this wristwatch.
Aside from that, the manufacturer offers a two-year warranty on this Swiss smartwatch. As a result, you may buy it with confidence.
Final Thoughts
Overall, the Tissot T Touch Connect Solar smartwatch is an excellent choice if you want a high-quality Swiss watch with long battery life. Durable construction, reliable movement, water resistance, and smart notifications are all the great hallmarks of this smartwatch.
2. Tissot PR 100 Chronograph
Product Specifications:
| | |
| --- | --- |
| Display Type | Analog |
| Case Diameter | 41 Millimeters |
| Case Material | Stainless Steel |
| Band Material | Stainless Steel |
| Dial Color | Black |
| Movement | Quartz |
| Water Resistance Depth | 30 meter |
The Tissot PR100 is a sporty and stylish timepiece. It's a stunning timepiece with a strong emphasis on aesthetics.
The Tissot PR100 watch has a simple and appealing dial. Also, the sapphire crystal glass is a great feature, especially given the watch's price. It's also scratch-resistant, which is crucial if you're planning on wearing it every day.
On the other hand, the chronograph is the PR100's most attractive feature. Many chronograph watches have a complex design, but the PR100 has a clean, simple style.
The watch has a stainless steel strap and case. The outer ring of the case is polished and shines beautifully, adding to its charm.
Furthermore, the quartz movement is a significant selling point. A quartz watch is the most dependable in terms of reliability.
The Tissot PR100 comes with a Renata 371 battery. If you're seeking a long-lasting watch battery, this is the one for you.
Final Thoughts
Without question, the Tissot PR100 is a watch that offers excellent value for money. It performs admirably, is accurate, and is reasonably priced.
Overall, the Tissot PR100 is a good choice if you're looking for a high-quality Swiss wristwatch.
3. Tissot Men's Le Locle Stainless Steel Dress Watch
Product Specifications:
| | |
| --- | --- |
| Display Type | Analog |
| Case Diameter | 39 Millimeters |
| Case Material | Stainless Steel |
| Band Material | Leather |
| Dial Color | Black |
| Movement | Swiss-Automatic |
| Water Resistance Depth | 3 bar |
If you're looking for a luxurious and beautiful dress watch, Tissot's Le Locle stainless steel watch is a great option. This watch has a stainless steel case, 39.3mm in diameter, the perfect size for most men's wrists.
The watch has a circular case with brushed edges and a slightly domed and polished bezel. Its roman dial has an easy-to-read style that contributes to the beauty and attraction of the watch. It's also water-resistant up to 3 bar (30 meter / 100 feet).
A Swiss automatic movement powers the watch, and as a bonus, it features a see-through case back that allows you to inspect the mechanism from the inside.
Although the price is a little high, the quality and functions are exceptional and resist any condition. If you want to use it every day, we believe you should only spend your money once!
Final Thoughts
This dress watch features a straightforward yet appealing style that makes it suitable for any occasion. Overall, this dress watch has a sophisticated design ideal for formal situations.
[maxbutton id="2″ url="goto.walmart.com/c/3148749/565706/9383?veh=aff&sourceid=imp_000011112222333344&u=https%3A%2F%2Fwww.walmart.com%2Fip%2FTissot-Men-s-Le-Locle-Powermatic-80-Automatic-40mm-Watch-T006-407-16-053-00%2F687962781%3Fathbdg%3DL1600″ text="Check On Walmart" ]
4. Tissot PRS 516 Quartz Chronograph
Product Specifications:
Display Type

Analog

Case Diameter

42 Millimeters

Case Material

Stainless Steel

Band Material

Leather,

Rubber

Dial Color

Black

Movement

Quartz

Water Resistance Depth

100 Meters

Crystal

Sapphire
The Tissot PRS 516 is made of high-quality materials and has a vintage-inspired design. It boasts an all-black stainless steel casing with a carbon fiber fixed bezel. On top of that, it sports a sapphire crystal.
The stainless steel case of this quartz chronograph is 42mm in diameter and 12.12mm in thickness. In addition, the dial features three chronograph sub-dials and a tiny date window at 4 o'clock.
The watch has a perforated leather band, just like many of the other models in the collection. Rubber and metal bracelets are also available.
In addition, the watch is water-resistant to a depth of 100 meters. It means you won't have to worry about losing your watch when swimming.
Like all other Tissot watches, this watch comes with a two-year manufacturer's warranty.
Final Thoughts
The Tissot PRS 516 is a model worth considering if you want a well-made Swiss timepiece with a reliable automatic movement. It's also an excellent choice for those searching for a sporty design to wear on various occasions.
Overall, it features a racing-inspired aesthetic that's appropriate for everyday use.
Buy on Amazon
[maxbutton id="2″ url="goto.walmart.com/c/3148749/565706/9383?veh=aff&sourceid=imp_000011112222333344&u=https%3A%2F%2Fwww.walmart.com%2Fip%2FTissot-PRS-516-Chronograph-Quartz-Black-Dial-Men-s-Watch-T131-617-36-052-00%2F805895488%3Fathbdg%3DL1700″ text="Check On Walmart" ]
5. Tissot Men's T0384301103700 T-one Swiss Automatic Watch
Product Specifications:
| | |
| --- | --- |
| Display Type | Analog |
| Case Diameter | 38.5 Millimeters |
| Case Material | Stainless Steel |
| Band Material | Stainless Steel |
| Dial Color | Silver |
| Movement | Swiss Automatic |
| Water Resistance Depth | 100 Meters |
| Crystal | 165 Feet |
The Tissot T-One T0384301103700 is a multifunctional watch that combines sportiness and elegance to create the ideal everyday timepiece.
It has a slim, curved case with elegantly curved lugs that meet a stainless steel bracelet with brushed and polished links. Also, it has a smaller case size with a diameter of 38.5mm. The dial window is protected with sapphire crystal for improved protection and scratch resistance.
One of the watch's valuable features is that it has a day-and-date display. It boasts a lovely silver dial with attached markings and a polished finish. The hands are pretty large, and the tips have luminosity.
Furthermore, it is driven by a reliable automatic movement visible via the see-through case back.
Unfortunately, the water-resistance of 50 meters/165 feet isn't the best, but it should be sufficient for most wearers unless they plan on swimming or diving.
Overall, the silver-tone produces a seamless and sleek style that suits professional and casual occasions.
Final Thoughts
To summarize, this is a lovely, well-made luxury watch at a fair price. It not only boasts excellent attention to detail and superb movement, but it also has a stunning overall design.
Where are Tissot Watches Made?
The headquarters and manufacturing of Tissot have remained in Le Cocle, Switzerland, since the company's inception. Tissot watches are entirely made in Switzerland. It means that the components are acquired locally, the Swiss movement, and the assembly and inspection are also carried out there.
Whatever Tissot watch you choose, one thing is sure: all of its components (including the movement) were developed and manufactured in Switzerland.
In this way, the company can sell its watches at competitive prices because everything is created in the same country.
Is Tissot Worth Buying?
Tissot timepieces are undeniably valuable. With a vast selection of exquisite watches, Tissot is sure to have something for everyone. These are high-quality Swiss-made products that are manufactured with the finest materials.
Surprisingly, their rates are within everyone's reach. However, they keep the correct time, just like other Swiss watch manufacturers. As a result, Tissot is a brand that is well worth the investment!
How to Spot a Fake Tissot Watch?
Interestingly, millions of fake Tissot watches are sold every day, just like any other well-known watch brand. Counterfeit watches are selling for far less than their true worth. So, the question is, how do you tell the difference between real and fake Tissot watches.
When it comes to spotting a fake Tissot watch while shopping online, do consider the following factors.
Pay Close Attention to the price
Remember that genuine Tissot watches often cost around $200. Tissot does not sell watches for less than $200. If a watch is available for less than $200, it is likely a fake.
Keep an eye on the serial number
The serial number must be included in all listings, regardless of purchasing your Tissot watch from an online retailer or official Tissot's store. Tissot serial numbers are usually found on the back of the watch and are 9-11 characters with no spaces or dashes.
The engraved letter "T."
On the winding knob of a genuine Tissot watch is an etched letter "T." If the "T" is glued on, then it's a fake.
Luminescence
Tissot watches contain luminous hands and markers, making them simple to read in low light. A watch with a faint glow is likely to be fraudulent.
If you want to prevent buying a fake watch, you should only buy from approved retailers, such as Tissot's official website, certified Amazon dealers, and other trusted online stores.
Where to Buy Tissot Watches?
Tissot watches can be purchased from different countries in the world because of their vast availability. But, please shop from reputable online retailers to reduce the risk of purchasing a counterfeit Tissot watch.
Tissot's official store is the best place to go. It is the safest solution, but it is also the most expensive. You may learn about their latest models and best sellers on the company's website.
Amazon is another choice that we think is safe. The best part about purchasing Tissot watches on Amazon is that the costs are usually significantly lower.
Pros and Cons of Owing a Tissot Watch
Pros:
Tissot has a long and illustrious history in the field of watchmaking. Due to years of experience in the industry, Tissot is one of the most recognized watch companies on the market.
Tissot watches come in a variety of designs. There is a Tissot timepiece for every event, and hence a model to fit every personality.
Tissot only uses the best materials and movements available. Their superior Swiss-made components are durable and add to the collection's trustworthiness.
Tissot watches typically have a battery that lasts between 2 and 5 years, depending on wear patterns and watch model. Tissot watches, in general, have a battery that lasts a long time.
Tissot guarantees each timepiece to be of high quality. If you return the watch unworn and undamaged within 30 days of delivery, you will receive a full refund.
Cons
There are several counterfeit Tissot watches on the market nowadays. To ensure the quality of your investment, you must acquire a Tissot watch from a respected vendor.
Conclusion
Tissot is one of the brands that has consistently offered high-quality timepieces to the market. Their long history, commitment to quality, and low prices have earned them one of the world's most prominent brands.
Throughout the years, the brand has built a solid reputation in the watchmaking industry. It is widely regarded as an exceptional timepieces brand, with a reputation that reflects the excellence of its watches.
Hopefully, our Tissot watch review has convinced you that Tissot is not just a good but a fantastic wristwatch brand that offers elegant watches at reasonable prices.
Frequently Asked Questions (FAQs)
Are Tissot watches good?
Tissot watches are high-end, Swiss-made timepieces supported by quality and more than 160 years of innovation. It offers a diverse range of watches, including active sports watches, striking diver's models, exquisite dress watches, athletic chronographs, and solar-powered watches. Furthermore, their timepieces are high quality and will survive for a long time.
Is Tissot a luxury watch brand?
Yes. Tissot is a high-end Swiss watchmaker. Tissot has a long history and makes beautiful timepieces that distinguish it from the vast majority of commercially accessible watches.
Why Are Tissot Watches Expensive?
Tissot watches are pricey because they are manufactured in Switzerland by a reputable firm that pays great attention to detail in quality and design. Also, Tissot timepieces are more expensive because of the superior build quality and eye-catching designs.
However, one of the reasons why so many people prefer Tissot is because you can acquire a precise, gorgeous watch for a fraction of the price of other well-known Swiss luxury watch manufacturers like Rolex or Omega.
Syeda Masooma is a fitness enthusiast and running enthusiast who loves to write about the latest fitness gadgets and running tips. She has been running for over 10 years and has completed several marathons. She is passionate about helping others reach their fitness goals and loves to share her knowledge and experience with her readers. Syeda is also a certified personal trainer and nutritionist, and she has a degree in Exercise Science. She is always looking for new ways to help her readers stay motivated and reach their fitness goals.