Stuhrling is a well-known watchmaker who makes high-quality timepieces in the watch industry. They're quite stunning and are also very reasonably priced. The reason for writing this Stuhrling watches review is to provide you with all the required information about this watch brand.
In this review, we'll take a close look at every aspect of the brand. You can learn more about what makes Sthurling watches special by reading about its history and examining its watch movements.
Additionally, we'll go into greater depth regarding some of their best-selling timepieces in the following section. But, before we get into the Stuhrling watch reviews, let's explore the company's history.
Related Posts:
Stuhrling Watch History
Stuhrling is a New York-based American corporation created in 1999. Chaim Fischer, the company's founder, decided to resurrect the name of a master watchmaker named Max Stuhrling for the brand's title.
The company has grown tremendously in quality and reputation since its inception in 1999. Although their timepieces are unique, they are also reasonably priced.
A wide variety of watches, including open-heart/skeleton, chronograph, dive, and GMT (dual time) watches, are made available in their latest collections.
The primary thing that helped this watch manufacturer establish its position in the watch industry was the production of chronographic timepieces. This impeccable delivery of timepieces ranging from the medium to the lower classes is drawing many customers worldwide.
Furthermore, they also include unique features in their watches that are not found in any other watch on the market. When you examine more closely, you'll notice that each new watch from this brand has fresh features, design, colors, specs, style, aesthetics, and functionality.
As a result of these positive attributes, this watch brand has become popular among watch enthusiasts. There is no doubt that Stuhrling can satisfy their constant need for new and creative timepiece designs.
Stuhrling Watch Build Quality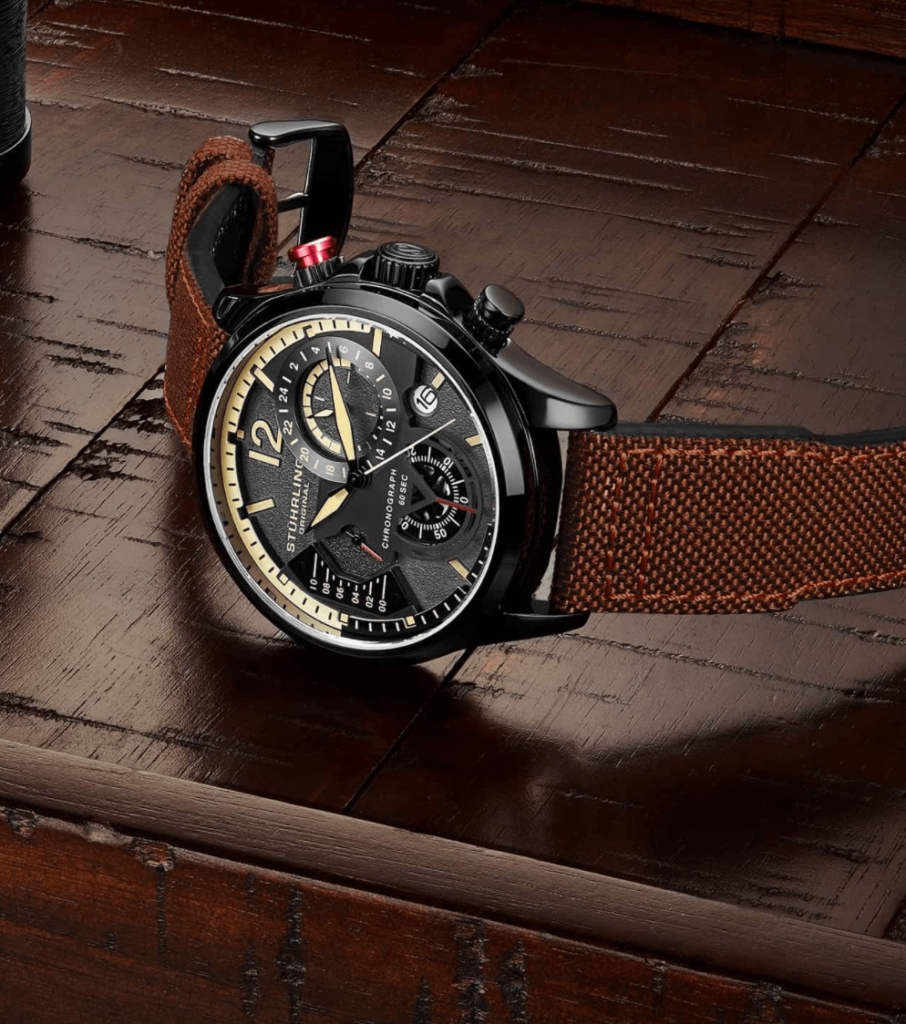 Stuhrling is a well-known watchmaker recognized for its affordable but high-quality timepieces. It is renowned for its refined style and high-quality components.
Almost all the watch cases are made from 316L stainless steel, a common material in most wristwatches. The steel construction is solid and resistant to damage.
They employed Krysterna crystal throughout their whole watch range to ensure long-term wearability. As a result, the glass is resistant to shattering and scratches.
In addition, stainless steel, rubber, and leather are used to create the straps of these watches. Stuhrling also includes exotic crocodile, alligator, and lizard-embossed bands in its expensive watches.
The company uses Swiss Automatic movements, Japanese Quartz, and Chinese movement to ensure accurate timekeeping in their mechanical timepieces.
While Stuhrling was best known for its skeleton watches, it also produced automatic watches and other high-end timepieces, such as Chronographs. These watches have a water-resistance range of 30 meters to 200 meters depending on the model.
Hence, this brand is a fantastic choice if you're looking for a watch that looks beautiful and is well constructed for the price.
Stuhrling Watch Style & Design
Undoubtedly, Stuhrling offers a wide selection of designs in diverse styles and for various purposes. Stuhrling's collection features a variety of eye-catching and one-of-a-kind designs.
Aside from looking good, the timepieces are ergonomically built to provide the best possible fit for the wearer's wrist.
There are many watches from Stuhrling, including moon phase timepieces, dress watches, and dive watches. They also manufacture lightweight, comfy watches with a minimalist design.
Overall, Stuhrling timepieces are distinguished by a sleek and sophisticated aesthetic and a high level of craftsmanship. If you're searching for an elegant watch with top-notch functionality, Stuhrling is your best bet.
Stuhrling Watch Pricing
For the price, Stuhrling watches offer good value. The affordable price of the brand's products contributes significantly to its global reputation. Stuhrling provides a diverse selection of styles at a variety of price points.
They have a large selection of timepieces under $100. Additionally, mid-range watches range from $150 to $500.
Many trendy and comfortable sports watches, racing-inspired watches, and skeletonized automatic watches are available at this price point.
However, their high-end collections, such as Legacy and Tourbillon, are priced between $1500 and $2000. As a result, Stuhrling is a mid-priced watch company recognized for its low-cost models.
Stuhrling Watch Warranty Policy
All Stuhrling watches come with a two-year international warranty from the date of purchase. All manufacturing flaws, including the repair or replacement of the movement, are covered by the warranty.
Also, Stuhrling's Quartz watches come with a one-year warranty covering the watch's battery. However, the warranty does not cover regular wear and tear.
Remember: If you ever need your watch serviced, the company will check the warranty card to determine if it has been filled out entirely and authorized and stamped correctly.
Best Stuhrling Watch Review
Some of Stuhrling's most popular and best-selling models are listed here. Each watch has a distinct look and a variety of features. These include:
1- Stuhrling Original MoonPhase Dress Watch
Product Specifications:
| | |
| --- | --- |
| Display | Analog |
| Case Diameter | 42 Millimeters |
| Case Material | Stainless steel |
| Movement | Japanese Quartz |
| Band Material | Leather |
| Water Resistance Level | 50 Meters |
This dress watch by Stuhrling is an excellent option if you're searching for something that's both stylish and functional.
It has an eye-catching dial. It boasts a minimalist design and basic time-telling capabilities, as well as a Moon phase aperture at 6 o'clock. A solid stainless steel casing further adds to the watch's beauty and durability.
The window glass is scratch- and damage-resistant, thanks to Krysterna crystal. Also, this watch features a brown leather band that is both gorgeous and comfy. It will keep your watch safe and comfortable while you use it for lengthy periods.
The watch relies on Japanese quartz movement to keep track of time. Undoubtedly, the Quartz movement is considered the best movement in the watch industry.
The fact that the watch is water-resistant is a bonus. A 50-meter or 5-ATM water resistance rating ensures that the watch is not damaged while submerged.
Additionally, the Stuhrling Original Skeleton Moon Phase comes with a two-year manufacturer's warranty.
Final Thoughts
Overall, this low-cost moon phase watch is remarkable in its simplicity and low price. This watch is a must-have for everyone who appreciates simple design. No doubt, this watch is an absolute steal at roughly $500.
2. Stuhrling Pro Sport Diver Watch
Product Specifications:
| | |
| --- | --- |
| Display | Analog |
| Case Diameter | 43 Millimeters |
| Case Material | Stainless steel |
| Movement | Japanese Quartz |
| Band Material | Rubber |
| Water Resistance Level | 200 Meters |
For those looking for a watch suitable for water sports activities like swimming, diving, surfing, or snorkeling, then this Stuhrling watch is the best pick!
This watch can withstand 200 meters of water pressure, making it ideal for scuba diving and other water sports. Additionally, some materials, such as leather straps, degrade when exposed to water or moisture, but this one features a 22mm rubber strap so that you won't face this issue.
It also has luminescent hands and markings that make it simple to read even when submerged in water, making it ideal for divers. Additionally, the watch's Japanese quartz movement ensures accurate time.
Although it is a diver's watch, it has a stylish appearance that makes it an ideal Stuhrling dress watch. So, whether you choose to wear this Stuhrling watch with a suit or on a casual occasion, it will look great on you.
In addition, Stuhrling provides a two-year international warranty with the watch, so you won't have to worry about your investment.
Final Thoughts
Overall, this is one of the best Stuhrling watches in design, performance, and aesthetics. We consider this watch an ideal pick with its reasonable pricing and two-year warranty.
3. Stuhrling Original Men's Automatic Watch
Product Specifications:
| | |
| --- | --- |
| Display | Analog |
| Case Diameter | 42 Millimeters |
| Case Material | Stainless steel |
| Movement | Self-Winding Automatic |
| Band Material | Leather |
| Water Resistance Level | 165 Feet |
| Color | Black |
Stuhrling's Original Men's Automatic Watch is yet another skeleton dial watch. This watch has numerous beneficial features, making it one of the best skeleton watches of 2022.
The watch has a skeleton dial, allowing you to see the movement inside the case. This timepiece is robust and stylish with a 42mm stainless steel dial.
Moreover, Krysterna Crystal is used for shielding the dial from scuffs and other damage, further extending the watch's life span.
The watch's automatic movement is another appealing feature. It's a fantastic piece of engineering. In addition, it is water-resistant up to 50 meters so that you may wear it in the water. However, the leather strap isn't waterproof.
Further, a GMT subdial on the watch allows you to keep track of two separate time zones. The Sun/Moon sub-dial sits on the left side of the watch face and indicates the time of day and night.
Unfortunately, we found it difficult to read the watch due to the significant amount of silver on it, mainly because there are no numerals.
Final Thoughts
The Stuhrling Original Men's automatic watch is the best choice for a watch that is both eye-catching and attractive. All in all, it's the best skeleton watch you can get for less than $200.
Buy on Amazon
4. Stuhrling Original Men's Leather Watch
Product Specifications:
| | |
| --- | --- |
| Display | Analog |
| Case Diameter | 44 Millimeters |
| Color | Black |
| Movement | Quartz |
| Band Material | Leather |
| Water Resistance Level | 100 Meters |
If you seek an edgy style watch, this one is suitable for you. This watch has a striking look that is functional and stylish, thanks to its edgy design.
The watch features a round case dial having a diameter of 44 millimeters and a thickness of 9 millimeters. In addition, the genuine leather strap on this watch ensures excellent durability. Also, it is comfortable to wear with a bandwidth of 21 millimeters.
Another great feature of this watch is the "Luminous Effect Display," making it easier to read the nighttime. So, regardless of whether it's day or night, you'll be able to tell the time with the help of an easy-to-read dial.
Also, this watch will keep you up to date on the current date and the weekday and month, using its date function.
Additionally, it has a water-resistance level of 100 meters. So you don't have to be concerned about water getting in during the rain or while bathing.
Unfortunately, the watch will not fit tiny wrists. Because of the large dial, it looks great on wide wrists.
Final Thoughts
Overall, the timepiece is quite excellent. It has a beautiful display, a comfortable leather strap, and sapphire crystals with enough water resistance. Thus, it is the perfect dress watch for any occasion.
5. Stuhrling Original Men's Analog Dive Watch
Product Specifications:
| | |
| --- | --- |
| Display | Analog |
| Case Diameter | 42 Millimeters |
| Case Material | Stainless steel |
| Movement | Japanese Quartz |
| Band Material | Stainless Steel |
| Water Resistance Level | 660 Feet |
 Stuhrling Original Men's Aquadiver Regatta Watch will surely grab your attention with its bright blue color. No doubt, it's a beautiful blend of blue and silver that gives it a stunning appearance.
It features a stainless-steel dial that is attached to a bracelet-style band. By this, you can rest assured that it won't fall off your hand. In addition, it has a simple clasp with push buttons for ease of use.
Moreover, Krysterna Crystal is used for the dial window, making it highly durable. Compared to other crystals, this material is far more durable and can tolerate exposure to dirt and moisture.
Above all, it boasts a screw-down crown that lets you set the date and time quickly. Due to the Swiss quartz movement, it is exact in terms of time.
For better convenience, the watch is water-resistant to 200 meters so that you can use it during swimming or diving.
Sadly, if you aren't used to wearing watches on the heavy side, this could be a problem for you because of the extra weight.
Final Thoughts
Stuhrling's dive watch is a gorgeous timepiece that gives outstanding value for the money. With excellent water resistance and precision, it is without a doubt the best cheap diving watch.
Where are Stuhrling Watches Made?
Despite its Swiss roots, this company has all its components, assembly, and even manufacturing done in Hong Kong.
Some Stuhrling timepieces are equipped with Chinese movements. Swiss quartz movements are found in more costly watches, while Japanese quartz movements are found in less expensive ones.
It is important to note that if the watches are made in China, it doesn't necessarily mean they're all created in China. Although most watches use Chinese mechanical movements, there are many watches powered by Japanese Quartz or Swiss automatic movements.
Where to Buy Stuhrling Watches?
Only a few watchmakers, including Stuhrling, sell their timepieces exclusively online.
The brand's official website is always the first choice for the safest places to visit. If you want to see the newest models first, this is the place to go.
All orders shipped within the United States are free of charge. With a minimum purchase of $430, international delivery is also free.
Amazon is another excellent place to find Stuhrling timepieces. In addition to the massive range of models, the most popular marketplace offers affordable prices and usually same-day shipment. Plus, you'll be able to read feedback left by people who have purchased the item you're considering.
Are Stuhrling Watches Worth It?
Stuhrling watches are not comparable to Japanese or Swiss brands in price or quality. But Stuhrling watches can give decent performance and attractive timepieces at a reasonable cost.
Moreover, all of their products come with an international warranty of two years. So, overall, Stuhrling timepieces are an excellent value for the money.
Advantages of Stuhrling Watches
Following are the significant advantages of owning a Stuhrling watch:
1- Extraordinary Designs
The most significant advantage of Stuhrling is its unmatched design. They are not only stylish, but they are also very comfortable to wear for extended periods.
Many watches are so inexpensive that you might buy one solely for the aesthetics of the design without giving any thought to the mechanism or other internal components.
2- Huge Range of Watches
No doubt, Stuhrling has made a watch for everyone, whether a sports watch or a dress watch.
In their collection, you will find skeleton and tourbillons, as well as aviator and dive watches, dress watches, and stopwatch watches. Most of the timepieces are automatic; however, the company also offers Quartz and manual mechanical models.
3- Durable Construction
The durable design of Stuhrling timepieces is another reason for their widespread popularity. Most of their watches are made of stainless steel, making them quite durable.
In addition, Stuhrling's timepieces have Krysterna crystal for an extra layer of toughness. It increases the watch's lifespan by shielding it from scratches and other harm.
4- Budget-Friendly
Aside from the design, another significant benefit is the low price, as most watches cost between $100 and $500.
Stuhrling also carries high-end watches like tourbillions and open-heart timepieces at reasonable prices. As a result, purchasing a watch from this brand will not break the bank.
Disadvantages of Stuhrling Watches
Stuhrling watches have several advantages, but they also have a few drawbacks that you should keep in mind. These are:
1- Inconsistent Movement Quality
Inconsistent movement quality of automatic watches is one of the most common complaints about Stuhrling timepieces. Stuhrling's automatic timepieces are expected to have significant day-to-day time variances of up to several seconds.
According to Amazon reviews, some models necessitate frequent resetting, often multiple times per day, due to the time lost.
2- Slow Customer Service
Many clients have criticized customer service, especially when it comes to warranty difficulties. On the other hand, several people have expressed satisfaction with the service they received. So, there are a lot of different viewpoints and perspectives here.
Conclusion
To conclude, Stuhrling is a company that specializes in innovative designs at reasonable pricing. It's a terrific option for everybody, regardless of their financial situation. Additionally, the brand can deliver high-quality products and services to its clients.
If you have any questions regarding the brand's reputation, the quality of their products, or pricing and warranty policies, we hope this article has answered them for you. If you have any further concerns or queries, please feel free to comment below.
Thank you!
Frequently Asked Questions (FAQs)
Is Stuhrling a good watch brand?
Stuhrling is a New York-based brand established in 1999 by Chaim Fischer. Various Stuhrling watches are available that are built with high-quality stainless steel, sapphire glass, skeleton design, and other features. Even though they are not Swiss-made watches, they are far from the cheap watchmaker.
Stuhrling is a reputable watchmaker with a wide range of timepieces to suit various tastes. We highly suggest you add a Stuhrling watch to your collection.
Which is the best affordable skeleton watch from Stuhrling?
The Stuhrling Automatic Skeleton Watch is the most cost-effective timepiece offered by the brand. Despite its low price, the watch has an alligator-embossed leather strap, automatic movement, and a pleasing appearance. Above all, the watch comes with a two-year warranty.
Syeda Masooma is a fitness enthusiast and running enthusiast who loves to write about the latest fitness gadgets and running tips. She has been running for over 10 years and has completed several marathons. She is passionate about helping others reach their fitness goals and loves to share her knowledge and experience with her readers. Syeda is also a certified personal trainer and nutritionist, and she has a degree in Exercise Science. She is always looking for new ways to help her readers stay motivated and reach their fitness goals.