If you own a treadmill, you might have a question in mind should I plug the treadmill into a regular outlet or not? in this article, I answer this question in detail.
Depending on the wattage, most treadmills can be plugged into regular outlets, like 15 amp to 20 amp circuits. In residential use, treadmills normally need a 15 amp circuit. In the gym, a 20 amp circuit is needed for the treadmill.
Powering up a treadmill for home use is one of the most exciting times when building a home gym. However, you need to plan its power use accordingly if you want to safely use it for a long time.
Can I Plug My Treadmill Into A Regular Outlet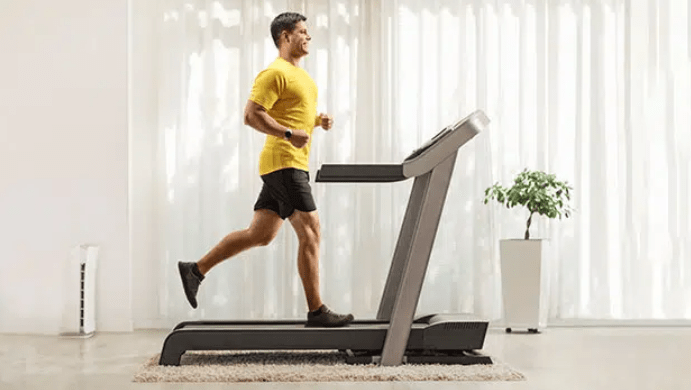 You should use the 3-prong wall plug for the treadmill. Try it so that the plug must be grounded either directly or through a surge suppressor. It will keep you safe from short circuits or any other incident which may harm you.
Normally we use 120V plugs for the treadmills.
The treadmill has specific recommendations on plugging found in the user's manual.
You should make sure that the treadmill plug is grounded and should be on a separate circuit. You should not share that wall plug with any other high-potential electrical aspects.
Suppose you do not have a separate circuit for a treadmill out there. You want to plug your treadmill in such an area, so you should make a new plug.
But do not do it by yourself; call the electrician because they are experienced and know how to make circuits for treadmills.
Sometimes you have to face problems in wattage to run the treadmill. It may be blown fuses. So you should raise the amp levels of your circuit by about 20 amp, which has the highest specification option for your high wattage treadmill.
Keep in mind that the distance from the circuit breaker panel to your treadmill will also affect the ability of that circuit to support your treadmill (the closer to the breaker box, the more desirable).
Electricity Requirement Of Treadmill
We have a different wattage manufactured treadmill for use, like 10amp, 15 amp, and 20 amp.
10 amp
These circuits are commended for low-wattage treadmills of about 800-950 watts.
15 amp
Those circuits are recommended for treadmills with at least 1.200W. This wattage of the treadmill is commonly used in the home.
20 amp
The treadmill has a large wattage. So these circuits are recommended for high voltage treadmills.
Most treadmills are manufactured to keep in the home, manufactured with the 15amp. They do not come with high power. It may have 2hp.
Many treadmills have 3hp and with high engines need 20 amp circuits. If you do not have a circuit at your home, install it first.
Is It Ok To Plug The Treadmill Into A 220V Outlet

?
You can plug the treadmill into a 220V outlet. These treadmills are manufactured in the US.
220V outlets are more powerful than in residential areas, mostly in the United States.
Most treadmills are manufactured outside of the United States and are typically backed by 2-prong power cords which go into standard 220V outlets.
Can I Plug The Treadmill Into A 15 amp Circuit

?
Yes, you can plug the treadmill in a 15 a mo circuit as the manufacturers recommended. Most circuits are made with a capacity of 80%, which means your treadmill needs to work on less than 15 amps.
Can I Plug The Treadmill Into A 20 amp Circuit

?
Most treadmills are manufactured as recommended by 20 amp circuits with high power wattage. Such as the high power appliances like TVs, spinners, and fans have a lot of horsepower backup.
Can I Plug The treadmill Into The Extension Cord

?
It is not easy to plug the treadmill into the extension cord because it is manufactured with high potential power. You should plug it into the wall to ensure all power fluctuations are safely handled.
Somehow you can plug it into an extension cord that may have to bear the high voltage potential. Also, the cord is made by the surge protector and handles the treadmill's power. Because in residential treadmills, the circuits use about 15amp.
Grounded Outlet
Keep in mind that the treadmill plug should be in the grounded outlet. It will save you from short circuits. A grounded outlet connects to the earth, which provides a path to least resistance for the electricity.
Grounded outlets are the safest circuit for your high-power electric appliances like treadmills.
Plug Into Surge Suppressor
You have to need a surge suppressor to control the current of electricity. The treadmill has a high voltage or highly potential manufactured material.
A surge suppressor protects your treadmill if there is any shortfall in a current and a sudden surge of power in your home.
Treadmill generates recommended a single outlet surge successor with a UL 1449 Transient Voltage Surge Suppressor.
(TVSS) rating.
The surge suppressor should have a UL suppressed voltage rating of about 400 volts or less and an electric rating of 120 and 15 amps.
Plug the surge suppressor into the ground outlet. Then plug the treadmill into the surge suppressor.
How Much Power Do Treadmills Use
Most treadmills that are used residentially have the power of around 900W. A treadmill with multiple functions uses more than 1.000W.
The treadmill wattage affects the plugging you can consider. Such as direct wall plugging or plugging through a surge suppressor.
Unplugged The Power Of the Treadmill After Use
Most of the treadmills unplugged the power after every use. Suppose you want your treadmill to work for a long time. So you should unplug the treadmill.
Moreover, treadmills are designed to be left on, so unplugging them can create an electrical hazard.
Summary
You can plug the treadmill in a grounded wall outlet or direct (3-prong). You can plug it with or without a surge suppressor. It's all depending on the manufactures recommendations.
Most treadmills manufacturers recommend about 15 amp circuits for home usage. More powerful treadmills run on 20 amp circuits while the average wattage (is 900W).
Low wattage treadmills can even run on 10 amp circuits.
Hi! I am Saad Dastagir, an enthusiast of smartwatches and fitness trackers. This blog is created to bring my personal experience with smartwatches in front of you. Our team tests different types of smartwatches and fitness gadgets constantly and shares hands-on experiences with you.