If you are looking for an affordable fitness tracker, then the Mgaolo fitness tracker might be a perfect device for you. It comes with all the valuable and advanced fitness tracking tools that help you achieve your fitness goals.
You will get all the essential health tracking features like heart rate monitor, steps, calorie tracker, sleep monitor, and more. So whether you are doing running, walking, cycling, swimming, or any other activity, the Mgaolo fitness tracker is your best companion that allows you to track specific activity.
[i2pc show_title="false" title="Pros & Cons" show_button="false" pros_title="Pros" cons_title="Cons" ][i2pros]Comfortable design
Waterproof
Blood pressure monitor
Easy to use
Excellent battery life
Affordable cost
Intuitive companion app[/i2pros][i2cons]Limited color option
Third-party app compatibility lacks
Alerts vibration is too long
No GPS[/i2cons][/i2pc]
What We Like in Mgaolo Fitness Tracker
The fitness tracker comes with a unique, slim, and elegant design that attracts everyone. Due to its slim design, the Mgaolo fitness tracker is very lightweight. In addition, you will see crucial fitness features that are pretty useful for athletes.
It is equipped with an advanced sensor that enables you to measure real-time blood oxygen rate. Also, it automatically provides SpO2 detection when you are asleep.
There are different sports modes that help you to measure your different indoor and outdoor activities.
With universal compatibility, you can connect this with a watch with android as well as your iOS (iPhone). There is the "H Band" app which allows you to see the insights of your daily fitness activities. These insights are really helpful in bringing a balance to your fitness activities.
I love its battery that lasts a lot longer than the Fitbit and other such watches. With such a long-lasting battery, you are able to measure your fitness activities for a long time.
For most of us looking for a high-accuracy watch, the Mgaolo fitness tracker gives you highly accurate results that are very important.
What we don't like in this Fitness Tracker
Sometimes you may face connectivity issues, and the watch automatically disconnects when the phone is far from it.
Secondly, In-app some sleep patterns don't work. App makers should enhance and correct the app so that everyone can easily connect and measure fitness activities.
The app shows some errors while Syncing, and also, most of the time, some features can't sync. This is a major downside in this fitness tracker. These things happen due to the inaccuracy of the app.
Mgaolo Fitness Tracker Features:
Design & Display
Mgaolo fitness trackers have an elegant and slim dial that looks sexy. Because of its minimal design, it fits in well with most sporty and casual outfits. The tracker display is large, clear, and more bright, making it easy to read at a glance.
Due to its remote interface, the watch is lightweight, and you feel comfortable on your wrist after wearing it. In addition, you can also adjust the brightness level, which is another fantastic feature.
A more fancy fitness tracker that builds with premium quality material. Its band is very comfortable and soft. You can also interchange bands; there are a lot of other color options available.
The best thing is Manolo fitness tracker has a sleek design that looks so attractive. On Amazon, you will find four different colors that look elegant.
IP68 waterproof technology means you can also use this wearable during swimming and bathing, etc.
Tracking Features
Some extra tracking features in this wearable enables you to measure a lot of your daily routine activities. Mgaolo fitness tracker can count calories, blood pressure/blood oxygen level, track your sleep, steps counter, measures distance and heart rate variability.
Apart from this, ten built-in sports modes enable you to track different indoor and outdoor activities. Sports modes include running, walking, cycling, swimming, jump, rope, climbing, badminton, basketball, and soccer.
The best thing is Mgaolo fitness tracker gives you accuracy, and with long battery life, you can measure fitness activities for an extended period.
You will also get HRV( Heart rate variability ) that indicates your health index more specifically with more detail and visible graphs. You can deeply see the insights of HRV on your smartphone through its app.
Mgaolo fitness tracker comes with the most advanced sensors that can detect real-time heart rates. Combine with PPG, Monitoring your real-time heart rate, heart rate variability, QT interval. Dynamic heart rate is a perfect feature for athletes.
With its Scientific sleep feature, you can measure three different sleep patterns. It allows you to measure deep sleep, light sleep, and REM sleep stage at night.
Not just that Mgaolo fitness tracker also measures your short sleep during the day. In this way, you can easily manage your sleep habits.
The sleep feature work on the movement of your body like all other fitness tracker has. Whenever your body is at rest sleep sensor starts working after a few minutes. I saw this fitness tracker gives accurate sleep measurement.
Compatibility
With universal compatibility, you can connect this watch with your android phone as well as your iPhone. To secure this fitness tracker, you need to install the "H Band" app available on both platforms. But you can't use a tablet, computer, or any Windows OS to set up your device.
The app supports the android 4.4 version and iOS 8.0 or above. You can't connect to this fitness tracker, and you must install the app before connecting to the tracker.
Other Features
There are dozens of other features available that make your life easier. During your exercises, you can see different notifications on your dial. Notifications can be call messages, SMS from Facebook, Linkedin, Instagram, Twitter, and other such apps.
As long as you are, there is a stable connection between your tracker and smartphone, and you can receive notifications. But on this device, you can't respond to calls or reply to text SMS. However, you can obtain information, and you don't need to take out your mobile phone from your pocket.
This wearable comes with an adjustable strap. You can easily adjust it according to your wrist size. A more soft strap that gives you the next level of experience of comfort. In addition, you can also change the belt with some other color or design.
There are many other colorful straps available according to your different activities, sports, moods, etc.
You can use a stopwatch during gym or any other exercise. Now you don't need to take out your mobile phone again and again from your pocket.
Also, you can set the alarm on this wearable. An option available to change the alarm tune, vibration, etc.
App
You can easily connect your fitness tracker with this app. H-Band app is available on both android and iOS. Just install this app, and you will be able to see the insights of your all-day activities. You can't connect your Mgaolo fitness tracker without this app.
After installing the app, Synchronize your watch with this app, and it will allow you to track all the activities daily, weekly reposts, and Monthly reports.
Powerful Battery
When you are in the mood to buy a fitness tracker, make sure you're finding something with solid battery life. Only a few fitness trackers come with an above 150mAH battery. This wearable has a 155mAH of battery that gives you an average of 7 days of long-lasting time. With such long battery life, you can measure your daily fitness routine for an extended period.
We have done a lot of research, and most customers are satisfied with its battery life. Apart from this, it charges relatively quickly, and you just need to put the tracker on charge for an hour.
But remember that the battery life depends on the use of a fitness tracker. If you are wearing it on standby, it will last for an average of 7 days. And if you are using it with a brighter screen and use most fitness tracking features, the battery discharges quickly.
You don't need any cable to charge the Mgaolo fitness tracker. Just remove its stripe and plugin in its charger. It takes approximately 1 hour to charge the battery completely.
Accuracy
You can use different fitness tracking features, but it's not convenient to use them as medical equipment. However, you can use it as a device to keep an eye on your daily fitness stats.
There is no doubt that results fluctuate from an actual value, but to get a more accurate HRV value, make sure to keep your wrist stable.
Secondly, the most significant discrepancies with a fitness tracker are step tracking. The values fluctuate sometimes. We have found this Mgaolo fitness tracker can't effectively track your high-intensity exercises. But it isn't easy to find some device that shows 100% accurate results.
Price and Availability
I have seen lot of fitness trackers offering same features but there prices are too high, and everyone can't afford them. Mgaolo fitness watch gives you all the necessary and important features at just $37.
The fitness watch is available on all the major shopping websites, but we prefer you to buy it from Amazon because it gives you a 1-month return warranty.
[maxbutton id="1″ url="https://amzn.to/36pmCTQ" ]
Why you need Mgaolo Fitness Tracker
For your daily fitness activities and exercises, you need a best companion that helps you to achieve your fitness goals. You can make a Mgaolo fitness tracker as your trainer that helps you to measure all of your exercises.
This smartwatch has many features like it will measure your heart rate, blood pressure, step tracker, scientific sleep tracking, and intelligent notification system. HRV and heart health report, and different sport modes.
There are advanced sensors that allow you to measure SpO2 with high accuracy.
Another best feature of this watch is a calorie counter that enables you to take a healthy diet and makes you fit. So if you have a fixed budget, this is the best budget-friendly fitness watch for you.
Should you Buy this Mgaolo Fitness Tracker?
Now, most of you people are confused that either they should buy this fitness tracker or not? If you are looking for a cheap fitness tracker with amazing features then you should go with the Mgaolo fitness watch.
This wearable comes with 1 year of warranty that builds customer's trust and reliability. After long research, I come to know that there are 85% plus points and 15% minus points in this tracker.
I recommend it to everyone who wants to achieve their fitness goals. You can also buy it for your kids or teenagers.
Final Words
Mgaolo fitness tracker is a cheap and budget-friendly fitness companion that gives you a lot of amazing features. An easy use watch and best fitness tracker for beginners. Just download its app and connect your watch with your phone and set your fitness goals today.
In this Mgaolo fitness tracker review, you will understand either this wearable is best for you or not. I personally recommend this tracker because of its accuracy and battery life. There are also a lot of plus points which you can see in this guide.
I hope you will enjoy this Mgaolo fitness tracker review, share this guide on the social platform to help someone for buying a cheap fitness tracker.
[maxbutton id="1″ url="https://amzn.to/3oyizuk" ]
F&Qs
How long does the watch take to charge when you first get it?
It takes approximately 3 hours.
Are different color brands available?
Yes, you can buy it from the Mgaolo store.
Is this fitness tracker compatible with the iPhone?
Yes, you can also connect the Mgaolo fitness tracker with your iPhone (iOS 8.0 or above)
Can I change the language from its app?
Yes, there are 12 different languages available, including; English, Japanese, Korean, German, Russian, Spanish, Italian, French, Vietnamese, Chinese, Traditional Chinese.
What is the Price of Mgaolo Fitness Tracker?
It is a cheap fitness tracker available for just $37.
Is this fitness tracker best for Women?
Yes, it is the perfect choice for Women. It includes all the necessary features that women need, like; Female physiological period reminder, calories counter, blood pressure monitor, HRV, step counter, sleep tracker, and different sports modes.
Does it measure respiratory rate?
Sorry, the Mgaolo fitness tracker can't measure respiratory rate.
How to reset the steps and other activities?
You don't need to reset steps and other such activities. Its pedometer will automatically reset your all-day data, including steps and other activities.
Can this work with MyFitnessPal?
No, this fitness tracker only works with the H-band app.
How can I see the insights of my daily activities?
Well, it is quite easy. You need to install the H-band app on your smartphone (Android or iOS), now connect your Fitness tracker with this app, and you will be able to see the insights and details of your daily fitness activities on this app.
Is this fitness tracker waterproof?
Yes, the Mgaolo fitness tracker comes with IP68 technology. You can also use this tracker during swimming or bathing etc.
Does this wearable have a scratch-proof dial?
Yes, its display is totally scratch and dust-resistant.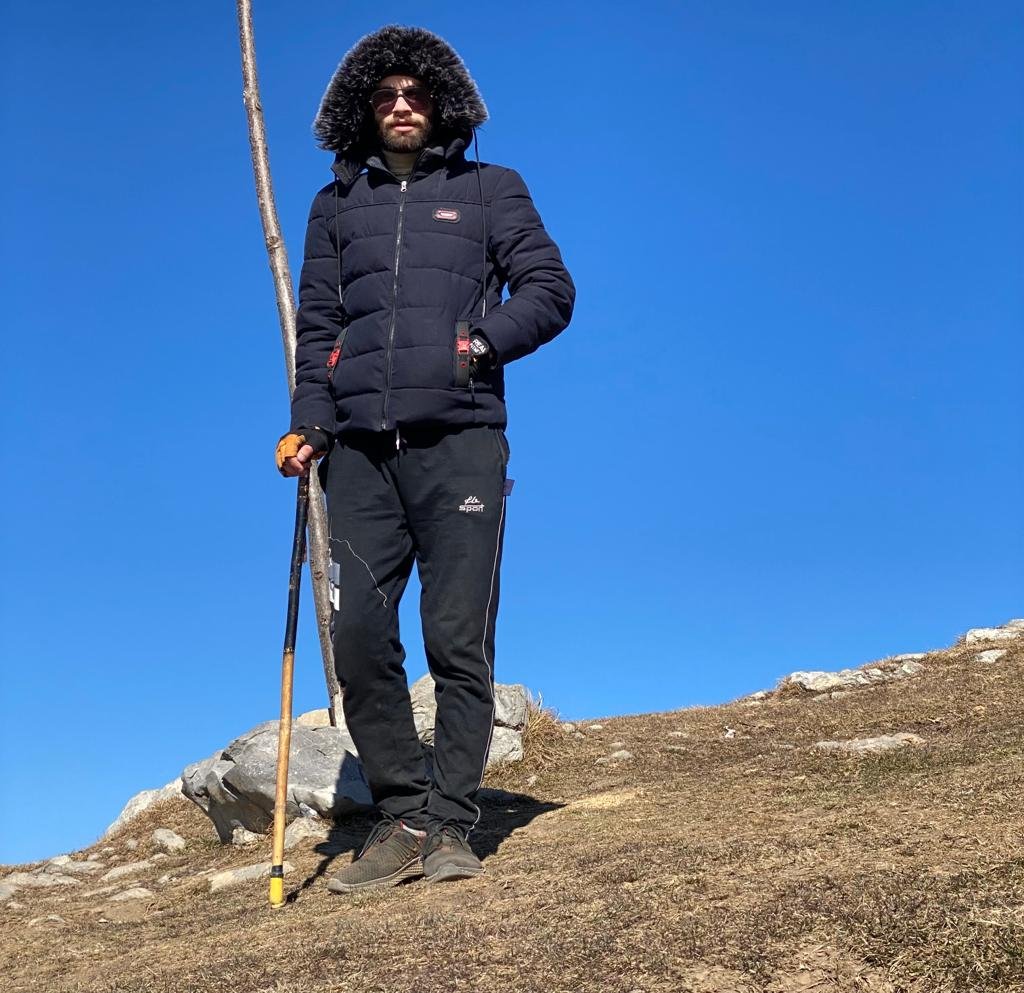 Hi, I'm Saad Dastagir. I'm a tech and fitness enthusiast who loves writing about smartwatches and fitness trackers. When I'm not testing out new gadgets, you can find me out on a hike or exploring new adventures. My passion for technology, fitness, and the great outdoors has led me to create a platform where I can share my experiences, insights, and reviews on the latest gear.