iTouch Air Smartwatch is one of the budget-friendly smartwatches that gives you all the essential and necessary features.
In the sea of smartwatches, it is challenging to buy the best smartwatch that gives you many more features at a low price. But don't worry, in this guide, I will show you a complete iTouch Air smartwatch review.
This smartwatch comes with multiple features and sports modes that help you to achieve your daily fitness. Goals. Like all other smartwatches, it can heart rate, track your sleep, count your step, distance, blood oxygen, and other such features. There are also some advanced sports modes which I will discuss in this article.
Now some unique and latest features in iTouch Air smartwatch's why I love this smartwatch. It also comes with a long battery life that is necessary to fulfill your fitness goals for extended periods.
Related Posts:
Why should you buy an iTouch Air smartwatch?
I saw a lot of smartwatches that are very expensive yet don't provide essential features. Also, their design and quality are inferior. But to be honest ITouch air smartwatch comes with premium quality and includes a lot of crucial elements.
If you set some fitness goals, then this smartwatch will help you to achieve your fitness goals. Eight different sports modes track your other and outdoor and in-door activities. But yet there are few drawbacks to this smartwatch which I will mention in this guide.
If you are interested in some sports activities or different exercises, then you should buy this smartwatch. It helps you to measure your activities with accuracy.
You also have the option to completely customize its vibrant screen according to your daily routine activities.
Moreover, the iTouch Air special edition smartwatch has universal compatibility means you can connect it with your android phone and your iPhone. But it only connects with android phones having android 7.0 or above and iPhones running iOS 8.0 or higher.
Price and Availability
Many cheap and budget-friendly smartwatches don't give you important features and have minimal sports modes. But the smart Air iTouch watch gives you a lot more features with very affordable price tags. That's why I love this smartwatch. You will only pay $59 to get this smartwatch.
A lot of other brand smartwatches with this price tag don't meet our daily fitness requirements. But iTouch Air's special edition smartwatch will help you to achieve your fitness goals. This smartwatch is available worldwide, not restricted to any country.
I suggest you buy it from amazon. If you purchase it from my affiliate link, It will help me to make some pocket money.
[maxbutton id="1″ url="https://amzn.to/36tjqGN" ]
What is best in iTouch Air Smartwatch
Firstly, if you are looking at its design, it's fantastic and has a customizable dial. You can easily use this smartwatch and connect it with your smartphone. If you are a beginner, then this watch is perfect for you. I also recommend the iTouch Air Smartwatch for kids and teenagers.
Now second, the vital thing in this smartwatch is its battery life. No other smartwatch with such a cheap price tag gives you extra-long battery life.
This smartwatch includes all the essential features like heart rate monitor, step counter, blood oxygen level monitor, sleep monitor, and other such features. Along with its app, you can track and see detailed insights into your daily activities.
You can also see notifications of your smartphone on its dial that helps you to keep updated. Its vibrant dial gives you an extra unique and elegant look. Its screen is waterproof and scratch-resistant so that you can use it anywhere and anytime.
Some limitations
There are a few things in the smart Air iTouch watch that I didn't like. Its interface is not user-friendly and not easy to program, navigate, and sync. Besides, sometimes it also shows connectivity issues. Its running mode tends to be off by at least one mile.
When you turn on the smartwatch, it takes a bit longer to show the display. There is no NFC feature as well. Although the iTouch Air Smartwatch includes many more features, only a few of them are working correctly, but still, the figures are correct to some extent.
Features in iTouch Air Smartwatch
iTouch air smartwatch includes all the necessary features, let's talk about a few of them.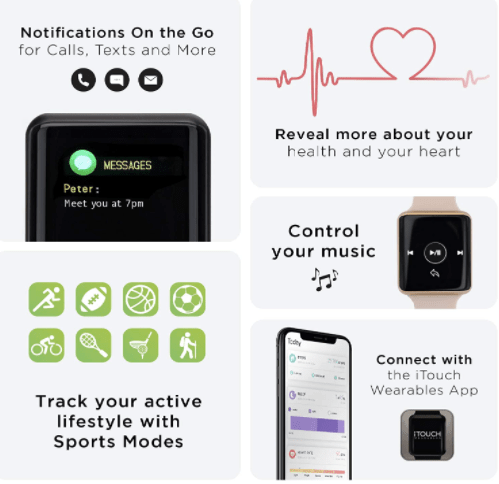 Display
This smartwatch comes with a full-array display which is customizable. With the square shape dial, it looks like an Apple watch. The display is protected by solid glass, which is water, dust, and scratch proof. You will get a high-quality, sharp, clear, and more bright display with its 240 * 240 resolution.
Design
With its super sleek design, the smartwatch looks elegant and more beautiful. The smartwatch has a 41-mm solid silicone band. Its strap is comfortable, soft, and skin-friendly. You can also change the straps and select the best one for you. There are also a lot of colorful straps available. Besides, its case is made of premium alloy steel which is strong enough.
Main tracking Features
Like all other smartwatches, the iTouch air smartwatch is equipped with a heart rate monitor, sleep tracker, blood oxygen tracker, and calories counter. You can use these features with the one-touch sensor. You will also see your smartphone notification on the dial that helps you to remain updated.
Sports Mode
One thing I like about this smartwatch is its sports mode. iTouch Air Special edition smartwatch gives you 8-sports modes. These sports modes include walking, running, climbing, cycling, jump, rope, badminton, basketball, and soccer.
You can't find such multiple sport modes in the same price tag smartwatch. With a wide variety of sports modes, you can quickly achieve your daily fitness goals.
Connectivity
iTouch Air smartwatch has universal connectivity. You can connect it with your android phone as well as with iOS (iPhone). It only connects with android phones having android 7.0 or above and iPhones running iOS 8.0 or higher.
Calorie Tracker
This is a unique feature in this iTouch air smartwatch that you will not see in other such smartwatches with similar price tags. With this feature, you know what to eat? And how many calories you consume. This feature is beneficial and essential for fitness lovers.
Notifications
You can easily connect iTouch air smartwatch with your phones. And once it is connected, you can receive your calls, messages, notifications, and other social apps notification. This really helps you to remain updated during your exercise and different workouts.
Motion Gesture
This exciting and essential Motion Gesture feature allows the watch screen to activate with your wrist's motion. You can easily set up this feature, tap the "device" icon, then go to "Additional features" to enable the display after the wrist rotation function.
But keep in time that this extra feature will consume battery life more quickly.
iTouch Wearable Apps
There is also an app for both android and iOS. On this app, you can see all the insights into your daily fitness activities. Just download this app. You will need to turn on your Bluetooth for the download. And follow the in-app instructions to pair your smartwatch with your phone. It will take seconds to make a connection. You can read additional information in the manual guide.
Brightness
I say in many other cheap smartwatches that there is no option to adjust the brightness level. But in the iTouch air smartwatch, you will be able to adjust brightness according to the lighting condition.
To adjust the brightness:
Go to the Settings menu and touch the Brightness icon.

Tap again on the icon and modify it by sliding your finger from left to right.

Touch the icon once again to verify the current brightness level.
Dial Customization
This smartwatch also allows you to change the look of the dial according to your choice. This is the best feature. Now you can try different faces of the iTouch Air smartwatch. The smartwatch comes with three other changeable interfaces; Modren, Analog, and Custom.
Weather Update
You will also remain updated with the weather situation. Just connect your smartwatch with your mobile phone, and then the weather icon will display on the screen. Now tab on that weather icon, and you will be able to see the weather situation. You can also view weekly, five days, or hourly forecasts.
Also, you can change the weather settings. If you want to see the weather forecast in Fahrenheit, then go with it; otherwise, by default, it will be Celsius. Besides, you can also see the weather of some specific country, city or any region. Just type the name of that place, and boom!!! You will get the current weather forecast.
Find My Device
To activate this feature, firstly, you must connect your smartwatch with its app. When you need to locate your smartwatch, just tap on "Find Device" under the additional feature section. In this way, the iTouch air smartwatch will vibrate, and you can quickly locate it.
Don't Disturb
Sometimes you will get a lot of notifications, and this can distract you during your workouts. So don't worry, the iTouch air smartwatch special edition also allows you to handle messages.
Just tap on the Don't Disturb icon, and you will be able to set a time in which you wish to block any notifications. Remember that it will take 3-5 minutes to work after activation. You can also set your smartwatch on vibration mode.
Language
This smartwatch also gives you an option to select your desired language. Fortunately, you can use this smartwatch in your mother tongue.
Interchangeable Bands
Not all smartwatches give you these fantastic features. You can easily interchange the bands of the iTouch air smartwatch. There are a lot of other colorful bands available depending upon your mode, sports, and outfit.
Just remove the previous old strap from your smartwatch. You can easily do this, turn your watch's face and gently pull out the silver pins. Once pins are removed, pull the strap away from the watch, and that's it. Your old strap is removed.
Now it's time to put a new band, line up each of the pins next to the corresponding hole located at the base. Now place the new strap against the case to line up the pin before releasing the lever. Once you remove the lever, pins will automatically fix in place.
Final Words
You saw all the iTouch air smartwatch features, and definitely, there are a lot more to explore. With a $59 price tag, I think this smartwatch is the perfect choice for you. To achieve your daily fitness goals, you should need a fitness watch to track your calories, blood oxygen rate, etc. So all these features are available in this smartwatch.
iTouch air smartwatch is also the perfect choice for athletes because this wearable comes with eight different sports modes. That helps you to track your various indoor and outdoor activities.
Thank you so much for its long battery life to track your fitness goals for an extended period. With its app, you can see your daily activities insights that allow you to motivate yourself for the next fitness activity.
There are also a lot of other features like a camera, music control for enjoyment. If you are looking for a cheap smartwatch, go with the iTouch air smartwatch, which gives you all the necessary features.
SmartWatches Under $50: Not Just that Gorilla Fitness Watches always try to create ease for its reader. If you want to buy a more budget-friendly watch with essential features, then you can read this guide. In this guide, I show you the best smartwatches Under $50.
F&Qs
What is the price of the iTouch Air Smartwatch?
Like Other Smartwatches this one is not much expensive and you just needs to pay $59 for it.
Is iTouch Air Smartwatch is compatible with iPhone?
Yes, it has a universal compatibility you can also use connect with iPhone
Is this watch is Waterproof?
Yes, this smartwatch is waterproof, you can also wear it during swimming, bathing, etc.
How long does the battery last under just single charge?
Average time is 7 days. But it depends upon your daily usage.
Is this smartwatch is scratch proof?
iTouch Air smartwatch is totally scratch and dust proof.
Can I play music on it?
This smartwatch is just able to control the volume and songs selection. You can use this feature during your workouts.
How can I download apps on this smartwatch?
Well, you can't download different apps on this smartwatch as you can do on Apple, Samsung, fitbit and other top brands smartwatches. iTouch Air Smartwatch is only made to track your daily fitness activities.
How to use sleep monitor on this smartwtach?
With this smartwatch you can also monitor your sleep and its very easy. You don't need to do any thing, this smartwatch is works on your body movement. When you sleep then your hands are on rest at time it will record your all the sleep data. But remember, it will take 2-3 days to get reliable data.
Can I change Language on iTouch Air SmartWatch?
Yes, you can easily change language and set it in your mother tongue. Just go to iTouch App, and tap on the device icon from the bottom. Now tap the additional features and here you can see the "Language" option. You can now choose any of your desire language.
Can I interchange the bands?
Yes, iTouch Air special edition smartwatch allows you to choose your favorite band. There are lot of colorful bands available depending upon the outfit, sports, and moods.
How Can I see the insights of my daily fitness activites?
Yes, this wearable also have an app you need to install app on your smartphone. Then via this app you can see all the insights of your daily fitness activites. These insights are really helpful in motivation.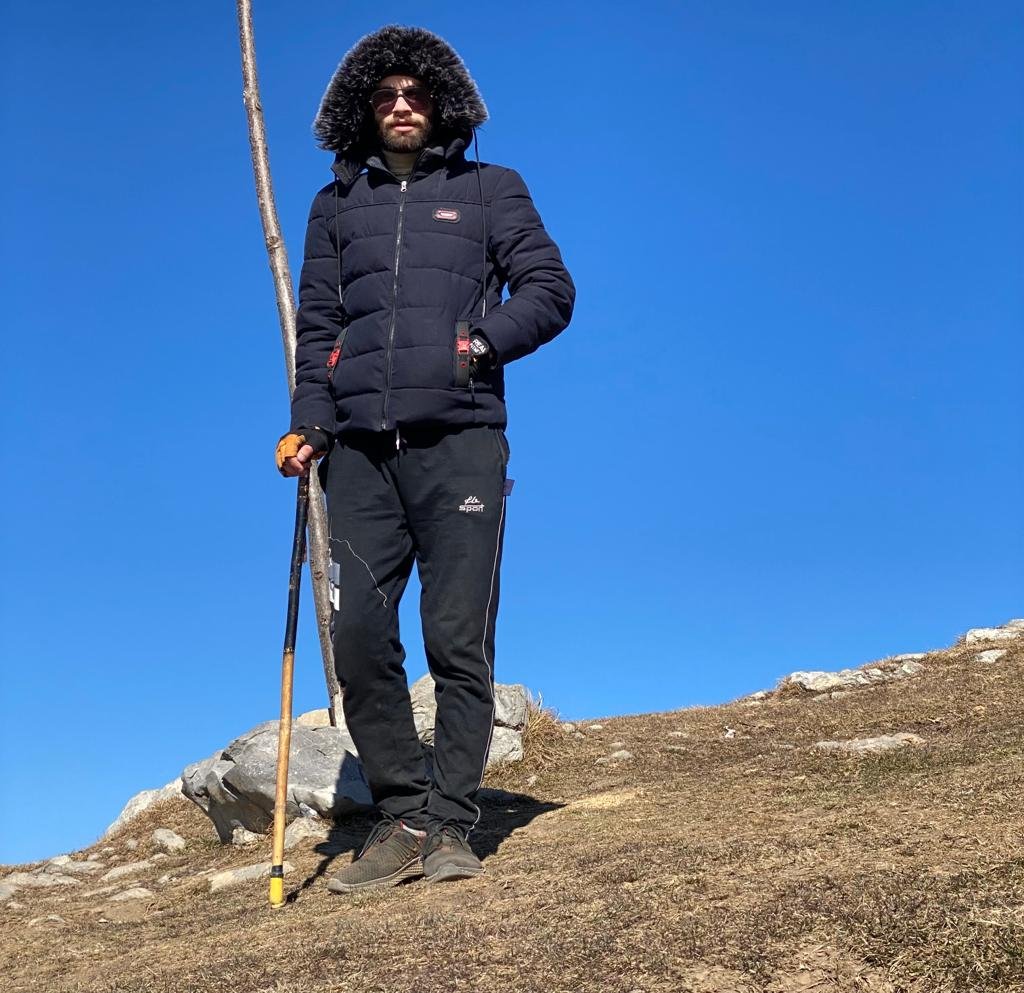 Hi, I'm Saad Dastagir. I'm a tech and fitness enthusiast who loves writing about smartwatches and fitness trackers. When I'm not testing out new gadgets, you can find me out on a hike or exploring new adventures. My passion for technology, fitness, and the great outdoors has led me to create a platform where I can share my experiences, insights, and reviews on the latest gear.