Huawei Watch GT 2 Pro and Amazfit GTR 2 are both the best fitness smartwatches offering many features. Their battery life, health tracking, accuracy, interfaces, and design are pretty the same.
Because of their unique features, it's challenging to find out significant differences between both devices. Interestingly Amazfit and Huawei are both Chinese giant companies and both work under the same framework.
Seeing your problem, we have written this comparison guide, in which you can see the differences between Huawei GT 2 Pro and Amazfit GTR 2. So let's have a look!
Huawei GT 2 Pro VS Amazfit GTR 2 Design & Display
In the case of design, you can see both smartwatches look pretty similar. But there are still differences between both devices. 
Huawei GT 2 Pro
The Huawei Watch GT 2 Pro is a stylish-looking round dial watch that gives a more premium feel. Compared to its predecessor, its durability is also excellent as it's made of a Titanium body.
The Watch GT 2 pro keeps a balance between traditional and modern design. On the dial, there is a Sapphire glass fascia that increases its durability. It comes with a 50-meter waterproof rating, which means you can wear this smartwatch while swimming. 
Further, in GT 2 Pro, you have an interchangeable bracelet. The bands are pretty cheap, so you can buy a couple of bands and regularly update your outfit. It also offers two side buttons to handle functionality and navigate through menus.
In Watch GT 2 Pro, you have a 1.39″ (454 x 454) OLED display that looks more vibrant and bright. With its auto-brightness feature, you can easily read the dial under direct sunlight.
Amazfit GTR 2:
GTR 2 is one of the slimmest smartwatches that looks pretty stylish. It's much more comfortable because of its 31g of weight. This time Amazfit added a stainless steel bezel that makes the watch durable and premium. On the dial, there is 3D corning Gorilla Glass that makes the watch 5ATM water-resistant. 
Similarly, like Watch GT 2 Pro, in GTR 2, you have two side buttons that control its functionality. You will get interchangeable bands that give you the freedom to change your outfit regularly.
When it comes to displaying GTR 2, it offers the same 1.39″ display with AMOLED type. Huawei Watch GT 2 Pro and Amazfit GTR 2 both offer the same display.
The only difference is that GTR 2 offers 450 nits while GT 2 Pro has a 1000 nits display that looks clearer in daylight. In terms of beauty, GTR 2 is a leading smartwatch as it looks gorgeous and sleek.
Huawei Watch GT 2 Pro VS Amazfit GTR 2: Battery Life
Usually, you can't expect more excellent battery light in high-performance smartwatches. And if a watch has an AMOLED display, then its battery life further drops. But Huawei GT 2 Pro and Amazfit GTR 2 both offer high-performance batteries.
Both devices have almost the same battery life. Watch GT 2 Pro comes with a 455mAh battery that can last up to 14 days. On the other hand, Amazfit GTR 2 comes with a 471mAh battery that gives 14 days of extended battery life.
But 14 days is not a constant or specific battery-lasting time. It may fall or increase depending upon usage. If you use GPS, AOD, and 24/7 tracking, then it may decrease. But still, it has good battery life. You can go on any adventure with these watches, and they can track your whole journey.
Huawei GT 2 Pro VS Amazfit GTR 2: Price
In the price department, both smartwatches fall in the mid-range category. Just like other competing brands, their prices are normal. 
The Huawei GT 2 Pro is available for $250, which is way more expensive than Watch GT. On the other hand, Amazfit GTR 2 is available for $180. 
There is a big difference between the prices of both smartwatches. Huawei GT 2 Pro is a little expensive because of the advanced features that make it more worthy.
Amazfit GTR 2
Vibrant display

Music Storage

14-Day Battery Life

3D CURVED DESIGN

90 SPORTS MODES
Huawei GT 2 Pro VS Amazfit GTR 2: Health Tracking Features
Health and fitness tracking features are the most important part of a smartwatch. And luckily, both Watch GT 2 Pro and Amazfit GTR 2 offer high-end fitness features. 
Huawei GT 2 Pro
Compared to the previous models, the Watch GT 2 Pro provides comprehensive insights of your daily activites. You can track real-time heart rate, sleep tracking, steps, speed, calories burned, and more. 
Thanks to its 100 sports and workout modes that allow you to track each sport efficiently. It not only tracks your activities but also gives you suggestions to improve them. 
This time Huawei also added VO2Max that tracks the rate of oxygen consumption during exercises. Similarly, the advanced SpO2 sensors use updated AI algorithms to calculate your blood oxygen saturation level.
Huawei also introduced the new TruSleep 2.0 that significantly tracks and diagnoses six common types of sleep issues. Overall, this is a perfect watch for fitness and sports lovers, and it offers deep insights into activities.
Amazfit GTR 2
Amazfit watches are now gaining popularity with the new Biotech sensor, and their accuracy has become better and better. The Amazfit GTR 2 is undoubtedly a good health tracker that offers tons of health and fitness features.
It tracks 24/7 heart rate and also calculates heart rate zones. The updated thing here is altered when your heart rate is abnormal, and it gives you alters and suggests you rest. It also added a Blood-oxygen sensor that tracks blood-oxygen-level during sports and other activities. 
Thanks to the PAI Health Assessment System that combines all the heart rate, activity duration, and other health dates into a single intuitive score. With the PAI feature, you can improve your day-to-day performance.
There are 90 different sports modes, sleep tracking, calories counter, steps tracking, and more features. 
Huawei GT 2 Pro VS Amazfit GTR 2: Other Features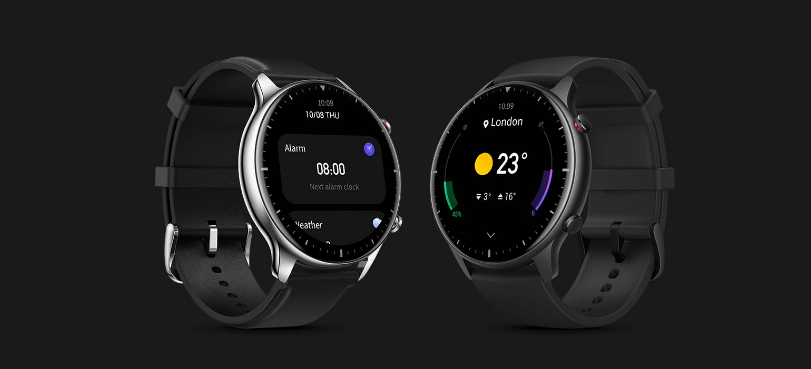 Other than health tracking features, both devices are equipped with some other exciting smartwatch features. First of all, both watches offer built-in internal storage to store music. Watch GT 2 Pro has 4GB of memory, while GTR 2 has 3GB built-in storage.
Apart from this, you have a notification and call alter option, and you can set alarms, a stopwatch, and more. 
To update your style, you have dozens of watch faces on both smartwatches, and most of the watch faces are customizable. The watch faces on GTR 2 are more beautiful than GT 2 Pro.
Lastly, both smartwatches offer built-in GPS, which is a big plus point. You can track speed, distance covered, pace, etc., during different activities. 
Final Words
Both Huawei Watch GT 2 Pro and Amazfit GTR 2 are the best fitness tracking smartwatches. You can choose any of them according to your budget and requirements. If you want a more stylish-looking and comfortable watch, then go for Amazfit GTR 2.