Wearing your Apple Watch for most of the day means you'll need to keep it charged, especially if you want to meet your activity goals and see your stats at the end of the day.
Apple Watch can be charged every night or only when necessary, and the process is straightforward. To charge an Apple watch, you have to place the concave side of the magnetic charging cable on the back of the Watch.
There is a lot of curiosity about how to charge an Apple watch. If you also want to know the proper method of charging the Apple watch, we have discussed the step-by-step guide, so let's jump into it.
Related Posts:
Things To Be Consider Before Charging The Apple Watch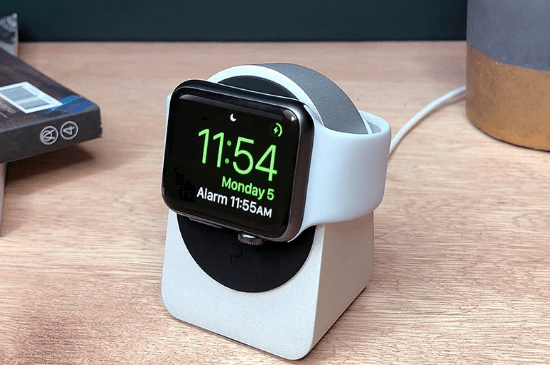 Before Charging your Apple watch, you must consider the following things to prevent any damage.
Environment
The first and foremost thing that you must consider is the environment. Apple recommends charging your Watch in a well-ventilated area.
Keeping the device is an excellent, dry, moisture-free environment with a temperature no higher than 90° F (32° C) is recommended.
Charging Time
It is also vital that you know that at which stage your apple watch should be charged. So, it is recommended to charge your Apple watch when the battery must have at least 10 percent charge for your Watch to restart.
Voltage
To ensure safety, the only thing that matters is that the charger delivers 5 volts nominally.
Your iWatch may be damaged by a higher voltage. In the case of a lower voltage, you may receive a message that the charger is incompatible.
How To Charge Apple Watch
What Do You Need To Charge An Apple Watch:
Magnetic Charging Cable

Magnetic Charging Dock

USB power adapter
Follow these steps to charge your Apple watch properly:
Step 1:

Prepare your charger
Place the charger or cable on a flat surface (including the Apple Watch) with the concave side facing up in a well-ventilated area.
You will receive either the Apple Watch Magnetic Fast Charger or Apple Watch Magnetic Charging Cable (Apple Watch Series 7 only).
The MagSafe Duo Charger or Apple Watch Magnetic Charging Dock (sold separately) can also be used.
Charge your device by connecting the charging cable to the charging adapter (sold separately) and plugging the adapter into a power outlet.
Step 2: Charge Your Apple Watch
After setting up the charger, now it's time to charge your apple watch.
The Apple Watch charger has two sides, one is concave, and the other is flat. Remember, you have to touch the concave side of the charger with the back of your Apple watch.
The concave side of the charger contains the magnet, which automatically aligns the two parts and holds them together.
When charging, the Watch makes a chiming sound – unless it is set to silent. In the top left corner, you'll also see a lightning bolt (the charging symbol).
Note: Normally, this symbol is green, but a red symbol indicates that your Watch needs to be recharged.
If your watch battery is very low, a red lightning bolt will appear, and the face may not display at all unless you press the side button.
Several Ways To Increase The Apple Watch Battery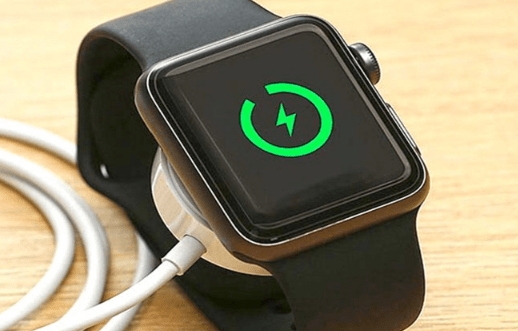 Apple Watches should have enough battery power to last all day with moderate or heavy use. Depending on how much you use it, you might even get more than a day out of it.
When the battery on your Watch isn't long enough, what should you do? Check out these tips to make it last longer.
1- Disable Always-On-Display
All models of the Apple watch series five and the latest models include Always-on Displays. As a result, you won't have to flick your wrist or tap the screen to see the time.
To realize this, Apple uses some clever tricks, including lowering display refresh rates from 60Hz (60 refreshes per second) to 1Hz.
You can increase your Watch's battery life by disabling the Always-on-display. Believe it works.
2- Use Dark Watch Face
Apple Watch displays use a small OLED panel with self-emitting technology. OLED pixels emit light on their own. To use the Dark watch face, you have to switch off the pixels.
Using this trick will increase the battery life of your Watch.
3- Reduce Brightness
Brightness is also directly related to the battery life of your Apple Watch. The high brightness level of your Watch will consume more battery life and vice versa.
When you are not in an open space, you should lower the brightness level on your Watch.
4- Reduce Notifications
Getting push notifications on your smartphone is a huge battery drain, which is true for the Apple Watch. By removing some of these, you might reduce your energy consumption as well as increase your productivity.
5- Use Power Saving Mode During Workouts
Exercise monitoring is one of the best features of the Apple Watch, but not everyone takes advantage of it. Alternatively, you can disable the heart rate monitor altogether to save battery power.
Your Apple Watch will only track metrics during workouts, such as time, distance, and speed when you do this.
Use Power Reserve
You can also use Power Reserve in your Apple watch. When you use Power Reserve, your Apple Watch displays the time while preserving battery life.
So you can see the current time by pressing the side button while your Apple Watch is in Power Reserve.
But during Power Reserve, your Apple Watch and iPhone will not communicate, and other watch features will not be available.
How To Turn On The Power Reserve
Whenever your Apple Watch runs low on battery, it alerts you and asks you if you want to use Power Reserve.
Follow these steps to turn on the Power Reserve mode:
Swipe up on the watch face to access the Control Center.

Touch the battery percentage.

Tap Proceed after dragging the Power Reserve slider.
How To Turn Off The Power Reserve
You can also turn off the Power Reserve by following these steps:
While holding the side button, look for the Apple logo.

Your Apple Watch will restart once it has been restarted. Your Apple Watch might need to be charged first.
Check your Battery Charge
Using the watch face, Control Center, or Nightstand mode, you can quickly check your battery level by following these simple steps:
You can see the battery percentage by opening the Control Center by swiping up on the watch face.

You can add a battery complication to some watch faces.

If you have an Apple Watch connected to your iPhone, you can add a battery widget.

You can check the battery percentage while your Apple Watch is charging in Nightstand mode by tapping the charging button.
Use Optimized Battery Charging
Apple Watch uses machine learning to learn your daily charging routine to wait until it has charged 80 percent before using it.
Follow these steps to optimize your battery charging:
On your Apple Watch, open the Settings app.

To access Battery Health, tap Battery.

Optimize battery charging by turning it on.
Final Words
After reading the above guide, hopefully, you should be able to charge your Apple watch properly. But to prevent any damage or loss, kindly consider the guide mentioned above.
Also, if you want to increase the battery life of your Apple watch, then you can also do that by following the above tricks.
FAQ's
How much time does the Apple watch take to charge?
From zero to 80%, Apple Watch Series 3 and 4 take about one and a half hours to charge, and from zero to 100%, about two hours to charge.
How long are Apple Watch batteries supposed to last?
If you factor in checking the time, receiving notifications, using apps, and working out for 60 minutes, the Apple watches can last 18 hours after charging overnight.
Do Apple watches ever need new batteries?
Apple Watch batteries are designed to last between two and three years before needing to be replaced.
Is it bad to charge Apple Watch every day?
No, because charging your Watch nightly may be more convenient for you. Regular charging will not harm the Watch's battery and cannot overcharge it.
How to charge the Apple Watch without a charger?
Apple Watches can currently only be charged by magnetic chargers.