In this age of technology, a fitness tracker that is rising to the top is Whoop. If you're considering subscribing to Whoop or have subscribed, stick around. Get a productive view of how long a Whoop battery lasts in reality.
To begin with, Whoop has two famous models: Whoop 3.0 and Whoop 4.0 (the most recent). Both have similar battery life, as Whoop claims these fitness wearables can last 4-5 days. But is it true?
In today's article, we will talk about the battery life of the Whoop strap and the Whoop pack, and we will also guide you on making your Whoop battery last longer.
Let's figure it all out!
Whoop Strap's Battery Life
Whoop strap's battery life depends on how many workouts you use this fitness device to track your performance and activity.
If you use it to track a one-hour-long workout with several small walking sessions daily, it can last for 4.5 days. After it, you would have to slide on the battery to charge it even while using it.
To begin with, you can view the charging level on Whoop app.
A professional athlete or a fitness expert might be using this fitness tracker for a longer period. Such use causes the Whoop battery to drain fast and last for only 2-3 days as the number of workouts has increased considerably.
So, for an average fitness enthusiast, this might be a great battery life per charge, but not for a professional athlete or a fitness expert.
How Long Does Battery Pack Charging Last
If your Whoop band has drained completely, you should put the latch on the battery pack on top of it.
A fully charged battery pack can charge the Whoop strap up to 100 percent in 15 minutes.
So, a fully juiced-up battery pack enables the complete recharge of the Whoop band from zero to a hundred percent. You can charge this slide-on battery pack by plugging it into a power source through a USB-C cord.
You'll also receive this cord after subscription with the whole Whoop package. After plugging it in with a power source, the battery pack takes 90-120 minutes to charge completely.
Effectively Monitoring Whoop Band and Battery Life
Checking the charging level is important in knowing how long your Whoop will last before or during your workout session.
Before starting your workout, you should verify if your fitness tracking device can hold out long enough for your training session. Knowing the charging level will help you to charge up just in time.
You can easily use the app to check the battery level of the Whoop band. But how can you check the battery pack's battery?
Furthermore, is there any other way to verify Whoop wearable device's charging? Let's find it out!
Checking How Long Does the Battery Pack Last
Double-tap your battery when it's not on your Whoop strap to see how charged it is. After double tapping, it will show light signals which have different meanings. "Solid Green" means "70-100%" charged, and "Solid Red" means the battery level is "less than 1-69%".
So, if the battery is signaling red, consider plugging it in with a power source.
Checking the Charging of The Whoop Band Without the App
In addition to checking the charging level of your Whoop fitness tracker with the app, you can use the battery. When you latch the battery to charge your Whoop tracker, you'll see the light on the battery to indicate it's charging.
You can double-tap your battery to see how charged your fitness device is through these light signals.
| | |
| --- | --- |
| Light Signal | Charging Status |
| Solid Green | 50-100% Charge |
| Yellow | 20-49% Charge |
| Solid Red | 5-19% Charge |
| Blinking Red | Less than 5% Charge |
Make Whoop Battery Last Longer
You can't do much to make your fitness wearable package last longer, and alternatives are also available.
However, you can increase the proficiency of your battery to make it track more with the same charging levels.
Particularly, using "Strain Coach" and "Whoop Live" for extended periods can significantly impact the battery life. Consequently, using these features only when required can improve Whoop's battery life.
In addition to this, it's possible to update your Whoop device through your app to improve it. Avoiding such features can improve the productivity of the fitness tracker.
If you don't want strain feature then you can even go for Amazon Halo to get more features from your fitness device.
But what can you do to enjoy the Whoop tracking device to its maximum potential whenever you wear it? Stick around; we are here to help and will guide you on using the battery pack updater!
Battery Pack Updater
The battery pack also has firmware, just like the Whoop device. It also requires updating to improve efficiency, reduce bugs and enhance performance. Doing so also improves charging or battery level proficiency.
You would need the Whoop USB-C cord, laptop or computer, and the battery pack. Whoop recommends connecting directly without the USB cable, but you have a choice. Here's what you'll need to do
Step 1: Download the Whoop battery pack firmware updater tool from Whoop Support. You would run the downloaded Pack.exe for a PC user, and the rest of the process remains the same.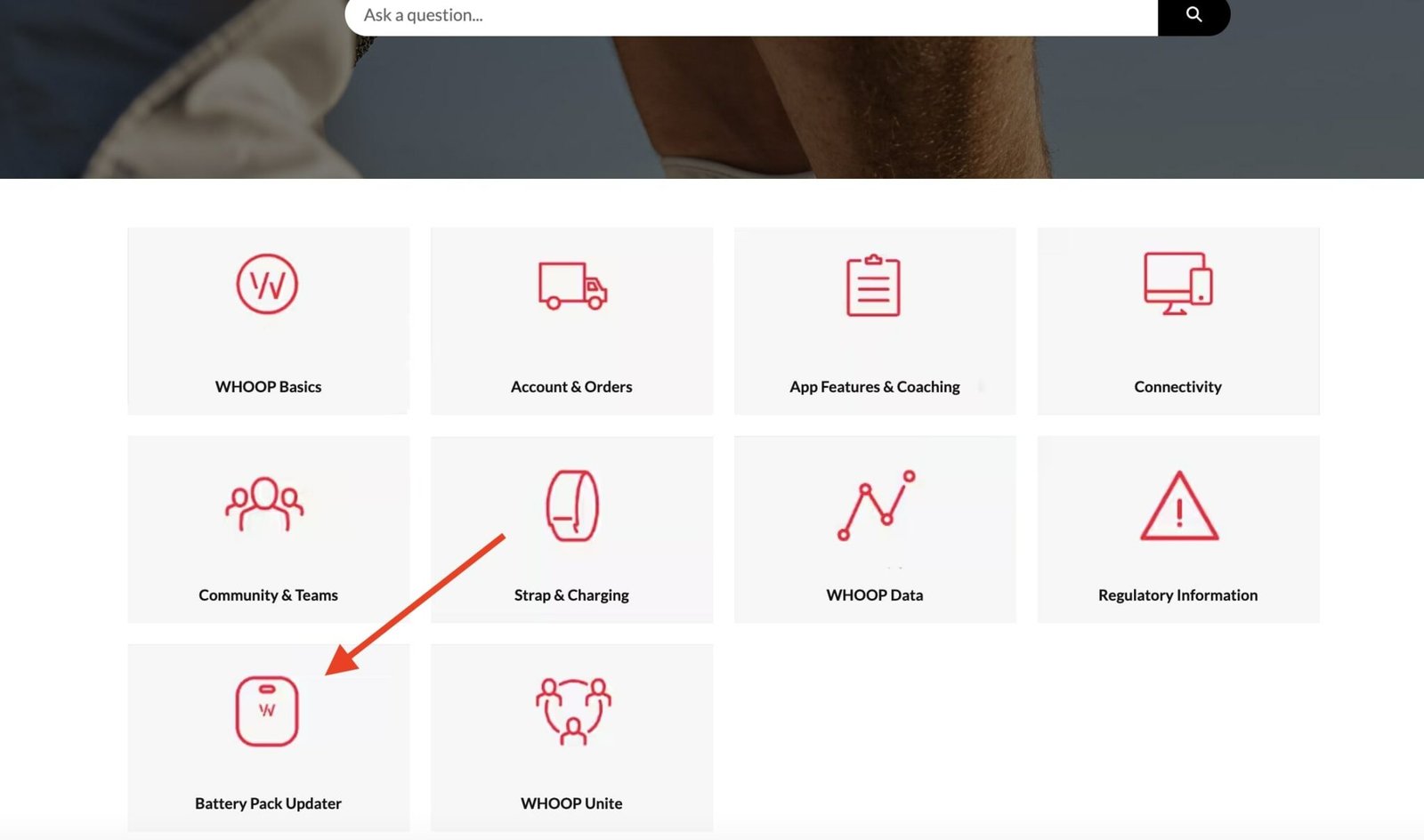 Step 2: Double-click on the Whoop battery pack update file and open it up.
Step 3: Follow the instructions. After installation, go to your Applications folder and double-click the battery pack updater.
Step 4: Connect your Whoop battery pack to your laptop or computer using the USB cable.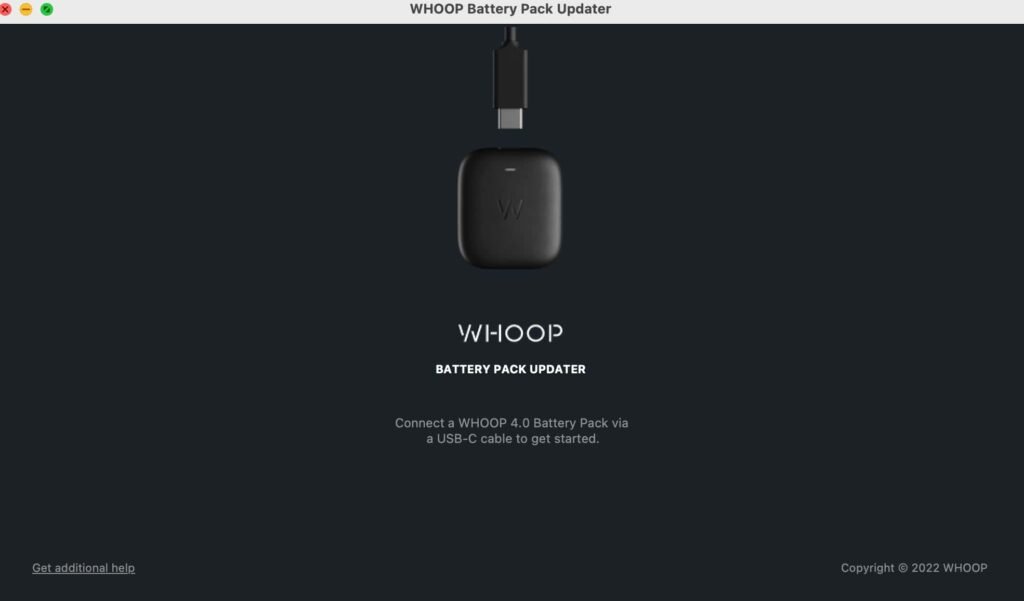 Step 5: Click on "Start Update." It would take 2-5 minutes. Check the progress bar on the updater app's bottom to see how much time remains.
Step 6: After the update is completed, you should close the app and unplug the battery. You're all set to go!
Wrap Up
An average user can expect the Whoop battery to last 4-5 days. But how long it lasts completely depends on the amount of activity you're engaging in.
So, if you're a fitness addict, you can completely wear the battery down in 2-3 days. In addition, the battery life depends on the already present charging status of the Whoop pod and the battery pack.
Furthermore, you can increase the battery or charging level proficiency by updating the firmware of the band and the battery pack. To summarize, a fully charged Whoop can last 4-5 days for an average user and 2-3 days for an expert user.
About Author