In the family of Garmin smartwatches, Garmin Tactix Delta is the king. Now, what kind of features make it more expensive? So we will discuss all its hidden and ultimate features in this Guide.
After reading this honest review, you will be able to decide this watch is valuable or not.
Garmin Tactix Delta is one of the most expensive smart wear. Offers few premium features make this watch more worthy, and I'm also surprised after experienced these features.
As compared to other Garmin smartwatches, this one is more rugged and has a premium quality design, and everything is perfect gives you a next-level smartwatch experience. A couple of Garmin Tactix Delta features are similar to Fenix 6 and Fenix 6 Pro.
The rest of its features are unique and special. The Lens in Tactix Delta is made of Dimond Sapphire Crystal. Bazel is made of Diamond-like Carbon coated steel, and in Case Fiver-reinforced polymer with metal rear cover is used, while its strap is made of Silicone.
Garmin tactix Delta Solar
Solar charging

TOPO maps

Specialized tactical features

Customizable battery

ABC SENSORS

More saftey features
World's most durable watch
There is no doubt that Garmin Tactix Delta is the world's most durable smartwatch with a solid, rugged design. The watch has a water rating of up to 10 ATMs (100 meters), and it meets military standards MIL-STD-810.
According to Wikipedia, MIL-SID-810 is a "United States Military Standard that emphasizes tailoring an equipment's environmental design and test limits to conditions that it will experience throughout its service life." That's why this smartwatch is perfect for every situation and every area.
What do I like about Garmin Tactix Delta?
If you are serious and want to train yourself for harsh environments and or you want to achieve your fitness goals then Garmin Tactix Delta is your best companion.
A highly durable watch gives you Stealth mode, the latest GPS system, Kill switch, Night Vision Capability, Jumpmaster mode, Dual position Format, Multi-GNSS, altimeter, barometer, Solar battery, and a lot more other features.
I really love its ultra-long battery life you can also customize its battery usage according to your needs. A fully Customizable smartwatch also allows you to add your own fitness activities.
When you buy such an expensive smartwatch then definitely it will give you more accurate results, that never go up and down even a single point. Along with these features, their a lot of fitness modes and Garmin pay options.
Don't Buy Garmin Tactix Delta if
You can ignore this smartwatch if you don't have much budget because this Garmin family member is very expensive. If you have fewer fitness goals and activities you shouldn't buy this watch. In place of this smartwatch, you can Buy Garmin Instinct or Fenix 6.
Also, this smartwatch is only available in just one color. So if you want some other color in Taxtic Delta then sorry. This watch comes with more features and navigations so it is quite difficult for beginners to use it.
Read More: Tinwoo Eclipse Smartwatch Review
7 Special Tactical Features
Stealth Mode
You will only know the value of this feature if you are in military forces. Stealth mode disables your all electronic signal that comes out from your smartwatch. In this way, no one can detect yours watch electronic signals.
Whenever you turn on this feature, you disable all track logging and wireless communication. On Stealth mode you can't use GPS and other such wireless features.
Night Vision Mode
This is again a useful feature for military forces. With Night vision mode it becomes easy to read through night vision Goggles. You can easily switch between daytime view and night-time.
There doesn't change the color of the display but it adjusts different radiation and rays coming from the smartwatch display. So that you can easily view your watch display through night vision devices.
Kill Switch
This is a very important feature. Usually, smartwatches store a lot of your important data. If you are a member of a military force then your smartwatch data may be risky for you. But don't worry Kill Switch feature allows you to reset your smartwatch within seconds.
But you need to configure it first, and whenever you need this feature just press and hold one or two buttons of your choice. Again this feature is not useful for civilians but it's very important for military features. And I am very glad and thankful for Garmin to add this feature for the safety of Military forces.
Jump Master Mode
This feature is very useful to calculate high altitude release points according to military guidelines and helps to navigate you to your objective.
The jumpmaster feature is also useful for skydivers, specially for those who are in military forces. You don't even need to turn on this feature, the device automatically detects and measures your heights and begins navigation towards your desired impact point (DIP).
This feature uses a barometer and an electronic compass to measure this activity.
Dual-Position Format
I think this feature is also useful for civilians as well. But what is Dual-Position Format features? Well, this feature allows you to share your location with others. You can share your location by Universal transverse Mercator (UTM) and military grid reference system (MGRS) on the same screen.
Along with military forces, this feature also useful to some extent for civilians. At some moments or on an adventure your will lose your friend or companion, so at that time, this feature will help you to find your friend.
Projected Way Points
I also see this feature in Garmin Fenix 6 and Fenix pro. I think this feature is also found in some other Garmin smartwatches. This feature enables you to set and save geo-position which you can use later for navigation and for finding your start point.
This feature is also beneficial for civilians. When you go to some forest or hilly area for adventure, while starting your thrilling journey you can enable this feature. With this feature, you will never distract from your path and will safely reach your start point.
Multi-GNSS
Few Garmin smartwatches support a single GNSS (Global Navigation Satellite System). But Garmin Tactix Delta supports multi GNSS that allows you to access multiple global navigation satellite systems include GPS, GLONASS, Galileo.
With multi GNSS you can easily track your location in any part of the world. In addition, the Garmin Tactix Delta Multi-GNSS system is very powerful and fast as compared to other Garmin smartwatches' GPS. This feature is also found in Garmin Fenix 6.
Garmin Tactix Delta Key Features
Now let's talk about its key features. In this section I will give you some brief information about important features and things in Garmin Tactix Delta.
Design & Appearance
Believe me, I never see such a rugged and tactical smartwatch with such high durability. Although no one smartwatch is durable like Fenix 6, but Tactix Delta also beat Fenix 6. With a 51mm case and 80g of weight, the watch looks bulky, but when you wear it on your wrist you will feel very comfortable.
Because of its high quality and premium polymer material you will never feel un-comfort. Tactix Delta has a flat edge with a pronounced lip or ledge that looks so attractive. With small visible screws, it looks so much rugged and that's why gives you a military feel.
Its build quality looks so much incredible and excellent, not quite as 'plastic' as the Garmin Instinct. Tactix Delta can sustain its condition in every harsh environment because it's built to military standard 810G.
A full thermal and shock-resistant body, also give you the best performance under 10ATAs of pressure or 100m underwater.
Watch Interface
With a fully customizable interface, you have an option to select the best interface for your routine. This Customizable interface is also found in Fenix and Vivoactive 4. You have an option to choose either a digital dial or an analog dial with varying colors.
Both the analog and digital dials come with different watch-hand styles, text styles, colors and more. Each dial also has additional space for housing date, HR, battery life, steps, altitude, and so on.
Widgets options
Like Other Garmin smartwatches includes Fenix 6 and Instinct, you have multiple widgets in Tactix Delta. You can select your favorite widget, by default watch have few important widgets. But you can download the more amazing widget from Garmin IQ.
These widgets are easily accessible, just scroll up and down from the main dial screen. Each widget shows different information and insights in different ways. The most important and useful widgets include notifications, weather, temperature, altitude, direction, calendar, and much more. There are a lot of such amazing things in Garmin Tactix Delta to explore.
Course Creation
I love this feature in Garmin smartwatches. With the Garmin Connect app, you can create your own course for your Garmin device. You can also create routes for your daily running, cycling, or hiking, etc. So before going on any adventure you can firstly plan your trip and its paths via this option.
Besides this, you can also create different exercises and can include them in your daily routine. The course creation process is very simple and easy Select training > Course > Create Course > Course type > Drawing method. You can also create a course from Garmin Connect web.
Not just that, you have also an option to create your course for a specific activity. Just select your activity, then press up for options, select navigation, and 'round-trip course'. Now set all of your important information and then wait, it takes some time up to 10 seconds.
Play Music
Now you can not only control music via your smartwatch but also play music on your it. This is a very interesting feature because I saw very rare smartwatches come with this feature. While running, jogging, hiking, or some other activity you can make your adventure more amazing with music on your wrist.
Garmin Pay
This feature is found in a lot of Garmin smartwatches and I really like this one. Garmin Pay is a contactless payment solution that is designed for people who are always on the move. With this feature, you can easily make a purchase.
It's very easy to use you don't need to do any hard work, just select the right credit card fro your virtual wallet and then hold your watch near the card reader.
No doubt Tactix Delta offers highly detailed Navigation with colorful routes. With-in cities you can also see streets, even shops, and restaurants. You have many navigation options, like navigating using pre-set locations on the map, Navigation using courses, or Navigation to a point.
The Navigation features in Tactix Delta can be accessed through a sub-option under any outdoor activity type or through a navigation-specific activity. Compared to other Garmin Wear, this watch has different navigation options, here are three important ones.
Navigation With Pre-set Locations On the Map
In this case, you need to search for specific place; food and drink restaurants, fuel stations, and other points around you. It's too easy to search for these places by name. You need to scan the map for them or type a particular category.
As soon as you select one, you will be able to navigate to it using turn-by-turn directions. In some ways, it's like the 'Google maps' feature. The navigation features work great, and since it uses pre-downloaded maps, and it's perfect for places where there is no 4G.
Navigation Using Courses
You can access Navigation with each outdoor activity. Whenever you create a course, it automatically syncs with the navigation system.
Most hikers use this method since they can find GPX files for most hiking routes. By drawing the legs on your phone, you can also create a path that you can follow with your watch.
Navigating to a point
Lastly, the most effective and straightforward way to navigate Tactix Delta is navigating to a point. This could be coordinates you enter, a pre-defined waypoint, or a point for a specific location.
These options are pretty helpful for the military department because it is less likely to follow a neat pre-downloaded course. But most of the runners and hikers also use this option to pre-set routes and set a specific target for their destination.
Safety and Tracking feature
One of the most essential features which I saw in Tactix delta as well in Fenix. I think no other smartwatch comes with this essential although it's very important. Garmin Assistance feature allows you to send an automated emergency message or share your live location with your emergency contact.
Though this feature essential for military forces but at the same time also important for civilians. Sometimes you get lost from the track, or meet some injury during adventure then at that time this feature helps you to call someone for help.
Incident Detection: This one is also important that only found in Garmin Tactix Delta. In case if you meet some incident during the outdoor walk, cycling, hiking, or during any activity. This watch will automatically detect incidents and sends an automated message, live track link, and GPS location to your emergency contacts.
Live Tracking: This stunning feature allows your companions or friends to follow you during any race or training activities in real-time. You have also the option to invite followers using email or social media. Through this feature, your friends are able to view your live location and data on the Garmin tracking page.
Solar Battery
A rare feature that you can only see on a few smartwatches that high-end and expensive. With this feature, your smartwatch battery lasts for a long period of time and you can measure your activities for a long. Even you don't need to change it for months.
Basically, the Solar power booster feature takes solar energy from the sun and boosts the battery. This solar booster makes you worry less and you don't have any tension of battery health.
Garmin Tactix Delta Fitness Features
Fitness Features are the final things in Tactix Delta, I mention some of its important fitness feature here. Its way of tracking fitness features and its accuracy is outclassed.
The majority of the fitness features in Tactix Delta are common and currently available in most of the smartwatches. While few of its features like Vo2 Max and Training effects are the special ones.
Heart Rate
The most common feature, I think found in every smartwatch. But guys there is a difference of heaven and earth between a normal smartwatch and Garmin Tactix. To be honest I saw lot of smartwatches gives a totally wrong heart rate analysis.
From the accuracy point of view, no other watch can beat Garmin Tactix Dela. It measures your heart rate in real-time, gives you some useful averages for heart rate.
Stress Score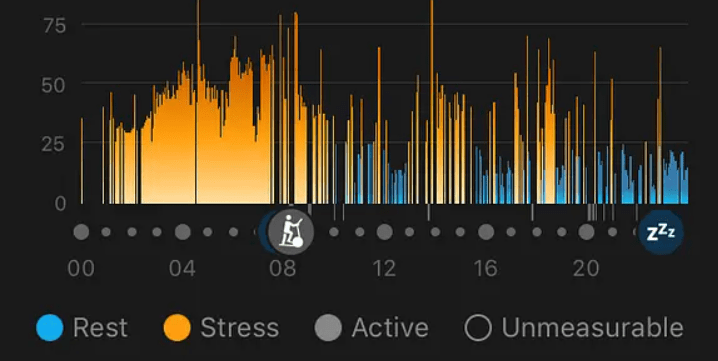 This feature also comes in a lot of other smartwatches usually High-end wearables. By using your heart rate variations the features give you an indication of the physiological stress your body is under. It's a very useful feature too, you can see all insights on your smartphone app.
Pulse Ox
Pulse Ox is a premium feature that is quite interesting. Basically, this feature monitors the amount of oxygen in your blood. There is no separate sensor for measuring Pulse Ox, Garmin's HR sensor is used to track Pulse Ox. Garmin Tactix Delta measure real-time Pulse Ox, but you can also turn off this feature to save battery life.
VO2 Max
Tactix Delts is a perfect option for fitness lovers and sportsmen. With the VO2 Max feature, you are able to measure your's body ability to consume oxygen. The feature is very rare in smartwatches, but present in many Garmin smartwatches like Instinct, Vivoactive 4, etc.
In the Covid-19 situation, most of the people wear a mask, with maks it becomes a bit difficult to inhale Oxygen level. On low consumption of Oxygen, you should remove your masks to return back in your normal form. At that moment your wearable will notify you about low consumption of oxygen.
When we go to some hilly area for hiking our breath swells, on that moment due to low Oxygen consumption Tactix notify you to take some rest.
Respiration
This wearable also measures the number of breaths per minute. Another premium feature that makes Tactix Delta more unique and expensive. A very useful feature for sportsmen and fitness lovers. Sometimes when I go jogging I wish I has this feature too.
Training Effect
One of my favorite feature that allows you to measure the impact of an activity on your anaerobic and aerobic fitness. Training effect gives you results after a deep analysis of your heart rate, respiration, the Oxygen level in the blood, etc. It gives you results on basis of some score, basically, this data helps you to make your exercises more properly.
GYM
You will also see GYM features for body building lovers. You can do a lot of things by using this feature. This feature helps you to monitor your gym workout, using different weights, machines, or bodyweight exercises. Also, you can create your own workout, adds weights, time, rest time, and much more.
Running
Running features are very common among Garmin watches. You can find it on the Forerunner series, Fenix series, and the Vivoactive. But each one tracks your running differently. I like the Forerunner series because it also tracks the number of calories burned during your running, and also, it's too easy to set running goals on it.
When it comes to Garmin Tactix Delta, it covers dozens of other aspects, too, giving a most accurate score. It will track your speed, distance, pace, heart rate, climatic conditions, suggest best routes, hydration, respiration tracking, aerobic activity tracking, and more.
And definitely, you don't get such perfect running tracking in the rest of the Garmin Watches. Secondly, the GPS tracking is exact and resulting inaccurate maps, with more detail and fast navigation.
You can easily view your stats on Garmin Connect or sync it with Strive to see the more in-depth analytics. Here are some of the fantastic features that are specially made for runners and cyclists.
An in-depth set of fitness metrics that can help an athlete better manage their training

An accurate mapping and route creation that helps more to achieve fitness goals. I'will intensely discusses it below.

PacePro – this is a huge selling point for any runner who regularly enters races.
Course Creation
This is one of the highly premium features only available on Garmin Tactix Delta and Fenix Pro. This feature is simple and pretty easy to use. Here you can create such routes that are not technically possible based on the map. Because of the vast amount of data Garmin has at its fingertips to generate safe and secure ways.
You can easily create courses from Garmin Connect. Just select your activity, go to options, choose navigation, and 'Round-trip course.' Here you can set your distance, set directions you want to go, and done. You need to wait for a while because course creation takes a minute or more.
This feature has impressed me – it consistently generates routes that are clear 'good running routes' rather than merely 'a loop of random streets that roughly meets the distance set.'
Garmin Pace Pro
Everyone can run and do jogging but remember nailing the right running pace is no easy feat. Only expert runners can make it accurate, but even they make a lot of mistakes. With Garmin Pace Pro, it becomes easier to maintain the right pace.
It focuses on the three main areas that are crucial for runners.
As users select how much they want to negatively split (i.e., run faster than the last mile/km) or positively split (the opposite), a suggested split for each mile will appear (while adapting on the fly based on how fast you ran).

The pace is adjusted based on how fast you have been running. For instance, if you miss your pace for the first few miles, the pace you'll need for the rest of the race will be higher, and vice versa.


When running a course that you have previously run or have downloaded the GPX data for (which you can do for most major races), PacePro will also automatically adjust your pace to accommodate slightly slower uphills and slightly faster downhills. This can also be adapted to your taste.
It's too easy to set up PacePro from Garmin Connect. You need to create pre-defined strategies for specific courses or distances. You can set a target time and pace and adjust your strategy for negative/positive splits and uphill effort.
Hiking
The fundamental aspects of Hiking are pretty similar to running or any other GPS activity. But Hiking is a high-intensity exercise.
And you can't accurately measure high intensity activites with the Vivoactive series, although few Forerunner members monitor it effectively. But when it comes to Garmin Tactix Delta, it hits the boundaries of accuracy.
During Hiking, you can use a power mode that will extend battery life and allow you to track it for long. No doubt Tactix Delta is an accurate watch for Hiking that shows full-color maps and can deliver altitudes and heights. Its advanced ABC sensors are too easy to measure sizes, weather conditions, latitude, and longitude.
On high altitudes, few smartwatches fail to show accurate and quick routes. But Tactix Delta will never fail, even if you are in a deserted or harsh area.
In addition to Hiking, there is also a second activity type, Expedition, which saves battery by disabling heart-rate tracking and phone connection, and only records GPS points once every hour. Therefore, you can expect the track to be pretty rough. However, the battery will last for a long time.
Gym
Apart from other fitness tracking features, Tactix Delta also offers GYM monitoring. GYM is a high-intensity activity, and it's not possible to track it with each smartwatch. Only high-end Wear can effectively track high-intensity activities.
Tactix Delta allows you to accurately track workouts using machines, free weights, or bodyweight exercise. There are various GYM tracking modes. In free exercise mode, you can only monitor your reps. You can start the new lap by pressing the lap button, and the watch also allows you to manually enter the weight to accurately record your GYM activities.
If you are a fitness lover and perform different cardio activities, then Tactix Delta is your best companion. It can detect quotes, bench press, push-ups, pull-ups, strict press, and other such cardio workouts.
I really love its strength function and always remain curious to use them. In this watch, you will get different built-in workouts, including 'back-to-basic workouts,' a '30 minute blast', an upper-body workout, and more. You can see the detailed analytics of your every workout in Garmin Connect and sync it with any premium workout-tracking app.
Tactix also allows you to download various custom sessions for a specific activity. Similarly, Garmin Coach also creates workouts according to personal data you enter and send to you.
Swimming
The Garmin Tactix Delta is a highly water-proof device and can easily sustain under 200 meters deep water. You don't need to worry about any damage because of the water. The watch can easily track your underwater activities, just like running or cycling.
It tracks your heart rate and uses GPS underwater to track your pace, distance, speed, and other metrics. Other Garmin models can't follow all these features because of water blocking the GPS. However, Tactix will accurately measure your swimming deeply with a lot of different aspects.
When you are in the pool, the watch counts laps by detecting you push off the wall, determining your distance (and thus your speed).
It can also detect how many strokes you made and even what style you used with high accuracy. Garmin Swim can also track the same thing, but the accuracy is not as great as Tactix have.
Garmin Tactix Delta Vs Garmin Fenix 6
I saw both the watch they look similar in design and most of their features are the same too. That's why a lot of people are confused, which watch should they buy? Basically, there is not much difference between this two high-end wearable except price and few features.
Tactix Delta comes with three special features that Fenix doesn't have. These three features are Stealth mode, Night vision mode, and Kill Switch. I deeply told you about these three features in the above content. In spite of these three features, there is no difference in the software of Delts and Fenix 6.
Another difference is in their price tags but again not much big difference. Tactix Delta is approximately $140 more expensive than Fenix 6. Now it's up to you which smartwatch would you like to buy. If you are in military force then you should go with Garmin Tactix Delta otherwise Fenix 6 is a better option.
Garmin Tactix Delta Review-Final Words
From the above guide Garmin Tactix Delta Review), I hope you are now able to make the right decision that should you but this watch or not?
If you ask me about this smartwatch, personally I really loved this wearable and I never see such a watch in my life. Although most of the features are rarely to use but overall this is a perfect watch for military forces.
If you buy this smartwatch from my affiliate link then it will help me to earn some pocket money for me and my family
Garmin tactix Delta Solar
Solar charging

TOPO maps

Specialized tactical features

Customizable battery

ABC SENSORS

More saftey features