Garmin Quatix 5 is specifically designed for marine and divers. The smartwatch comes with highly advanced sensors that track various sea activities.
It offers plenty of open sea features, including; Boat autopilot, Sail assistant, Tide status, Navigation across the water, track water sports, speed tracking, water depth monitor, fitness features, and much more.
The durable and 100-meter water-resistant body makes this smartwatch best for the open sea. Diamond Sapphire Crystal lens and Fiber-reinforced polymer case make this watch more worthy and premium. 
In today's guide, we will tell you the most exciting and premium things in this marine watch. Let's have a look!
What Do We Like About Garmin Quatix 5?
Garmin Quatix 5 is the upgraded model of its predecessor, and this time it offers a lot of premium features for marine. It provides comprehensive boat activities tracking, including; speed, depth, temperature, autopilot control, remote waypoint, data streaming, sail racing assistance, and much more.
Thanks to the ultra-powerful battery that lasts for 2 weeks in smartwatch mode. You can easily track your activities for an extended period.
Plus, its durable and stainless steel body allows you to track underwater activities. 
Quatix 5 also comes with other smartwatch features, and you can listen to music on the watch, receive notifications, customizable face, straps, etc. 
You can deeply analyze the stats of your daily activities on your Garmin app. Check the fitness activities, heart health, calories burned, and more. 
Overall this is the all-time best smartwatch for people who are in sea activities. 
Don't Buy Garmin Quatix 5 If
Most people believe that all Garmin watches are best for outdoor activities. But it's not true that the Garmin Qualities series are specifically made for marine, fishers, and divers. 
The watch comes with dozens of marine features which are useless to normal athletes. So if you are looking for a running, cycling, or hiking watch, the Garmin Quatix 5 is not made for you.
You should look for Garmin Forerunner or Vivoactive series that contains running and cycling features.
Similarly, this watch doesn't incorporate the Garmin pay function, which is another major drawback.
Garmin Quatix 5 Review: Design & Display
As compared to other Garmin watches, Quatix 5 comes with a sleek and stylish design. The watch has 85 grams of weight which is pretty comfortable.
Fiber-reinforced polymers make this watch much more durable and 10 meters water-resistant. This means you can easily track underwater activity.
Quatix 5 comes with a pure stainless steel bezel that makes the watch more worthy and premium. The same bezel design is also found in Fenix 6 and the Vivoactive series. 
Similarly, the wrist strap is made of Silicon, and it's pretty soft and comfortable, allowing you to wear the watch for a long time without any stress.
There are two physical buttons on the left side and three buttons on the right that allow you to start a sport mode and offer different navigations to enhance the watch functionality.
Quatix 5 comes in two variants, one having a normal silicon band and the other with a premium metal band, which is pretty expensive.
Display:
Garmin Quatix 5 offers a 47 x 47 x 15.5 mm display which is covered with Sapphire crystal. The display looks vibrant and bright, so you can easily read the dial under direct sunlight. 
I think 240 x 240 pixels resolution is enough for a better visual experience. Further, there are tons of watch faces so that you can customize the watch face according to your outfit.
Further, you can increase or decrease the brightness of the dial or set it to auto mode. You can also turn on the Always-on Display mode, but it will drain more battery life.
 We recommend the default display setting, which is best for high battery performance. But still, you can customize each and everything in Garmin Quatix 5.
Garmin Quatix 5 Review: Battery Life & Price
When it comes to battery life, Garmin watches always win. Just like other predecessors, Quartix 5 offers a long-lasting and powerful battery.
The good thing is that you can customize the battery, and there are different battery-saving modes. 
But before knowing the exact battery timing of the watch, understand that battery life depends on the usage of features, display, and GPS. 
Garmin promises 24 hours of battery life in GPS mode and 60 hours in activity tracking (Ultra-track mode). The watch offers 2 weeks of long-lasting battery in smartwatch mode on default settings. 
Price
People buy Garmin watches because of their insane quality and where there is premium quality. The majority of Garmin watches' prices start from $200 and go to over $1000. 
Especially the watches with Sapphire glass and premium stainless steel bezel are high-end Garmin devices. 
When we talk about the Garmin Quatix 6, there are two variants: the one with a Silicone strap at $549, and the other variant with a metal band is available at $799. 
I'm sure you will never waste your money by investing in Quatix 5. 
Garmin Quatix 5 Review: Special Features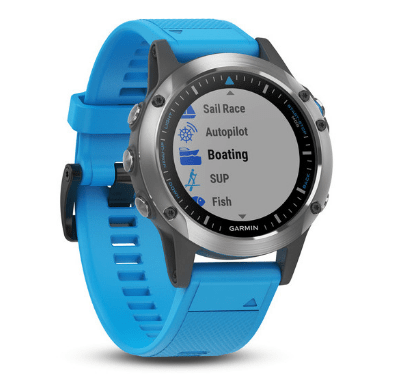 After discussing the price, it's time to spread the light over its underhood capabilities. This section will find out the answer to "Is Quatix 5 worthy of buying?"
As we already mentioned, this smartwatch is specially designed to track sea activities so that you will see a lot of unique features. 
The autopilot feature in this device allows you to change the heading and initiate steering patterns. You can mark a waypoint on your Chartplotter using Quatix 5. Similarly, sail racing assistants assist you with the racing track, distance cover, etc.
The built-in fusion app allows you to remotely control your entertainment source like; Stereo volume, Media control, Source selection, etc.
To create more fun, Quatix 5 allows you to install third-party apps. To see the tide status, you can install apps like "Fishing," "Hunt & Fish," etc. Further, it's equipped with the latest GPS sensor that delivers accurate Navigation and anchor calculation.
With this watch, you will get regular updates of your surrounding weather, temperature, wind speed, and check the water depth.
The other big plus point in the watch is Wi-Fi that allows you to upload your activities directly to Garmin Connect.
All these are premium features specific for boating and tracking sea activities. All these features are scarce in the rest of the Garmin watches. That's why I told you earlier this watch is not for you if you are looking for a running or cycling watch.
Garmin Quatix 5 Review: Fitness Tracking
Approximately all the Garmin watches are loaded with fitness tracking. And Garmin uses the most accurate and precise sensor to track your daily activities. 
Similarly, Quatix 5 is equipped with many health tracking features like heart rate, sleep tracking, calories counter, SpO2, and more. 
The watch can also track different indoor and outdoor activities like; running, swimming, cycling, rowing, treadmill, hiking, golf, and more. Hence you will see tons of sports modes and fitness tracking activities. 
It allows you to set different fitness goals using Garmin Connect app, and it will guide you on each step to achieve the destination. 
To check your daily stats, you can use the built-in Garmin app on your smartphone, and this app shows profound insights and graphs.
| | |
| --- | --- |
| Display Size | 47 x 47 x 15.5 mm |
| Lens Material | Glass or sapphire crystal |
| Colored Display | Yes |
| Display Resolution | 240 x 240 pixels |
| Weight | 85 g |
| Water Rating | 10ATM, 100 meter |
| GPS | Yes |
| Boating Features | Yes |
| Fishing Features | Yes |
| ABC Sensors | Yes |
| Fitness Tracking | Yes |
| Sports Profile | Yes |
| Sleep Tracking | Yes |
| Outdoor Tracking Tools | Yes |
| Battery life | 2 Weeks |
Final Words
Garmin Quatix 5 is the best option to track sea activities, including; fishing, boating, swimming, and other underwater activities.
Many advanced sensors help you monitor your performance and your surrounding conditions like weather, temperature, wind, etc.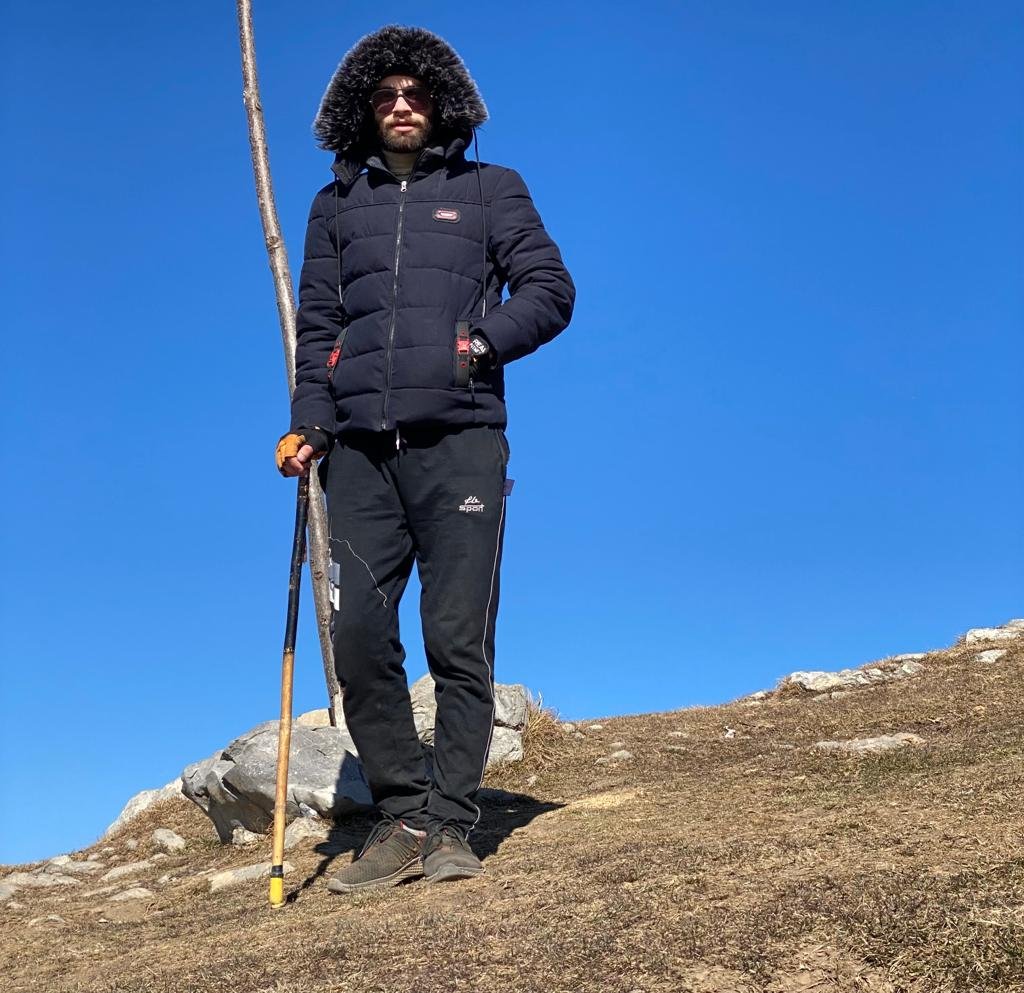 Hi, I'm Saad Dastagir. I'm a tech and fitness enthusiast who loves writing about smartwatches and fitness trackers. When I'm not testing out new gadgets, you can find me out on a hike or exploring new adventures. My passion for technology, fitness, and the great outdoors has led me to create a platform where I can share my experiences, insights, and reviews on the latest gear.