Today we will compare the high-end watches of the Forerunner and Fenix series. Both series offer watches having similar designs, GPS capabilities, and smartwatch features. But it's pretty challenging for you to choose the better one.
The latest flagship watch in the Forerunner series is Forerunner 955, whereas Fenix 7 is the latest watch in the Fenix family. Forerunner 955 is better than Fenix 7 as it offers more health and training features and costs less than Fenix 7.
In the comparison table below, you can clearly see the differences between Forerunner 955 and Fenix 7.
| | | |
| --- | --- | --- |
| Features | Garmin Forerunner 955 | Fenix 7 |
| Bezel Material | Fibre-reinforced polymer | Stainless steel |
| Lens Material | Corning Gorilla Glass Dx | Power Sapphire |
| Physical Size | 46.5 x 46.5 x 14.4 (mm) | 47 x 47 x 14.5 mm |
| Display Size | 1.3" | 1.3' |
| Display Resolution | 260 x 260 pixels | 260 x 260 pixels |
| Weight | 53g | 73g |
| Water Rating | 5 ATM | 10 ATM |
| Battery Life | 15 Days in Smartwatch mode | 42 hours in GPS mode | 18 Days in Smartwatch mode | 57 hours in GPS mode |
| Pulse OX Sensor | Yes | Yes |
| Fitness Age | Yes | Yes |
| Body Battery Energy | Yes | Yes |
| Training Readiness | Yes | No |
| Morning Report | Yes | No |
| Daily Suggested Workouts | Yes | Yes |
| Running Power | Yes | No |
| GPS | Yes + GNSS support | Yea + GNSS support |
| TOPO Maps | Yes | Yes |
| Outdoor sports profile | Hiking, Climbing, Skiing, Snowboarding, Backcountry Skiing, XC Classic Skiing, XC Skate Skiing, Stand Up Paddleboarding, Rowing, Kayaking, Snowshoeing, Mapping, Navigating, Tennis, Pickleball, Padel, Track Me, Project Waypoin | Hiking, Indoor Climbing, Bouldering, Climbing, Mountain Biking, Skiing, Snowboarding, XC Classic Skiing, Stand Up Paddleboarding, Rowing, Kayaking, Surfing, Hunting, Kiteboarding, Windsurfing, Snowshoeing, Horseback Riding, Jumpmaster, Tennis, Pickleball, Tactical |
| Point to point navigation | Yes | Yes |
| Memory | 32 GB | 16 GB in standard edition, 32 GB in sapphire edition. |
Related Posts: Garmin Enduro Vs Fenix 7
Garmin Forerunner 955 VS Fenix 7: Design & Display Comparison
When it comes to design, both watches offer a durable design. But Fenix 7 seems more durable because of the stainless steel bezel. Whereas Forerunner 955 offers fiber-reinforced polymer that looks like plastic.
Similarly, Fenix 7 has a 10 ATM water-resistant rate, making it perfect for deep diving and tracking water activities. Whereas Forerunner 955 only has a 5 ATM water resistant rating. You can use it while swimming or taking a bath but not suitable for deep divers.
In terms of comfort, Forerunner 955 feels more comfortable because of its 52g of weight. The Fenix 7 has 79g of weight and feels a little bulky because of its stainless steel design.
Overall, Fenix 6 looks more premium and durable than Forerunner 955. So if you are a professional outdoor athlete, Fenix 6 is a better option.
Both Garmin watches offer identical 1.3″ MIP displays in the display department. Similarly, both Forerunner 955 and Fenix 7 have 260 x 260 pixels screen resolution. And there is no touch screen display on both.
Five side buttons in both watches allow you to navigate through menus and control the smartwatch's functionality.
Battery Comparison For Garmin Fenix VS Forerunner
All Garmin watches offer great battery life compared to the other smartwatch brand. However, in the case of Fenix vs, Forerunner watches, Fenix 7 last longer than Forerunner 955.
Fenix 7 offers 18 days of battery backup in smartwatch mode, a big plus point for outdoor enthusiasts and those who are always on the go. Similarly, it lasts for 57 hours in GPS mode. Fenix 7 has a strong grip over battery life, and it also offers Battery saver mode, which lasts for 57 days.
On the other hand, Forerunner 955 is also good in the battery life department. It lasts for 15 days in smartwatch mode and 42 hours in GPS mode. Whereas there is no battery saver mode in Forerunner 955.
Here is a battery comparison table of both smartwatches.
| | | |
| --- | --- | --- |
| Battery Modes | Forerunner 955 | Fenix 7 |
| Smartwatch Mode | 15 days | 18 days |
| GPS Mode Without Music | 42 hours | 57 hours |
| Battery Saver Mode | Nill | 57 Days |
| All Satellite Systems + Music | 8.5 hours | 10 hours |
| All Satellite Systems with no Music | 20 hours | 40 hours |
Garmin Forerunner 955 VS Fenix 7: Price Comparison
Typically Garmin watches are more expensive than the rest of the smartwatch brands. In the case of the Forerunner Vs Fenix series, we are comparing high-end watches of both series, so their prices are higher.
When you look at the overall prices of Garmin watches, the Forerunner series offers affordable watches, whereas the Fenix series seems more expensive. Similarly, Forerunner 955 costs you $499 for its non-solar variant and $599 for its solar variant.
Whereas Fenix 7 standard edition costs you $699, the Solar edition is available for $799, and the Sapphire edition costs you around $899, which seems more expensive than Forerunner.
So if you're on a tight budget, you should opt for the Forerunner series because it offers affordable watches.
Forerunner 955 VS Fenix 7: Health & Training Features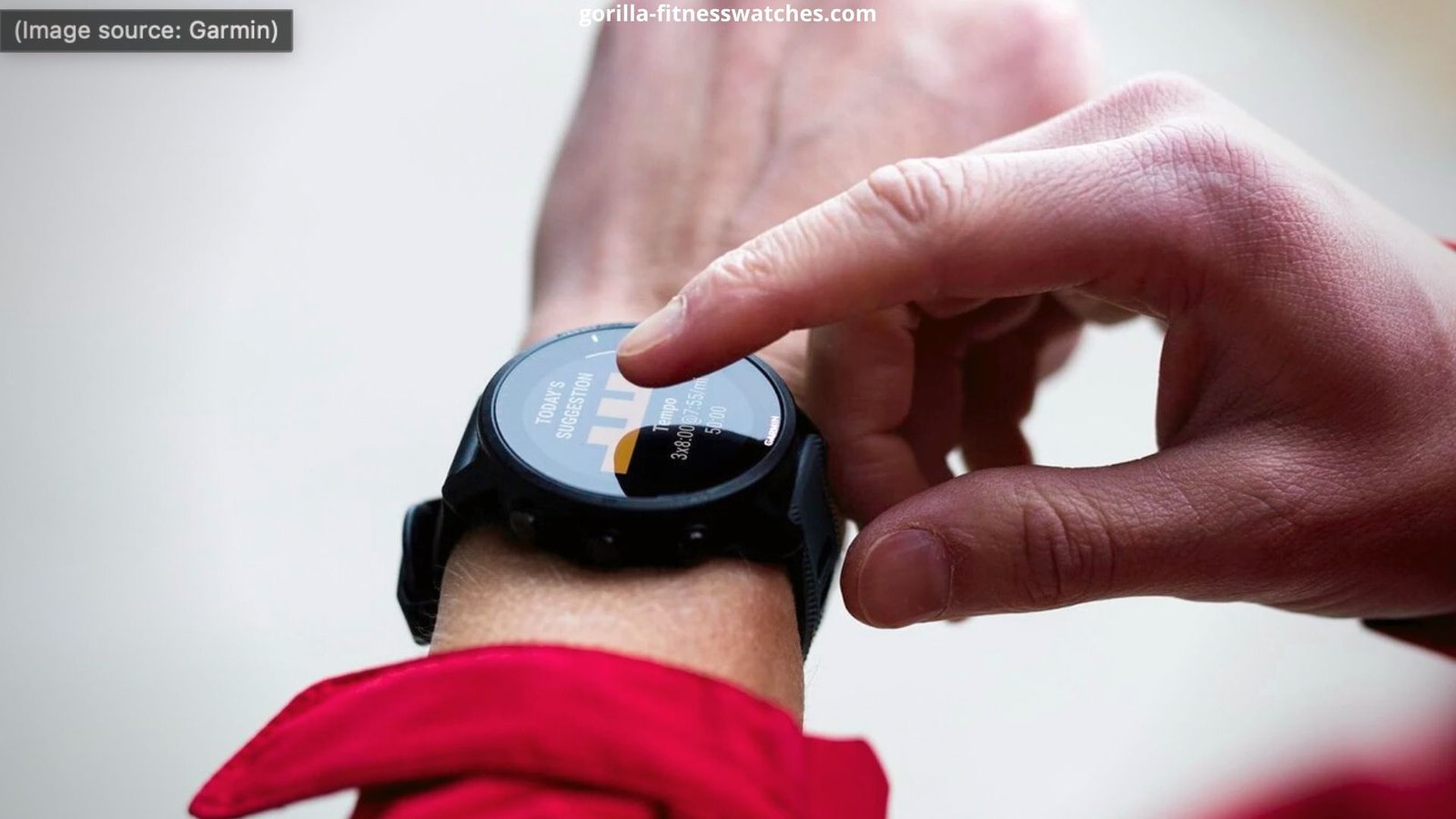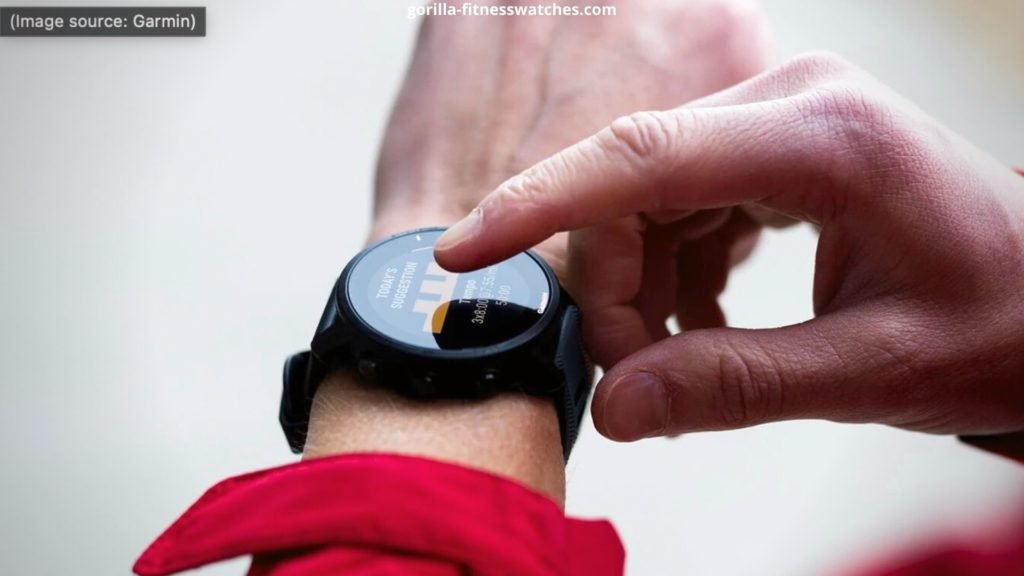 Most health and training features are similar in both sports watches, but you should know a few key differences.
Health Features:
Forerunner 955 seems more potent in the health department. It gives you more advanced and new health features lacking in Fenix 7.
Firstly it offers Training Readiness, which gives you a readiness score based on your sleep, recovery, training load, HRV, and more. You will also get a Morning report, which is helpful for fitness enthusiasts. It also gives daily suggested workouts helping you to stay fit and active.
You can also track your real-time stamina, which helps youth avoid overexerting at the start of their run or hike. The Forerunner series is best known for its running features.
Similarly, this forerunner watch also gives you comprehensive data on your daily running. With its Running dynamics feature, you can measure all the crucial running aspects, including; cadence, stride length, ground contact time, balance, pace, distance, and more.
This time Forerunner 955 includes a new feature, "Acute Load" this feature compares the intensity of your current workouts to the optimal range to improve your training history.
Other health features in Forerunner 955 include;
VO2 max

Pulse OX sensor

Performance condition

PacePro features

Recovery time

Training effect

Training Status

Running power

Visual Race Predictor

Sleep tracking

Calories counter

Steps and elevation tracking

Women's health tracking

Health Snapshot feature
Whereas in the case of Fenix 7, you will only get limited health features. It offers VO2 max and Pulse OX sneers, core health features to measure overall wellness.
Similarly, it is a recovery time adviser, a pretty helpful feature for athletes that lets them know they will be ready for the next workout.
Similarly, you will get advanced sleep tracking features, elevation tracking, daily workout suggestion, visual race predictor, PacePro technology, Real-time stamina, Performance metrics, and more.
Overall, Forerunner 955 is the winner in the health department. Forerunner 955 is the most recommended watch for you if your concern is only health.
Training Features:
Fenix 7 offers more advanced training features that are important for every professional athlete. Whereas Forerunner 955 only offers some basic training features.
For Skiing enthusiasts, Fenix 7 offers Backcountry Ski and XC Ski dynamics. These built-in apps allow you to perform Skiing more effectively.
It also includes a separate app for Mountain biking and the MTB dynamics feature that tracks every ride and trail difficulty and tells you how smoothly you descend. Similarly, it also offers Surf-ready features, HIIT workouts, and ClimbPro features.
Moreover, you will get other built-in sports apps like running, swimming, hiking, cycling, indoor cycling, climbing, and more.
Another plus point in Fenix 7 is golf course Maps, which give you over 42,000 golf courses. SKiView Maps on your Fenix 7 tells you about ski resorts in your area. The fun color maps in this watch are handy and show comprehensive data.
On the other hand, Forerunner 955 also offers a built-in sports profile, but it has fewer sports modes than Fenix 7.
Forerunner 955 only seems perfect for Climbing and running features in outdoor features. For Skiing, MTB, and Surfing, this watch is not recommended.
Just like Fenix 7, Forerunner 955 also includes a safety tracking feature. In case of any accident, it sends an SOS message to your emergency contacts and live location.
Forerunner 955 enables you to create your course or exercise, and the watch tracks it more efficiently.
It also offers full-color mapping for easy navigation. Plus, its turn-by-turn navigation system helps you to reach your destination without obstacles.
Garmin Forerunner VS Fenix: Final Verdict
You should not ignore Forerunner or Fenix because both Garmin watches are best for outdoor purposes. But when it comes to the budget, we suggest you go for Forerunner 955 as it's much cheaper than Fenix 7 and gives you all the features that Fenix 7 has.
Both watches offer pretty much similar battery life. The only significant difference is in their design; Fenix 7 looks more premium because of the stainless steel bezel.
If you're working in harsh environments, then Fenix 7 is a better option because it's much more durable and robust. Otherwise, you don't need to put your money on such an expensive watch.