In the family of Forerunner watches, Forerunner 935 and 945 are the most premium gadgets. Both watches give outstanding performance and outdoor features.
Forerunner 945 is the flagship watch and successor of 935. Forerunner 945 is packed with some new features and extended battery backup. But what will be the major differences between both Garmin watches?
This comparison guide will deeply discuss the key differences between Forerunner 935 and 945 and see which watch gets the first spot.
So let's get started!
Garmin Forerunner 935 VS 945: Design & Display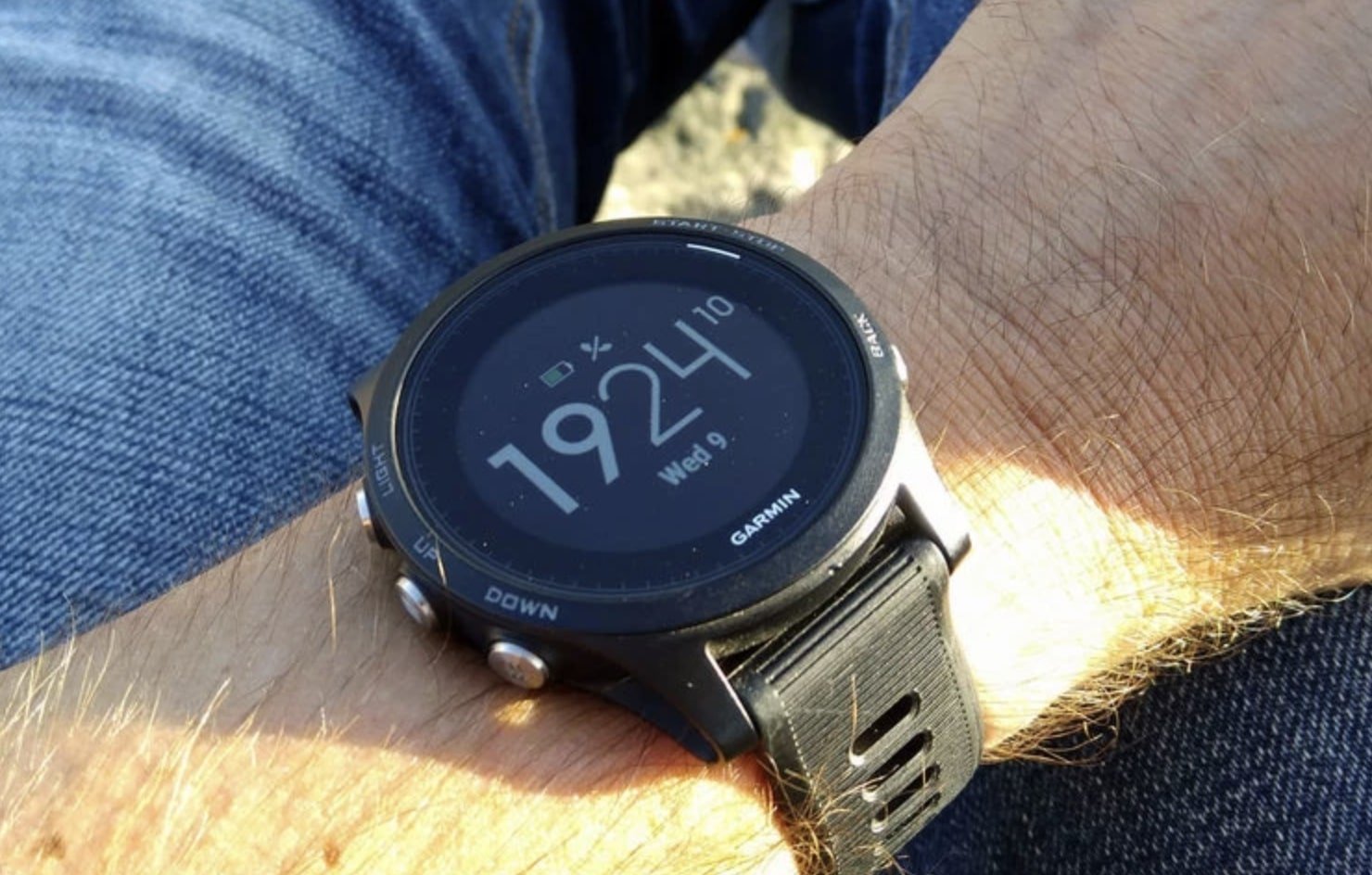 Firstly let's have a look at the design! The Forerunner 945 looks pretty much similar to the Forerunner 935. The bezels of both watches are made of fiber-reinforced polymer that feels like plastic.
In case of durability, Forerunner 945 looks more durable and scratch resistant. Because Forerunner 945 comes with Gorilla Glass DX, which is much stronger than normal chemically strengthened glass. So for outdoor adventures, Forerunner 945 seems a perfect option.
Both of these Forerunner watches come with 5 ATM water-resistant design. This means you can track underwater activities with both watches. But only Forerunner 945 offers under-water wrist-based heart rate.
Secondly, Forerunner 945 has a large silicon strap compared to Forerunner 935. But both wearables feel comfortable and lightweight. The weight difference is only 1 kg which is negligible.
Overall, in terms of design, I haven't seen many big differences except Gorilla Glass DX, which gives extra strength to Forerunner 945.
Both watches have a simile 1.2" display with 240 x 240 pixels. Anyone can easily read the dial under direct sunlight. There is no touch screen display, and you can control the functionality of both watches via side buttons.
Garmin Forerunner 935 VS 945: Battery Life
Battery life becomes an important factor when it comes to running watches or outdoor watches. Luckily, Garmin watches have a strong grip on the battery department and last longer than other watches brands.
Garmin Forerunner 945 and 935 give 14 days of battery backup in smartwatch mode, which is more than enough for outdoor enthusiasts. If you're on an outdoor trip, these watches will keep tracking your activities for a long time.
But in GPS mode, we have seen minute differences. The Garmin Forerunner 945 gives 36 hours of battery time in GPS mode, whereas Forerunner 935 lasts 24 hours.
The big plus of Forerunner 935 is that it comes with UltraTrack mode; in this mode, the watch lasts for 60 hours without wrist heart rate.
Garmin Forerunner 935 VS 945: Training & Health Features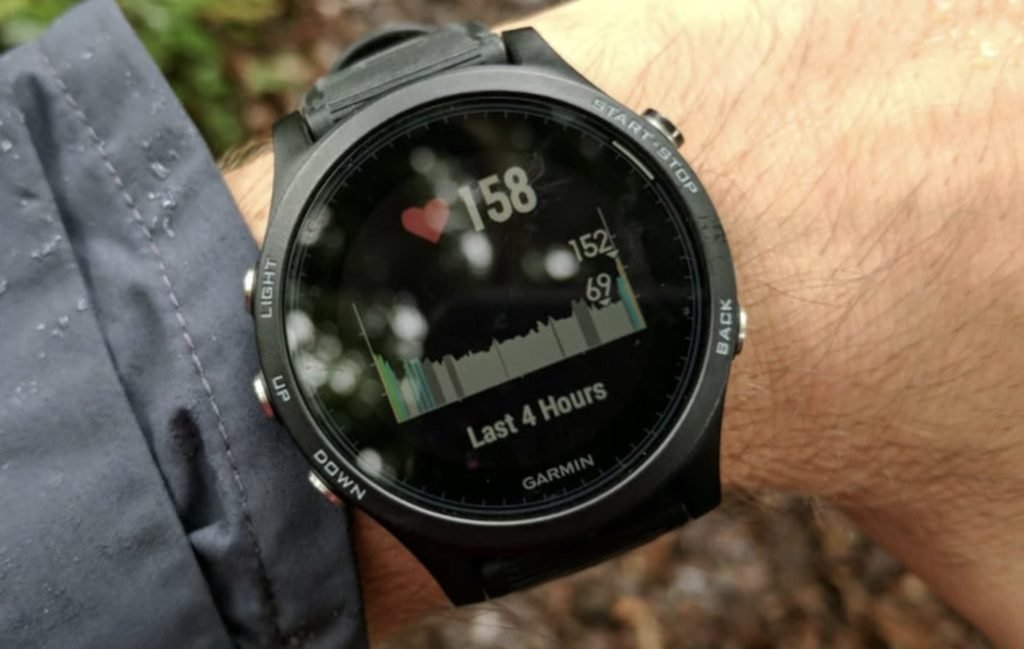 For athletes, the most important things in sports watches are health and training features. With these features, you can track your overall performance and improve it.
Most of the training and health features in Forerunner 945 are similar to 935, but it has some new and advanced features for extra fun.
Forerunner 935:
Forerunner 935 offers advanced running features like Running dynamics, training status, FTP, and VO2 max. With all these features, you can easily know how well you are in outdoor running or other outdoor sports.
The running dynamics features give more comprehensive data about your running, including; cadence, stride length, vertical oscillation, pace, ground contact time, speed, and more.
The watch also includes Anaerobic training effects, using heart rate and speed metrics to determine how a workout affects your ability to perform at very high intensity.
Similarly, it offers different sports profiles for running, cycling, hiking, swimming, skiing, trail running, strength training, and much more. The data tracking ability of Forerunner 935 is much more effective than its predecessor; it gives more comprehensive insights.
This watch offers advanced sleep tracking that measures your REM, deep sleep, light sleep, and bedtime for sleep-conscious people. Using all these metrics, you can easily improve the quality of your sleep.
In health tracking also includes calorie tracking, steps counter, floor tracking, wrist-based heart rate, women's health tracking, and VO2 max.
Forerunner 935 is the best sports watch for outdoor enthusiasts and gives all the useful health and training features. But it lacks a few new features like Pulse OX sensor, body battery energy, and has fewer sports apps.
Forerunner 945
Forerunner 945 is a successor of 935. That's why it includes some new and upgraded health features. The watch gives comprehensive insights into your day-to-day activities.
First, it includes Running Dynamics that measure metrics like cadence, stride length, pace, ground contact time, etc. The pulse point here is the Pulse OX sensor that measures your blood oxygen saturation level during activities and at night.
Similarly, you will also get Body battery energy features that allow you to find the best time for your next activity.
Forerunner 945 also includes the ClimbPro feature, an extra feature for hikers. The feature lets you plan your routes and track your climbs, gradient, distance, and elevation gain.
The new Performance Condition feature is another exciting thing in this watch. This feature lets you know your current ability to perform. Similarly, to measure your performance more deeply, this watch includes training Status, Training Effect, Training load, and daily workout Suggestions.
The Forerunner 945 offers more sports profiles as compared to Forerunner 935. Also, this watch has a strong grip over health tracking features.
Garmin Forerunner 935 VS 945: Other Features
Forerunner 945 and 935 come with many other smartwatch features that are pretty useful. Both watches offer advanced GPS paired with GLONASS that tracks your routes even in a more challenging environment.
But Forerunner 945 seems more powerful in navigation and routing because it offers colorful mapping, Turn-by-Turn navigation, and Round trip routing. With all these features, finding routes and reaching destinations is pretty easy.
Secondly, you will get safety tracking features in both watches. In case of an emergency or incident, your watch will automatically send an SOS to your emergency contacts.
Moreover, the Garmin pay feature is only available in Forerunner 945, which allows you to make contactless payments. Another plus point of the Garmin Forerunner 945 is that it can store up to 1000 songs, so you can listen to them offline. You can also stream songs from Spotify and Deezer.
Garmin Forerunner 935 VS 945: Which One Is Best?
After a detailed companion, you can now decide which Garmin watch suits you. In terms of design, both watches are similar. But when it comes to fitness and health tracking, Forerunner 945 is divinely a better option as it offers some extra features.
Secondly, both watches also have a price difference; Forerunner 945 charges $100 more. So if you're a pro athlete and want more training and health features, then Forerunner 945 is a better option for you. And if you're on a budget, you should go for Forerunner 935.