The S10 is an excellent golf watch for beginners because it is simple to use and configure. It will show you the distances to everything on the course, including the bunkers, creeks, doglegs, and various parts of the green (front, back, and center).
Because it is not as pricey as many other watches currently available on the market, the Garmin S10 does not have all of the bells and whistles available on other watches.
I discovered that despite its low price, it was just as accurate as some of the more costly watches, which I thought was fantastic.
After putting the Garmin Approach S10 watch to the test, I'll give you my honest impressions in today's review.
So without any further ado, Let's begin
Garmin Approach S10 Golf Watch: Overview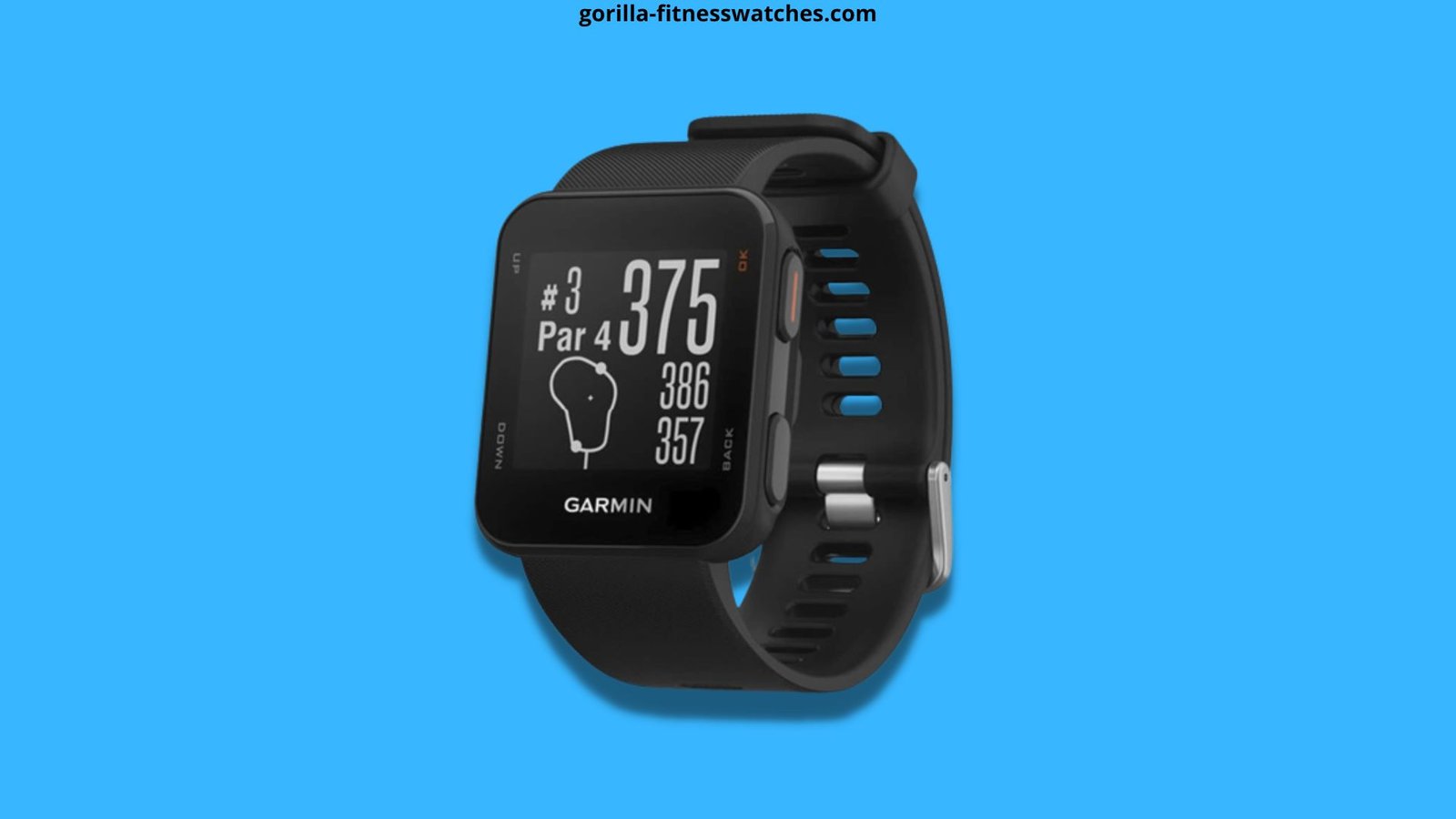 The S10 is an excellent golf watch for beginners because it is simple to use and configure.
The Garmin Approach S10 comes packed with 41,000 golf courses from around the world, and the watch will instantly recognize the course you're playing by utilizing your GPS location to determine where you are.
The Approach S10 gives you exact yardages to the front, middle, and back of the green and water hazards and doglegs.
It is aware of when you have completed the hole, and whenever you move on to the next one, it will immediately display information for that hole without requiring you to push any buttons.
The exterior of the Garmin S10 golf watch is streamlined and lightweight, and the high-resolution display is simple to read no matter what the lighting is like.
You can use the Garmin Approach S10 to keep track of your score, and it will automatically total the amount of time you've spent playing and the overall distance you've traveled.
Because the battery life of the Garmin Approach S10 may last up to 12 hours, it is capable of powering through more than two full rounds.
It may last for three rounds, but there is a good chance it will run out of power during the third round, which is why we recommend charging the watch after every other round.
While the Garmin Approach S10 can't be used to track your game like more expensive golf watches can, it can keep score throughout your round and then upload it to Garmin Express for season-long scoring tracking. You won't incur any further fees as a result.
Garmin Approach S10 Golf Watch: Features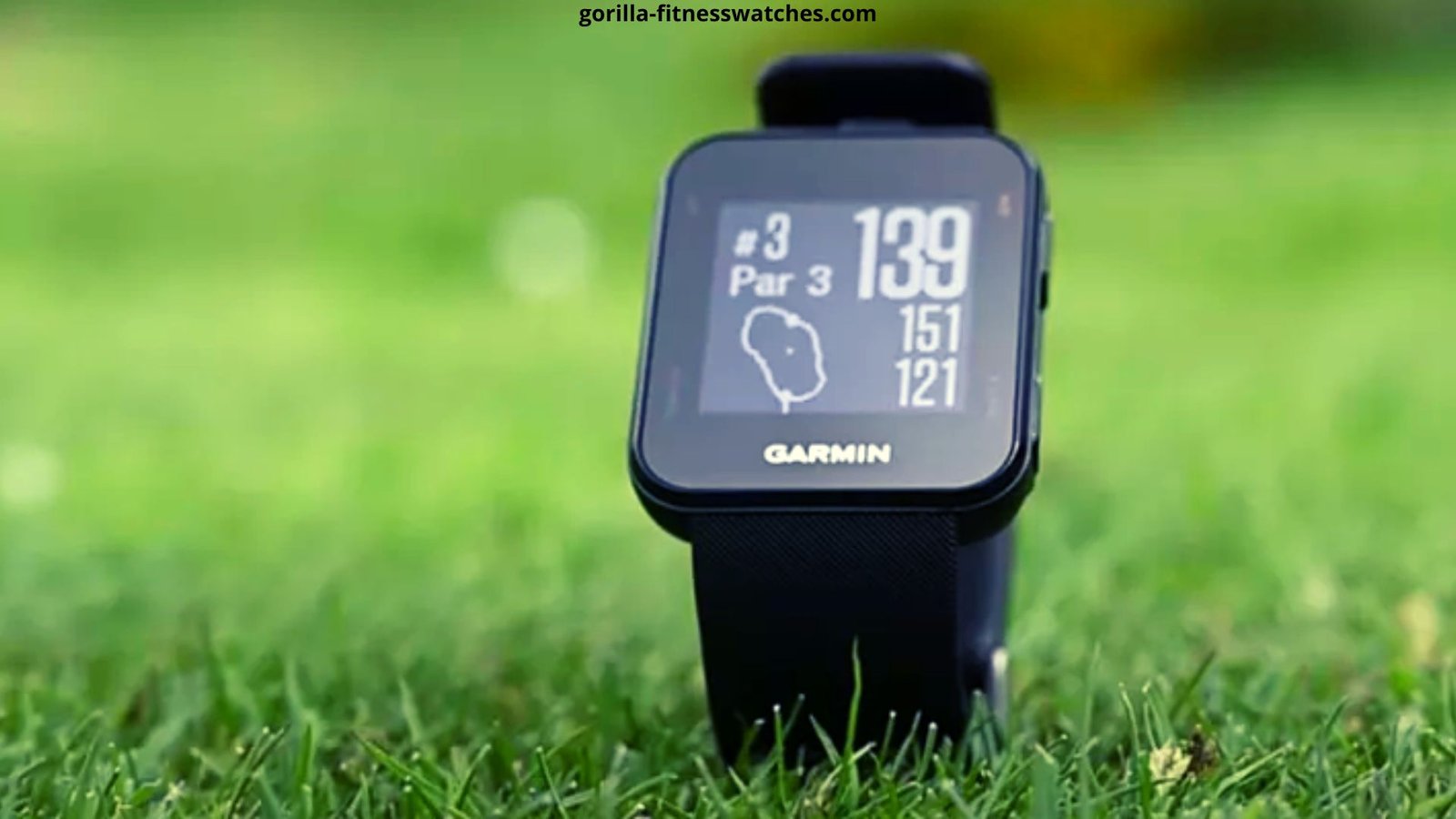 The Garmin Approach S10 watch exemplifies cutting-edge design and technology integration. Even though there are only four buttons on the face of the watch, the technology inside is advanced yet basic.
Using any of the four buttons on the watch's outside case, you may quickly move around the display.
The silicone band secures with a buckle, just like a conventional wristwatch strap. Due to the low resolution of the MIP monochrome 128×128 screen, this watch cannot be compared in any way to the Apple Watch.
The screen's low resolution and lack of bells and whistles are offset by the fact that it can be read in direct sunshine, making it perfect for usage on golf courses.
Golfers who lose their balls while fishing will appreciate the watch's water resistance. The watch is water-resistant to 5atm, so I don't plan to go scuba diving with it soon. However, golf is one activity that is highly recommended.
Let's have a look at some of the features it possesses:
1- GPS Golf Mode:
The ability of a Garmin watch to determine how far away a mis-hit shot is from the green course is likely the most important function of a Garmin watch.
Even if you aren't on the correct fairway and can't see the hole, this GPS watch will still be able to tell you exactly how far away you are from it.
This is one of the many advantages of wearing one. This shot is perfect for you if you over-sliced your tee shot on a sharp dogleg.
I was curious about how well this watch would perform compared to other, more expensive models, so I decided to test it out.
After putting it through its paces, we were astounded by how similar they are. Indeed, the S10 isn't quite as cutting-edge as the Shot Scope V3 or the Garmin S42, but when it comes to GPS accuracy, it does a good job of doing what it's supposed to.
Another reason was that it was interesting to see how far my shots traveled. It did not consider elevation or anything else, but having something rather than nothing was a significant improvement.
In general, the S10 was equally as accurate as the higher-end ones, which was an excellent feature overall.
2- Scorecard:
The ability of the Garmin Approach S10 to keep track of your score while you play is the device's next important function.
After completing each hole, the golfer's watch allows them to enter their score from the previous hole.
Since they were first introduced, golf watches have come a long way, and this function is undeniably one of the more valuable ones.
After you have completed the game, you must sign into the Garmin app on your smartphone, and the statistics from your game will appear there in front of you.
3- USB Compliant:
The Garmin S10 is equipped with a USB connector and is fully compatible with both PC and Mac systems. In addition, it features USB connectivity. This is for tracking your performance while you're out on the course.
The integration of Bluetooth would indeed be an enhancement that Garmin might make, but considering the price, it is a drawback to the product.
4- Analytics:
The USB feature featured with the Garmin Approach S10 allows players to evaluate their game and conduct post-round analysis using the data collected from their rounds.
All that is required is the Garmin Golf App and the USB cable included with the golf watch as standard equipment.
Garmin Approach S10 Golf Watch: Performance
Regarding the practical implementation and accuracy of the information, we had absolutely no reservations.
Because the buttons on the side follow a logical pattern and are clearly labeled, beginning a round and entering scores is a simple process.
In addition to confirmation with a comparison between Garmin and Bushnell watches, the accuracy of the distances was verified by comparison with the physical course markers.
While on the green course, you can easily move from one hazard to the next, and all relevant details will be properly identified.
We have always had simple preferences regarding golfing equipment. We have been critical of features like the club logging on the Garmin Approach X40 and the auto-shot detection on the TomTom Golfer 2. We appreciate how straightforward the Approach S10 is in its design.
One of our only small complaints is that the Approach S10 appeared to get confused between holes more frequently than other watches, and as a result, we had to frequently re-select the hole we were playing in.
Garmin Approach S10 Golf Watch: Data And App
Because there is no Bluetooth, it will be necessary for you to connect your watch to examine the post-round data; you will need either a personal computer or a Mac.
Installing Garmin Express is required, and after that, the data will be sent to the Garmin Golf app (not Garmin Connect).
So, describe the nature of that encounter for me. The scoring function on the Garmin Approach S10 is rather restricted because of the fundamental nature of the function itself.
It was easy to enter stroke scores for each hole, which was a positive aspect of the scoring system; however, the generated table and the comments it provided were neither visually appealing nor insightful in any manner, and there was no option for Stableford scoring.
You should use the Hole 19 smartphone app for precise hole maps and data any time soon, and even it is good to have a record of every round you play and your score.
Garmin Approach S10 Golf Watch: Battery Life
Although functions have been reduced to an absolute minimum, the battery life has excelled, which is a significant plus point for the Approach S10.
You should be able to get three rounds out of the watch before recharging it, and even having it sit in a drawer for a week did not appear to have any effect on the battery.
The battery life advertised as 12 hours while using the GPS and 14 weeks in standby mode seemed accurate.
That is essential since we found that remembering to charge golf watches before a round is the single most frustrating aspect of playing the game, and it means that the Approach S10 is more likely to be ready to use when you require it.
Garmin Approach S10 Golf Watch: Design
This watch does not come with too complicated features that might look great but aren't really useful for the ordinary golfer, which contributes to its lower price.
This is a positive factor in my eyes because the firmware design is incredibly user-friendly.
Even in bright sunshine, it is not difficult to read the display, and the various settings can be easily switched between. Additionally, the screen is never cluttered with numbers or other unclear or irrelevant information.
Additionally, the physical design is refreshingly uncomplicated. There are just four buttons total, all of which have distinct labels: "OK," "Back," "Up," and "Down" are located on the right side of the screen, respectively.
Additionally, the size is acceptable. Even when I have a glove on, the face is not bulky, and the strap does not impede my movement.
Garmin Approach S10 Golf Watch: Specs
| | |
| --- | --- |
| Garmin Approach S10 | |
| Size | 36 x 41 x 11 mm |
| Quick Release Bands | No |
| Touchscreen | No |
| Strap Material | Silicone |
| Screen Size | 23 x 23 mm |
| Weight | 35 Grams |
| Battery Life | 12 Hours GPS Mode |
| Water Rating | 5 ATM |
| Golf Courses | 41,000+ |
| Preloaded | Yes |
| Distance To Front, Middle, Back | Yes |
| Distance To Hazards/Doglegs/Layup | Yes |
| Shot Distance | Yes (Manual) |
| Scorecard | Yes |
| Stat Tracking | No |
| Auto Shot | No |
| Manual Pin Placement | No |
| Pin pointer | No |
| Club Tracking | No |
Advantages of using a Garmin Approach S10
There are three primary advantages offered by the Garmin Approach S10.
To begin, it possesses the advantageous quality of being accurate. Knowing that the watch will deliver an accurate readout when you are out on the course is reassuring, despite the fact that after reading about the capabilities of the Garmin Approach S10 it would appear to be rational thinking that it will act in this manner.
The longer battery life of the Garmin Approach S10 is another plus of this particular model.
Because its battery life is so much longer than that of other GPS golf watches, the S10 allows you to charge it a total of three times before you need to be concerned about it overheating.
The price of the Garmin Approach S10 golf watch is still another significant advantage of this model.
The Garmin Approach S10 golf GPS watch provides an unrivaled level of value for the money when contrasted with its competitors.
There is no better offer on a golf watch anywhere, and any golfer who plays the game would be smart to purchase one.
Conclusion
This watch is ideal for the no-frills golfer who always wants to be prepared to tee off at the first available opportunity.
The Garmin Approach S10 is able to immediately and automatically determine the course that you are playing from the very beginning.
This one stores more than 40,000 different course maps, statistics, and data, and Garmin is the organization that is now in first place in terms of course data.
And in terms of the precision of the distance it measures, Garmin simply cannot be beaten. I would strongly recommend the Garmin Approach S10 to anyone who is interested in purchasing a golf watch that is both reliable and affordable.
Because it meets the requirements of typical golfers, you should give it some consideration if you are seeking for a watch specifically for golf that is both of high quality and within your price range.