Fitbit Charge is the new addition to the Fitbit tracker series. The new flagship is packed with most premium features, and the majority of the features are borrowed from Fitbit Sense.
Because of advanced features, the Fitbit Charge 4 can now compete with the best fitness trackers. When it comes to Vivosmart 4, we have seen most of the features in both fitness trackers. And Undoubtedly, Garmin Vivosmart 4 is one of the most accurate trackers in its family.
If you see from a health-tracking point of view, both are the best fitness tracker. But some minor differences make one a winner. So let's find out the difference!
Related Posts:
| | | |
| --- | --- | --- |
| Features | Fitbit Charge 5 | Garmin VivoSmart 4 |
| Display | 1.04-inch AMOLED | 0.74-inches OLED |
| Weight | 29g | 16.5g |
| GPS | Yes | No |
| Water Resistance | 50m | 50m |
| Storage | No on-board music storage | 14 days of activity tracking data |
| Mobile payments | Fitbit Pay | Garmin Pay |
| RAM | – | – |
| Price | $179 | $129 |
Fitbit Charge 5 VS VivoSmart 4: Display & Design
Fitbit always tries to launch the most comfortable design fitness tracker, and this time it also tries to bring some comfortable variant.
Charge 5 comes with a completely new design that looks like a rectangle, and it's pretty comfortable. Garmin Vivosmart 4 has a completely different design, and it's sleeker and slim.
Fitbit Charge 5
This time, Fitbit brings many changes in its new flagship, and it's completely different from its predecessors. The major update that we have seen is its display.
Charge 5 comes with an AMOLED display that looks more vibrant. And it has a pretty large 1.04″ display so that you can read the dial. Because of (260 x 170) high resolution and nits, you can easily read the dial under direct sunlight, and it's 2X brighter than Charge 4.
Fitbit also added Always-on Display (AOD) in its flagship tracker so you can check your health status with just one glimpse.
The new charge five is made from high-quality material, durable but not much durable than Vivosmart 4. Further, it has 5 ATM water-resistant bodies which are suitable for swimming.
Similarly, you will get a large side button that is convenient to press and navigate through menus this time. Like the previous Charge 4, you can swap the bands and use that one that suits your outfit.
Garmin Vivosmart 4
Vivosmart 4 looks pretty similar to Vivosmart 3, except this time it has an aluminum bezel that makes it look more attractive.
As compared to the Charge 5, Vivosmart 4 has a very sleek design that makes it the most comfortable tracker out there. You will get a 48 x 128 pixels OLED display having dimensions 0.26″ x 0.70″.
The dial is pretty small as compared to charge 4, but still, you can read it. The lens is made of polycarbonate, making this tracker more durable and robust.
Vivosmart 4 offers a touch screen, and there is no physical button on the side. Touch is pretty smooth, and you can easily scroll and navigate through menus.
The strap is made up of premium Silicone that feels more comfortable. You can also interchange the strap. There are different colors of straps available in the Garmin store.
Fitbit Charge 5 VS Garmin Vivosmart 4: Battery Life
Both fitness trackers are equipped with solid batteries that run for extended periods. But battery life adepends on different factors like display, GPS, fitness tracking features, etc.
The new Fitbit Charge 5 comes with 7 days of long-lasting battery life which is even more than Fitbit versa 3. It beats all Fitbit trackers and smartwatches in the battery life department. Fitbit has done a great job of extending battery life. On GPS, you will get 5 hours of battery time which is much better.
On the other hand, Garmin Vivosmart 4 offers up to 7 days of battery life, which is better than Vivosmart 3, which offers five days of battery life.
If you deeply compare the batteries of both devices, the Fit 5 beats the Vivosmart 4. In Vivosmart 4, the battery life should be more because there is no color display, and it also lacks built-in GPS.
---
Read More: Fitbit Charge 5 VS Xiaomi Mi Band 6
---
Fitbit Charge 5 VS Garmin Vivosmart 4: Price
As usual, Fitbit trackers are more expensive than any other tracker. Even Garmin trackers can't compete with their prices. And the simple logic behind high prices is their experience and premium quality.
The Fitbit Charge 5 is far more expensive than its predecessor, and it nearly equals to Fitbit Versa 3. Interestingly, the Fitbit Charge 5 is even more powerful than the Fitbit Versa 3. You can see their comparison here. Anyways, Charge 5 is listed for $179 on Amazon; you can buy it here.
On the other hand, Garmin Vivosmart 4 is pretty affordable compared to Charge 5 but not much affordable compared to Xiaomi and Amazfit trackers. Vivosmart 4 costs $124, but you will get a $15 discount if you buy from Amazon. Check Price here.
Fitbit Charge 5
Built-in GPS

AMOLED Display

ECG App

Stress Management Tools
Fitbit Charge 5 VS Garmin Vivosmart 4: Health Tracking Features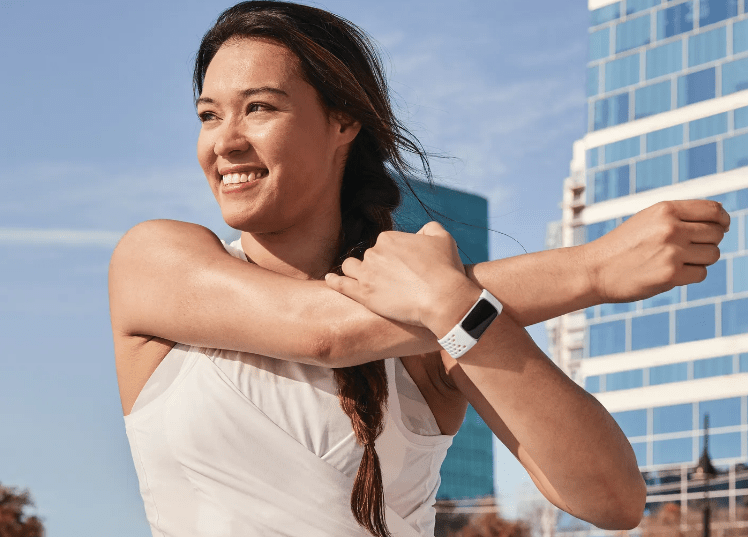 Both fitness trackers are equipped with numerous health and fitness tracking features that allow you to track your goals and reach your destination.
Fitbit Charge 5
The Fitbit Flagship tracker has more advanced health tracking features like the ECG app and the EDA Scan app for stress. Both these premium features are borrowed from Fitbit Sense; that's why these features increase its credibility.
Apart from this, you will see a built-in GPS, which is a big plus point, and it helps you track your outdoor exercises more deeply than before.
The Fitbit Charge 5 can automatically track most sports like running, walking, cycling, hiking, swimming, etc. While tracking the rest of the sports, you have to enable their mode.
A much powerful SpO2 sensor accurately tracks your blood oxygen level, heart rate, and sleep. Lastly, you will get Active Zone Minutes which is the traditional feature of Fitbit trackers. We recommend this tracker for running, cycling, hiking, and other outdoor sports.
Vivosmart 4
Vivosmart 4 is undoubtedly the most advanced and accurate fitness tracker that offers many health-tracking features.
The big plus point in this tracker is the Pulse OX sensor is not present in Charge 5. You can check your blood oxygen saturation level at any time from your wrist.
Similarly, you will get Advance sleep tracking, Body energy monitoring, all-day stress tracking, sports modes, workout monitoring, and automatic rep counting for cardio workouts.
The only thing that Vivosmart 4 lacks is the ECG app found in Garmin high-end wear. We recommend this tracker for hiking, cardio workouts, yoga, and other such workouts.
---
Read More: Fitbit Charge 5 VS Fitbit Versa
---
Fitbit Charge 5 VS Garmin Vivosmart 4: Other Features
Apart from health tracking features, both devices are equipped with plenty of other features. Like you will get a notification feature that allows you to stay updated about every single notification. To receive notification, you must connect your tracker with your smartphone.
You can set alarms, reminders, calendars, and use a smartwatch on both trackers. The extra thing in Vivosmart 4 is an ABC sensor that allows you to check altitudes, heights, and weather conditions.
Similarly, Vivosmart 4 also offers an Ambient Light Sensor that supports backlight and automatically adjusts the screen's brightness.
Fitbit Charge 5 comes with many watch faces, so you can change and customize the dial anytime according to your outfit.
Final Words
Both Fitbit Charge 5 and Garmin Vivosmart 4 are the best fitness tracker in the market. Both can accurately track your health. But Charge 5 has two extra features; an ECG app and built-in GPS that make it more worthy.
Now it's up to you which fitness tracker suits your budget and requirements.