If you are looking for a cheap and budget-friendly smartwatch, then Canmixs Smartwatch is the best option.
Cheap smartwatches often have low quality and design. A lot of people hesitate to buy such wearables because they never full fill their requirements. But the Canmixs smartwatch is not among these watches either it gives you good performance all the necessary features.
There is a deep-sea of smartwatches, and it becomes harder to find out the best watch for your wrist that gives you all the essential fitness features. Even if you get the best smartwatch that gives you all the fitness features, I'm sure that such a smartwatch would be an expensive one.
This guide will show you an in-depth Canmixs smartwatch review that helps you identify some of this wearable's crucial functions. Plus, I will also show you some of the cons.
After reading this guide, you will be able to decide either this cheap smartwatch is right for you or not?
What do we like about Canmixs smartwatch?
I never say such a budget-friendly smartwatch, those people who have a tight budget must buy this smartwatch. It gives you all the necessary and essential fitness features that help you make your fitness dreams come true.
Canmixs smartwatch comes with an elegant design with a DIY background that looks too much attractive. You can also change the watch faces as there are some extra available.
From the fitness point of view, a cheap smartwatch is ideal because no other smartwatch gives you such a wide range of fitness features.
With Canmixs smartwatch, you can measure heart rate, sleep, calories, steps, and more. This smartwatch offers eight different indoor and outdoor sports models that help you effectively perform your activities for the athletes.
Another exciting thing that I love is its 24/7 heart rate. However, a heart rate monitor is a standard feature few smartwatches give you real-time heart rate metrics. With its smart functionality, you can directly control the music and the camera of your smartphone from your smartwatch.
As compared to other smartwatches, it gives you good performance because of its light software. I use this smartwatch for two weeks, and it has a friendly and easy-to-use interface even kids can also use this smartwatch.
What don't we like about this smartwatch?
All the smartwatches have some pros and cons. Similarly, the Canmixs watch also has few downsides. First of all, I saw that its battery didn't give excellent performance. Whenever you use multiple features at a time, it often drains the battery.
The second big issue in this smartwatch is accuracy, and It shows accuracy in a few fitness activities. Heart rate monitor sometimes shows inaccurate results. Also, its sleep tracking feature is not much useful.
If you are an iPhone user, then you may face some problems during connectivity. There are a lot of things and factors in its app that needs more improvement.
Price & Avaliability
You will get Canmixs smartwatch from Amazon, as well as from any smartwatch store. It is available all over the world at a very budget-friendly price. It offers you three different colors pink, black and golden.
The golden color variant cost $40 (with an extra strap), other two colors variant cost $34. I think this cost is nothing compared to Canmixs competitors, and this cost is meager.
You can buy this smartwatch from our affiliate link. In this way, you can earn a minute commission that helps to make some pocket money.
Main Features (Canmixs Smartwatch Review)
Now let's talk about the some key features and functions of this smartwatch.
Design and Display
This smartwatch looks like the Apple watch, which means it has a more elegant and attractive design. Due to its 43g of weight its is much lighter and comfortable.
You will never feel a burden on your wrist after wearing it for a long time. It also gives you an option to interchange bands.
Although this is a lighter smartwatch, it gives you a large display with 240*240 resolution. I like its dial, which is more bright and has natural colors. You can also change watch faces according to your choice.
You can adjust screen brightness quickly. Even under strong sunlight, you can see your dial.
Water Resistance
Water-resistance is much essential feature that allows you to use your smartwatch without the fear of water distractions. Canmixs smartwatch comes with IP67 waterproof standards. Even you can wear this smartwatch during swimming and can record your essential data.
Smart functionality
With the help of its smart functionality, you can control various things on your smartphone. But before handling your smartphone feature, you first need to connect your smartwatch with your mobile phone.
After connection, you can control the music of your smartphone. Just with one tap, you can pause, play, or switch songs. During your exercise or workout, it easy for your to change music directly from your smartwatch. You can also control your smartphone camera. With just on the tab, you can take amazing photos.
Fitness features
Canmixs smartwatch offers you a couple of fitness features for fitness lovers or those who set their fitness goals. First of all, this smartwatch measures real-time heart rate, also automatically measures your sleep quality.
With a real-time heart rate monitor, it can measure your heart rate automatically after every 5 minutes. Also, you can manually track your heart rate.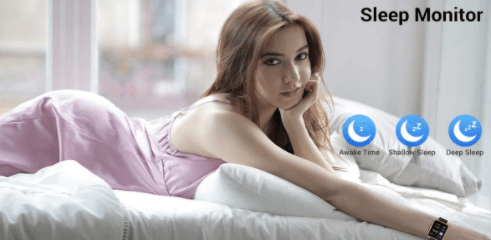 It also has calories counter that helps you to make healthy food to remain healthy. The calories counter is the most exclusive feature of this smartwatch because no other smartwatch with this price tag offers you this feature. You can also track your steps and distance with its step counter feature.
Sports Modes
There are eight indoor and outdoor sports modes that help you effectively and correctly perform your fitness activities—these sports modes include.
Walking, running, swimming, bicycle, football, rope skipping, badminton, and basketball. Now, what will you get from these sports modes? This smartwatch measures your performance during your sports, and you can deeply see the insights on Andriod/iOS app.
Weather Forcast
Another exciting thing about this smartwatch is weather updates; again same price tag smartwatches don't offer you weather forecasts. Interestingly its weather forecast is accurate and convenient, and you can check the weather with your smartphone at any time.
Connectivity
Luckily Canmixs smartwatch gives you universal compatibility means you can easily connect your smartwatch to Android as well as with iOS devices. It's too easy to connect with a smartphone, install the "Hero band III" app on your phone, and connect with it.
After a stable connection, you can see many exciting insights into your daily fitness activities on your phone. These insights help you to more effectively perform your activities and give you the confidence to achieve your fitness goals.
Notifications
With its smart notification system, you will remain updated 24/7. During your gym, workouts, or other activities, you can get calls, messages, emails, calendars, and other social app alerts. Moreover, you can also block or mute these notifications, but you can't reply to messages.
Battery
The final and most important thing is a battery. Smartwatch with long battery life measure your activities for a long. Usually, cheap smartwatches never give you good battery life. But still, the Canmixs smartwatch has enough battery life (180mAh) that it can last for five days with regular use.
Guide to choosing the best smartwatch
Before buying any smartwatch, you must consider the following factors. As there are many smartwatches available in the market, it becomes harder to choose the best one. But if you consider these factors before buying any smartwatch, you will get a good one for your wrist.
Comfort
Comfort is the priority because few smartwatches have a bulky dial, and wearing those watches for long makes your wrist un-comfort. Always buy those smartwatches which have a lightweight and soft wrist strap.
Features
The second important factor is how much feature a specific smartwatch offers. If you a real fitness fan or an athlete, then your smartwatch must-have essential fitness feature and health monitor features. Also, a smartwatch is capable of measuring fitness activities accurately.
Compatibility
A smartwatch must be universally compatible, which means your smartwatch must-have the capability to connect with both Android and iOS.
Battery life
Battery life is much essential. Even expensive smartwatches don't have long battery life. Wearables with long battery life are fabulous. But your smartwatch must have at least three days of average battery life.
Final Words
I hope you are clear from the above review, but if you have any questions, you can ask me in the comment. Shortly if you have a low budget and short fitness requirements, you can go with Canmixs smartwatch.
As it gives you all fitness features, but there are still many things and features missing in this smartwatch. Overall Canimxs smartwatch is best to have some sleek and attractive design and gives you excellent smart functionality.
Note: This article contains comes affiliate links. When you buy some products from my link, I will earn pocket money for my family.