Fishing is like a hobby for most people, but some people are their carrier and way to feed their kids. And for any outdoor activity, either fishing or hunting, you should be equipped with the right tools that will help improve your performance.
Fishing watches are valuable tools that show tide status, weather conditions, set timers, stopwatches, and much more.
But not every watch is perfect for fishing, and you must consider a few things before picking a good watch for your wrist. Your watch must be durable, water-resistant, and have some extra features.
After doing deep research, we have gathered the 9 best fishing watches that also offer tide features. So let's have a look!!!
Our Recommendation
Best Watches For Fishing
Garmin Fenix 3 is specially designed for outdoor adventures, and it offers all the valuable features that make this watch perfect for fishing, hunting, hiking, etc.
This premium watch comes with a stainless steel case and sapphire lens, making this a most durable watch. A vibrant German Chroma display with an LED backlight feature allows you to read the dial-in in the dark easily.
Fenix 3 has 10 ATM water-resistant bodies and offers three months of battery life in watch mode, plus 50 hours in ultra-trace mode.
Why It Is Best For Fishing
Although there is no built-in fishing mode in this Garmin watch, you can install a third-party fishing app from the Garmin store. On the watch, you will be able to track your fishing activity and tide status. 
Apart from this, you will get a precise ABC (Altimeter, Barometer, Compass) sensor that helps fishers measure the weather condition and directions.
For finding routes and navigations, this watch offers high-quality GPS so that you can easily reach your destination. Compared to the rest, Garmin watches provide comprehensive navigation and tracking function.
A big plus in this service is the "Trackback" feature that allows you to navigate your starting point or initial point. 
Garmin Fenix 3 is a helpful device for spending quality time at sea and tracking your fishing activity. 
Garmin Fenix 3
Excellent GPS

Third party app support

ABC sensors

Fitness features

Long battery life
Casio Men's Pro Trek PRW2500R
Pro Trek is a powerful series of Casio, which is specially designed for outdoor activities. Because of tide graphs and moon phase data, this is one of the best watches for fishing.
Compared to Garmin watches, this one is affordable, so if you are on a budget, you choose Casio Pro Trek PRW2500R. 
I'm a big fan of its robust and durable body, even though it's more potent than high-end Casio watches. The case of a watch is exceptionally rugged like hell making it 200 meters water-resistant. You can confidently use this watch for swimming and diving etc.
Best Watch For Fishing
No doubt, this Casio family member is excellent for anglers because of several reasons. Firstly it offers a solar technology battery that allows you to use the watch for years.
Then it offers ABC sensors that help to find directions, weather conditions, air pressure, etc. Additionally, the watch measures the temperature of your surroundings. All these features are pretty helpful while fishing. 
Pro Trek PRW2500 comes with 31 time zones and calibration radio signals to keep the display time accurate.
There are many other features, including; Stopwatch, Calendars, Alarms, Moon data, Sunset/Sunrise times, etc.
Garmin Quatix 6
If you are looking for a high-end full-featured watch specifically designed for boating and fishing purposes, look at Garmin Quatix 6. 
This premium watch looks like the previous Fenix 6, and most of the features are the same in both. But this time, Garmin adds some extra fishing features to it. 
Quality 6 is made of a durable stainless steel bezel that makes this watch perfect for outdoor use. 
Garmin Quatix 6 is a fishing watch and a fitness tracker with fully loaded useful features like; calories tracker, heart rate tracking, steps and distance tracker, and more.
Ultimate Watch For Fishers
Because of its insane capabilities, it's always the best watch for fishing activities. These capabilities include; Stream data that will track water depth, engine RPM, wind, and more. 
The built-in fishing mode allows you to track your activity with tide status accurately. Quatix 6 supports premier costal chats featuring integrated Navionics data. 
Along with effective GPS tracking, you can use LakeVU G3 Maps that supports freshwater maps of the US featuring integrated Navionics data.
Similarly, one of the most premium features of this watch is Autopilot Control. This feature helps you to control your boat. Access the autopilot app to change engagement pattern, heading, steering, and follow a GPS route.
Garmin quatix 6
Premium Watch

More advance features

ABC sensors

Rugged design

Long battery life
Suunto 9 
Here comes another ultimate Titanium plated watch specially designed for outdoor activities. Suunto 9 is a flagship watch which is packed with all the valuable features that you demand. 
This premium GPS watch comes with 80+ GPS Sports modes that allow you to track different outdoor activities, including fishing.
Suunto 9 is built with the highest grade materials, sapphire glass and grade 5 Titanium polymer. It has a 100-meter water-resistant body that allows you to track underwater activities easily.
Why It's Best Watch For Fishing?
The built-in fishing mode allows you to track your activity and check tide status effectively. There is ultimate GPS tracking in this watch that shows high-quality colorful routes. Even if you are in hell, this watch will show you accurate data.
There are also ABC sensors showing altitudes, heights, weather conditions, temperature, direction, etc. So you can quickly check your surroundings and guess which spot is best for fishing. 
You can deeply analyze your activities on the watch, but for better insights, make sure to connect your watch with its smartphone. But as compared to other watches, Suunto 9 shows excellent and in-depth metrics.
Lastly, Suunto 9 offers 25 hours of battery life in GPS mode and 170 hours of long-lasting time in tour mode.
Sunnto 9
Large dial, easy to read

More advance features

ABC sensors

Comfortable

GPS is amazing
Casio G-Shock GWN1000B
Casio's Men's G-Shock Sport Watch lets you effectively track your fishing. With the black Resin case and bezel, this watch provides a sleek look and smooth feel.
Four large silver screws are accented at the top and bottom of the bezel, displaying white words depicting the four button functions.
In addition to the time, date, and tide charts. Additionally, the wideband is black resin and closed with a silver buckle for a custom fit.
Premium Watch For Fishing
This is a premium watch for fishing as it contains all the essential features of fishing. With the ABC features, you can find weather conditions, air pressure, and directions.
With the altimeter range of -700m to 10,000m (-2,300 to 32,800 ft), you can find the air pressure. Its barometer measurement ranges from 260 hPa to 1,100 hPa (7.65 to 32.45 inHg).
For a fishing watch, waterproof features are essential. So, this sports watch is waterproof up to 660 feet (200 meters).
Garmin Fenix 5x
Garmin is the World's most famous and high-quality watch with the best outdoor watch and fitness. Like other Garmin watches, the Fenix 5x comes with multiple sport capabilities.
In this fitness watch, you get advanced features such as Elevate wrist heart rate technology, activity profiles, performance metrics, and training status readings to help you track your workout progress.
Ultimate Multi-sports Fishing Watch
With all the outdoor features, this is an ultimate watch with mapping, routable cycling maps, and other outdoor navigation features.
This watch offers a stainless steel bezel, buttons, and rear case. These high-quality materials ensure extreme durability and are best for adventures.
In addition to GPS and GLONASS tracking, the device includes a compass, a gyroscope, and a barometer for tracking in more challenging environments than GPS alone.
With the help of all these outdoor features, you can make fishing easier.
Suunto Traverse Alpha
This watch comes with high and robust built quality with a set of all outdoor features. This is one of the most potent GPS watches purpose-built for anglers and hunters.
It contains specific fishing and hunting features, which makes your outdoor activity easier.
During adventure or any outdoor activity, you can use tracking features to track the speed, distance, altitude, etc.
Perfect Fishing Watch
Several fishing and hunting tools are available for your activity, such as a moon phase calendar, shot detection, sunrise alert, weather trend, and red backlight for nighttime use.
For route and POI navigation, it also contains GPS and GLONASS. Its Red backlight and night vision mode makes your activity easier at night also.
This watch is highly durable due to its rugged design, and it is tested to all military standards.
Casio Men's GWF1000 Frogman
G-shock watches are the World's most durable watches. Like other G-shock watches, this watch is also the most durable analog-digital watch.
The watch is trusted by military personnel, surfers, law enforcement, and outdoor enthusiasts. Its military and sports design adds more beauty to your personality and makes it more attractive and adorable.
How Is It Best For Fishing?
Due to many of its features, this watch is best for fishing and other outdoor activities. The first thing is that it has mineral glass which gives you extreme durability.
The second thing is that it has water-resistant features of 200 meters, making you tension-free from the worry of entering the water.
Additionally, this watch is shock-resistant, which makes your fishing easier. Moreover, it comes with interchangeable bands, which gives you a comfortable feel.
Casio Men's GWF1000
Durable watch

Mineral Glass

ABC sensors

Backlight

ISO 764 Class Magnetic Resistance
Timex Intelligent Quartz
Timex is a well-known watches brand that offers high-quality watches. But this Timex Intelligent Quartz is specially designed for outdoor purposes.
The durability of the watch is insane because of the stainless steel case with mineral glass crystals. There are three physical buttons and a knob that enhance the beauty of the watch.
This Timex Watch is packed with multiple outdoor features, including a tide tracker, temperature sensor, ABC sensors, Measure air and water temperature, and more.
Further, you will get an INDIGLO Night light that allows you to read the dial even in the dark easily. On pressing a button, this nightlight will illuminate the entire watch face at night.
This multifunction watch has a quartz movement, and it's genuinely a seafarer's dream watch.
Because of its 100-meter water-resistant body, you can easily use it for fishing purposes. You can wear it while swimming, but it is not suitable for scuba diving.
Buyer Guide To Pick a Best Fishing Watch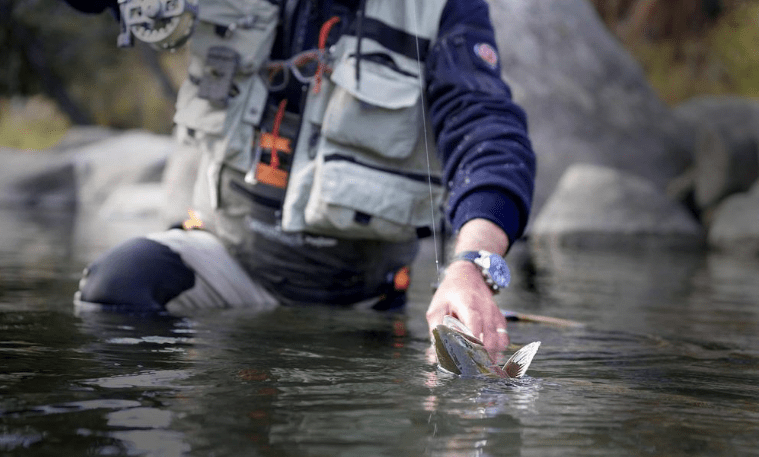 You can easily pick a casual watch from the market. But when it comes to fishing watches, you must consider a few factors. Fishing watches come in various designs, prices, and features. 
A key feature that must be available in all fishing watches is the tide feature. This will tell you when to expect high or low tide, and this function is crucial for all fishers.
Depending on your requirements, you can choose any fishing watch, keeping a few things in mind. 
Water-Resistant
The first consideration that comes to mind while listening to fishing watch names is water resistance. A watch with below 50 meters/5ATM water resistance can't serve for deep diving and swimming. It will lead to water splashes on the screen, and you will see the dial. 
Similarly, most of the time, water enters into the chip of the watch that leads to permanent damage. 
But as a fisherman, you don't need a heavy, water-resistant watch, but at least you should have a watch that prevents water splashes. A watch with 50-100 meter water resistance is best for fishers, and everything above this is ideal, but it can be expensive.
Many brands show their watches as waterproof, but these watches are useless under the hood. Only the branded watches like Casio, Garmin, Timex, etc., give accurate water ratings, and you can believe in their specs.
GPS For The Open Sea
GPS is one most helpful features for outdoor activities. Now, this function is standard in almost every outdoor watch, and it's handy to have this tool in a fisherman's pocket. 
Using this feature, you can easily find out the best and quick routes that will save your time and energy. It is also helpful to know the distance of your destination.
Along with GPS, now most fishing watches also offer altimeters, barometers, and compass, crucial for all outdoor activities. Similarly, with GPG, you will get a safety tracking feature or trackback feature, so you never get lost.
In some of the Garmin watches, you can save your favorites, so you can easily navigate to that place in the future. This is a fantastic feature for fishers that helps to find their best fishing spot.
Durability
Not every watch can live in a harsh outdoor environment, so choosing a durable and robust watch for fishing purposes is crucial.
Fishing is not an easy job. You have to throw the rod, sometimes jump into the water, pull up a fish, or accidental knocks may happen while fishing. So your watch must be scratch and dust resistant.
The watches with stainless steel cases, silicone or strong rubber body, are best for these outdoor activities.
Final Words
The top fishing watch can be an excellent tool for fishers if it has some unique features. You can check the tide status, weather, air pressure, sea depth, and more with these watches. 
But finding the best watch may be difficult for you if you don't research properly. We have put 9 best fishing watches that offer all the valuable features. You can buy any of them according to your needs and requirements. 
If you want to invest in these watches, then Garmin Quatix 6, Casio Pro Trek PRW2500R, and Suunto 9 are perfect options for you that are specifically made for fishing purposes.
FAQs
How does the Casio fishing watch work?
The fishing mode indicates whether a specific date and time are suitable for fishing, shown as one of five levels. In addition to moon data for specific dates, this mode displays current moon data. An integrated temperature sensor measures temperature in this watch.
Are Casio fishing watches good?
The watch looks nice, and it has some decent features. There's no need to worry about tides or times since the fishing thing works. But the watch doesn't feel premium on the wrist due to the price, but that's understandable.
Which watches are best for fishing?
Suunto 9 GPS Sports Watch and Garmin Quatix 6 Marine Smartwatch are watches considered to be the best watches for fishing.
Why Should You Use A Fishing Watch?
Watches are your best companion during outdoor activities. To make informed decisions when planning your outdoor activities, they share information with you. You can also rely on them to alert you if there is trouble outdoors.
What Is The Difference Between A Regular Sport Watch And Fishing Watch?
The sport watch is also an essential outdoor tool, but unlike fishing watches, it focuses more on the body than its surroundings. Depending on the sport, these watches include heart rate monitoring, a thermometer, and a tachymeter.  
Generally, fishing watches are intended to measure the parameters of activities such as fishing, trekking, etc. These watches may also have altimeters, barometers, thermometers, and GPS.