Most of the running watches are pretty expensive and hard to afford. But it's also crucial to track your pace, distance cover, speed, and calories burned during running.
You can't perform an effective jogging activity without a perfect running watch.
Do you have a tight budget? Don't worry; in today's article, we will bring some best running watches available for under $100.
Note: A low-budget smartwatch doesn't mean low quality. If you pick a trusted brand device, you don't need to worry about it.
Our Recommendations 
Check Out: Best Outdoor Watches Under $100
7 Best Running Watches Under $100
Fitbit Charge 4
Amazfit Band 5
Xiaomi Mi Band 6
Fitbit Inspire 2
Amazfit GTS 2 Mini
Garmin Forerunner 35
Samsung Fit 2
Fitbit Charge 4 (Winner)
Fitbit trackers are the best multi-sports devices that come with advanced fitness tracking features. Especially for runners, Fitbit devices are best because they also have a built-in GPS.
Fitbit Charge 4 is at the top of our list with a built-in GPS to measure your pace, speed and distance. There are few advanced sports modes that help you to track your hiking, cycling, swimming, and more.
But in this device, you can't get an AMOLED display. Instead, there is a monochromatic (black and white) display.
Why Fitbit Charge 4 is Best For Running?
This budget-friendly watch comes with built-in GPS, which is a big plus. GPS watches are considered to be best for running, hiking and cycling, etc.
Secondly, this fitness tracker offers an Active Zone Minute that helps you to better understand your heart rate zones and fats you burn in a specific activity. Active Zone Minute is a period spent in cardio and fat-burning activities. So greater the number of Zone Minutes more will be your performance.
This feature helps you check how much calories or fat you burned during your running or any other activity. 
Charge 4 will track stress during your whole day, and you can see your stress management score in the Fitbit app. It also suggests many exercises that lower your stress.
During running, you can also enjoy music because the Fitbit Charge 4 can control Spotify.
Amazfit Band 5 (Runner-up)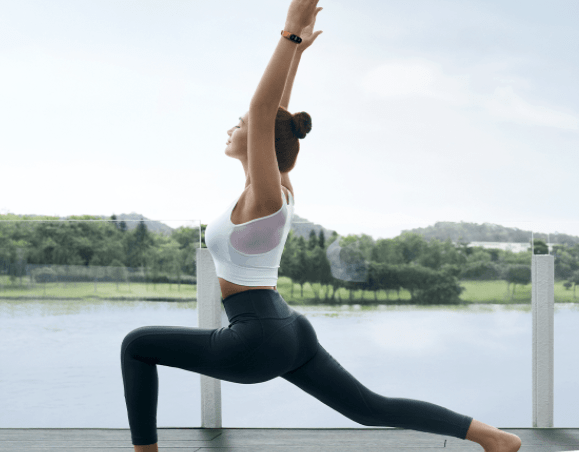 This is the powerful competitor of Xiaomi Mi band 6 that offers premium features for just $31. Compared to Fitbit Charge 4, this fitness tracker comes with an AMOLED display that helps you to easily read the dial under direct sunlight.
Amazfit Band 5 is packed with more advanced features including, a Blood pressure monitor, Sleep monitoring, Multi-sports tracking, Pedometer, and especially Alexa voice assistant.
I appreciate Amazfit for adding Alexa assistant to such an affordable tracker. With just a single voice command, you can set alarms, calendars, control your smart home devices, and get weather updates.
Does Amazfit Band 5 is Best For Running?
You will be well aware of Amazfit, the brand that launches outstanding multi-sports watches and never compromises the quality of the device.
To support the athletes, Amazfit band 5 comes with a PAI health assessment system that gives you one score based on your global physical health. So, whether you perform running, cycling, hiking, or any other physical activity, Amazfit Band 5 combines their results and gives you one score.
During running, Amazfit Band 5 measures all aspects related to running. You need to bring your phone along with you to track distance and speed as there is no built-in GPS.
Apart from this, 11 built-in sports modes track different physical aspects during activities, like heart rate, calories burned, and more, and give you a score.
There are many other fitness tracking features like Menstrual cycle tracking, stress tracking, sleep monitoring, elevation tracking, and more.
I'm satisfied with the battery life of Amazfit Band 5 that offers 15-days of long-lasting battery.
Read More: Best Smartwatch For Badminton Players
Xiaomi Mi Band 6
Xiaomi always tries to make the most accurate fitness tracker under the best budget. Mi band 6 is the latest Xiaomi flagship with some updated features that aren't present in its predecessor.
There is no significant difference between Amazfit Band 5 and Mi Band 6, but you can see the main difference here. 
This fitness tracker comes with an AMOLED display with more bright colors and a natural tone. Mi Band 6 is extremely comfortable because of its lightweight. And there are 30+ watch faces available; few of them are customizable. So you will not get a chance to complain about the display.
Does Mi Band 6 Track Run?
I love this device because it automatically tracks Running and other such outdoor activities. And just like Fitbit Charge 4, it offers a built-in GPS to track all the aspects of running.
You can also track walking, elliptical, cycling, treadmill, rowing match, and all related activities. This time Xiaomi adds 19 new fitness modes in Mi Band 6 that track high-intensity interval activities.
Another exciting thing is its highly detailed insights in the Mi fit app. It shows you how to effectively perform different activities via animations. You can also track your activities in real-time using this app.
Finally, Mi Band 6 offers 14 Days of long-lasting battery life in normal mode and 5 days with heavy use. The battery life is similar to Amzfit Band 5.
Xiaomi Mi Band 6
1.56 Inch

Imitating 3D tempered glass

SpO2 check

5ATM waterproof

12 months warranty.
Fitbit Inspire 2
Here comes another Fitbit tracker under $100 that offers spectacular functionality. You will be thinking about the difference between Charge 4 and Inspire 2.
There is not much of a big difference between both Fitbit devices except GPS. Inspire 2 doesn't offer built-in GPS. But the rest of the activity tracking features in Inspire 2 are cool.
Here you will get more tools for better sleep, and you can unlock further by purchasing Fitbit premium subscription. 
Fitbit Inspire 2 comes with 20+ Goal-based activities that allow you to track your running and other activities in real-time. And you can check their detailed stats on the Fitbit app.
Secondly, here you will again get Active Zone Minute features which are useful for runners. You can get accurate calories or fat burning scores during your run or any activity.
Inspire 2 is pretty similar to the Fitbit Charge 4, including; stress management, menstrual health tracking, sleep tools, and sports modes.
Here you will have 10 Days of battery life, which is enough to track your activities for a long time.
Fitbit Inspire 2
Active Zone Minutes

50 meter water resistance

24/7 Heart rate tracking

20+ Sports modes
Amazfit GTS 2 Mini
GTS series is one of the most successful and best running watch under $100. You will find very impressive smartwatches in this series. The GTS 2 Mini is the best budget watch that you can also use to track running.
The watch featured a curved glass with a thin design that looks so comfortable. Like other Amazfit watches, GTS 2 Mini also has an AMOLED display with a dozen widgets and watch faces.
There are many advanced fitness tracking features, including 
PAI health assessment

SpO2 tracking, blood oxygen tracking

Real-time heart rate monitor

Real-time sports modes 

Breathing exercises

Sleep tracking

Female cycle tracking and more.
With built-in Alexa, you can ask any question, set alarms, get translations, create shopping lists, check weather updates, and control smart home devices.
How is Amazfit GTS 2 Mini Best for Running?
Amazfit GTS 2 Mini comes with 70+ built-in sport modes that also include running. This smartwatch supports industry-leading in-depth tracking of heart health, so during running it will track your heart health and calories burned more accurately.
After performing running, you can also test your SpO2 level by holding your arm still. Apart from this, the watch allows you to track stress levels after any physical activity. 
This affordable device can last for 14 days under normal smartwatch mode and 21 days in basic usage. You will never get such long-lasting battery life in any other smartwatch under $100.
Garmin Forerunner 35
Garmin watches are most famous among athletes, outdoor lovers, runners, hikers. These watches rocked over the entire market. Because of their high durability and premium quality, Garmin watches are pretty expensive.
Garmin Forerunner 35 is the best budget GPS running watch that offers high-end features, including an accelerometer that tracks high-intensity workouts like GYM and hiking.
Just like Fitbit Charge 4, Forerunner 35 lacks a Color display. But the display looks sleek, elegant, and feels more comfortable.
Functions Design For Runners
Forerunner 35 records your run data, including speed, distance, and pace, and is compatible with heart rate monitors. The Advance AutoLap function automatically sends an alert and displays the time obtained for each lap as soon as you complete a kilometer. 
Similarly, the Virtual PacerTM function allows you to compare your current pace with that set as a goal in real-time. If you're more of a pretentious runner, Forerunner 35 comes with Interval Training so that you can do repetitions even off the track.
Because of the accelerometer, this watch is perfect for indoor activities like a treadmill. There are also sport profiles that complement your physical preparation, such as cycling (both indoors and outdoors) and cardio workouts in the gym.
And the best part is, Garmin Forerunner comes with Garmin Connect that shows you highly in-depth stats of your every physical activity.
SAMSUNG Galaxy Fit 2
Easy to use GPS

Garmin Connect

50 meter water resistant

Wrist-based Heart Rate

AMOLED screen

21 g weight

50 meter water resistant

Good sleep track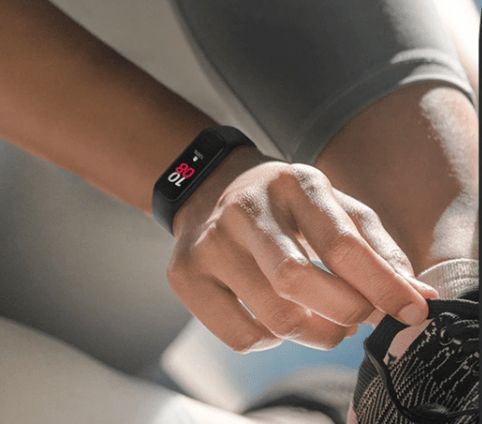 This one is the Final device on our list, and Galaxy Fitness trackers are more advanced trackers that automatically start tracking your every activity.
Fit 2 is pretty similar to Mi Band 6 and Amazfit Band 5, and you will also get an AMOLED display with little curved edges. You will have 70 different watch faces; pick one that matches your style and needs best.
This lightweight Galaxy tracker efficiently tracks your fitness day and night. With just one glance at your wrist, you can monitor workouts, sleep patterns, and different notifications from smartphones.
How It Tracks Running?
Samsung Fit 2 will automatically detect and track your walk, run, treadmill, and such activities. During these activities, it also detects your heart rate and calories burned. Although there is no built-in GPS so you can use your smartphone, to detect the distance cover, etc.
Install the Samsung Health app to monitor your stress level on your Galaxy Fit2 so you can practice breathing exercises when you are under stress.
Galaxy Fit 2 has excellent battery life that lasts between 12 to 14 days so that you can measure your activity non-stop without any stress.
Which One Is The Best Running App?
To track your running in the right way, you need to install the best running app. The app tells you how much you need to run daily according to your height, weight, gender, etc. It also lets you set goals and it tells you to run up to a specific distance to achieve your goal.
You can also sync the calories and fat burning data with the running app and monitor the number of fats burned during each run. Here are the most famous running apps that everyone can use.
Runkeeper is your best companion that allows you to set running goals, train them with customized training plans, track real-time pace, average pace, and overall progress.
Not just that, that app also monitors the number of calories burned and shows you in-depth data via pie charts, graphs and numbers.
You can also look into the map and discover new routes for running. I think this one is the best app for beginners that shows all the data that you need.
This app also measures the essential running aspects including, pace, distance, calories burned, time, etc. But this time, the app gets data from your fitness tracker and monitors your heart health during running.
Apart from this, Map My Run allows you to enter the food consumption and track the distance logged. This will automatically detect your run type, whether on a treadmill, jogging, hiking, or on a trail.
Here comes with a most advanced app which is your perfect running companion and offers guided runs. You can set different goals, and the app will track your pace, locations, distance, heart rate, elevation, and mile splits.
The other thing in this app is sharing your progress and stats in the runner community to get motivation. You can also see the progress of other people, challenge them and beat their record.
Final Words
You can't perform effective running without a smartwatch or fitness tracker. The Fitness tracker will track your data through sensors and sync it to the app to see all the insights.
All the devices mentioned above are smartwatches For Running Under $100. So pick that one which meets your need.
Check Out: Best Smartwatch Under $50