A best running watch is very crucial to get a wealth of information about your running. If you have set your fitness goals, then you need a Watch to track them properly.
The GPS-enabled running watches are your best companion that helps you to achieve your running goals. But to precisely track your journey, you need a premium mid-range watch.
We have collected 7 excellent running watches under $300 that come with many running tools and allow you to maintain a proper pace and speed during your run.
Also Check: Best Hiking Smartwatches
Best Running Watches under $300
After a couple of research and experience, we have found the Forerunner is the best Garmin's watch series for the runner. Their running tools are handy, and you will not find such premium tools in any other watch.
This multi-sports watch is comfortable, and you can wear it every time. Forerunner 245 has just 36g of weight which is too light as compared to other Garmin devices.
There are many premium features available, including GPS, VO2 max, advanced running dynamics, Pulse OX sensor, live tracking feature, Garmin connect, and more. All these features make Foreruuner 245 the best watch for running.
Why Forerunner 245 Is Best For Running?
Firstly, it offers an advanced GPS that tracks your speed, pace, distance, and other running metrics very efficiently. It includes the latest Running Dynamics feature, which is very useful for a runner. This feature allows you to track;
Contact Ground Time:

The total time you spend on the ground while running. This time is pretty short and measured in milliseconds.

Ground Contact Time Balance:

This is the balance between your right and left foot during ground contact time. This tracks your symmetry as you run.

Cadence:

The number of steps you take in a minute, counting both feet.

Stride Length:

This is another valuable metric measuring how far you travel with each right and left step.

Vertical Oscillation:

This tracks the amount of bounce in each step.

Running Power:

Measure your kinetic and potential energy.

Vertical Ratio: This one is the most critical metric that measures your running efficiency, based on how well you propel yourself in a forward direction.
Apart from this, another interesting thing here is a Garmin Coach, where you can set your running goals, and a virtual coach assists you daily to achieve your goals.
There is also stress tracking that notifies you when you feel down, so you can find the best times to rest.
Garmin Forerunner 245
Advance Running Dynamics

7 Days of Battery life

Garmin Connect

Aerobic activity tracking

Accurate GPS
Vivoactive series is the second most potent Garmin watch series that offers highly durable features. Because of unpredictable capabilities and advanced running tools, we put this wear on the second position.
Vivoactive 3 comes with 15-preloaded GPS sports modes that also include running. You can set goals in each sports mode, and the watch will efficiently track your goals.
Like Forerunner 245, Garmin Vivoactive 3 is also a pretty comfortable watch with just 39% weight. The bezel is coated with stainless steel making the watch extremely durable.
Does Vivoactive 3 Best For Runners?
Although there are not many running tools as compared to Forerunner 235. But still, Vivoactive 3 has enough capabilities to track your running effectively. With built-in GPS, you can set routes, track your speed, pace, distance, and more.
The watch tracks your Vo2 max performance during running, and you can see in-depth stats in the Garmin app. There is also wrist-based heart rate tracking that allows you to track heart health 24/7.
The best thing here is advanced stress tracking. The watch monitors your heart rate variability (HRV), which calculates and tracks your stress level. And you can find some best times to rest and perform mindfulness exercises.
You also have an option to sync your crucial data with Runkeeper, MapMyRun, other such running apps.
Lastly, Vivoactive 3 offers 7+ days of battery life so that you can track your fitness routine for a long time.
Garmin Vivoactive 3
Accurate GPS

VO2 max

15 preloaded GPS and indoor sports apps Garmin Pay

Garmin Connect
Here comes another Forerunner family member, which has a pretty stylish and modern looks because of side buttons. It comes 1.23-inch with 215 x 180 pixels resolution.
This advanced Gramin watch offers Virtual pacer, GPS, advanced running dynamics, stress score, recovery advisor, Strava suffer score, aerobic/anaerobic performance, move bar, and more.
Respiration tracking is the new additional feature in this watch that allows you to measure your respiratory health during running.
How Is Forerunner 735XT Best For Runners?
This Forerunner member is pretty similar to forerunner 245, as it also offers advanced runner metrics including; stride, vertical ratio HRM-run, HRM-Tri monitor, Ground contact time, and balance.
It has a feature called LiveTrack that allows you to track the location of your friends in real-time while you are on the run. Also, the LiveTrack feature will automatically detect your location when you start running, which means you don't need to use your phone.
Like other Garmin watches, Forerunner 735XT also monitors your calorie burn during running or any other physical activity. You can sync data with MyFitnesspal, Google Fit, Starve, Runkeeper, and more. But the Garmin app itself shows highly in-depth stats.
Because of high water resistance capabilities, this watch also tracks underwater activity very precisely.
Along with these features, there are many things to explore, like sleep tracking, stress tracking, steps counter, Garmin Pay, Garmin Connect, Garmin Coach, and more.
Garmin Forerunner 735XT
Advance Running Dynamics

Accurate VO2 max

Garmin Connect

Aerobic activity tracking

Accurate GPS
Fitbit Sense
Fitbit Sense is the most potent Fitbit's flagship that comes with an advanced SpO2 sensor to measure your every single activity more precisely. This beautiful watch comes with a stainless steel ring and super AMOLED display with corning Gorilla Glass 3.
Sense is packed with an ECG app, skin temperature, advanced sleep-tracking, stress management, built-in GPS, and other basic smartwatch features.
With built-in 20+ sports modes, you can also track your running in real-time.
The reason I put this watch on our list is its in-depth activity tracking. You will see how deeply the Fitbit Sense measures your running and other fitness activities. And the Fitbit app is also too good that shows highly visualized data to help you in understanding running stats.
How Fitbit Sense Is the Best Running Watch?
No doubt, Fitbit Sense is the best smartwatch for running, as it can automatically start tracking your running. You can also set running goals, and built-in GPS it allows you to set routes.
The best thing in this device is Active Zone Minutes that measures the number of calories burned in zone minutes. So the more Zone minutes you earn, the more your performance will be. This is the best feature for Runner that allows them to keep an eye on calories burned.
During an outdoor run, the watch will track your real-time pace, distance, and show a map of your workout.
After running, you can find heart health via the ECG app, and the watch itself notifies you about high and low heart rates.
Whenever you feel, stress the watch will automatically detect it and notifies you so that you can find some best times to rest and perform some mindfulness activities to reduce stress. There are plenty of guided meditations available in Fitbit Sense.
For more premium features, you must buy Fitbit Premium, and it comes with a free 6 months trial.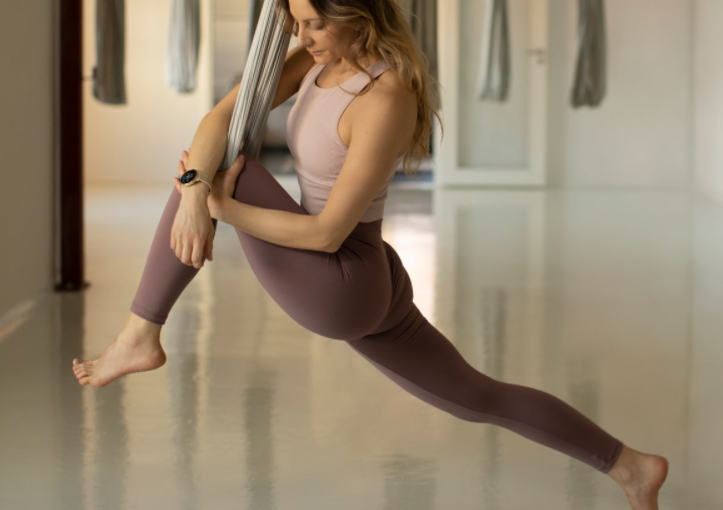 Here comes the last but most powerful GPS running smartwatch. You might be familiar with Polar, a brand with decades of experience that offers high-quality watches.
Polar Vantage M is a multisport watch with many running tools that encourage every athlete to buy this watch.
With the new Fitspark feature, you will get ready-made daily workouts that match your readiness, recovery and training history. With a running program, you can set your goals that the watch will guide you on how to achieve your goals effectively.
What are some advanced Running features in Polar Vantage M?
The watch offers a new Running index feature that tracks maximal oxygen uptake (VO2max) during running.
The running index score helps you to see how efficient your running was and improve your aerobic running performance. Running index features use heart rate and pace, resting heart rate, and maximal heart rate data to calculate an overall result.
Polar Vantage comes with over 130 sport modes, and the watch will automatically detect a few modes. If you feel tired, then you can use Serene breathing exercises to calm down your mind.
Its most exciting feature is training load pro, which tracks your high-intensity exercises, including GYM. The feature calculates your cardio load and muscle load from training data. Additionally, there are many new features to explore in this fantastic watch.
POLAR VANTAGE M
Integrated GPS

Training Load Pro

More advance running tools

130 Sports modes

Bright display
Best Running Apps That You Should Try
If you want to see more deep analytics of your daily running, you need to sync your smartwatch with the most prominent running app. The app lets you set daily goals, shows you some extra data, guides you to achieve the plan, and more.
These three apps are the best running apps, and the smartwatches mentioned above are compatible with these apps.
Runkeeper: This is the most favorite running app used by almost every athlete. I strongly recommend this app to newbies because it's too easy to use and navigate. Runkeeper allows you to do a lot of things.
Map My Run: In this app, you will get some extra functionality. The app can specify the type of run, whether you are walking or on a treadmill. You can set fitness goals, routes for your daily run, and the app will track your pace, distance cover, and speed, etc.
Pumatrac: This time, you will get an extra weather tracking feature, while all other features are pretty much the same as Runkeeper. The app has a really simple and easy-to-use interface but has several additional features.
Final Words
Maintaining a balanced pace while running is not an easy job, so you should have the best running smartwatch that helps you to do running effectively. Most true fitness athletes always prefer to use a running watch with built-in GPS.
Above mention, smartwatches are pretty cool for running, and we have to do a lot of research then put these watches on our list, and you can choose any of them.
Note: All the above mention smartwatches are below $300. If you pick any of them from our link, it helps us to make some pocket money:)

Read More: Best Smartwatch Under $50