Apple Watch 7 is the latest flagship watch that offers many new updated features than its predecessor. Apple Watch 7 offers a large OLED display and the latest WatchOS 8 software, giving a more fantastic experience.
It brings all the valuable health-tracking features that allow you to keep an eye on your daily fitness routine. From sleep to respiration and stress, you can monitor anything you want. The latest sensors give more precise and immediate results of your ECG and blood pressure.
Apple Watch Series 7 comes in 41mm and 45mm models, and both offer GPS and cellular variants. This article will compare both Apple Watch 7 GPS VS Bluetooth models to quickly decide which one you should go for.
Apple Watch 7 GPS VS Cellular: Comparison Table
Features
Apple Watch 7 (45mm GPS)
Apple Watch 7 (45mm GPS + Cellular)

Price

$479

$579

Device type

Fitness/Sports smartwatch

Standalone, Sports smartwatch

Versions

Apple Watch Hermès, Apple Watch Nike+

Apple Watch Hermès, Apple Watch Nike+

Dimensions

4

5mm x 38mm x 10.7mm

4

5mm x 38mm x 10.7mm

Weight

38.8g

38.8g

Bezel Material

Bazeless

(

Ion-X Glass, aluminium), Bezel Less

Strap Size

24mm

24mm

Water resistant

IPX7/5ATM

IPX7/5ATM

Swim-proof

Yes

Yes

Dust-proof

Yes

Yes

Display

Display Size

1.9"

1.9"

Display type

LTPO OLED

LTPO OLED

Display nits

1000

1000

Display Resolution

484 x 396 pixels

484 x 396 pixels

Always on

Yes

Yes

Custom watch faces

Yes

Yes

Connectivity

Bluetooth

V5.0

V5.0

Bluetooth calling

Yes

Yes

GPS

Yes

Yes

NFC

Yes

Yes

Wifi

Yes, Wi-Fi 801.11 b/g/n

Yes, Wi-Fi 801.11 b/g/n

Cellular Connectivity

No

Yes

Sim type

None

e-sim

Memory

RAM

1GB

1GB

ROM
32GB

32GB

Sensors

Accelerometer

Yes

Yes

Altimeter

Yes

Yes

Ambient light

Yes

Yes

Barometer

Yes

Yes

Compass

Yes

Yes

ECG

Yes

Yes

Gyroscope

Yes

Yes

HRM

Yes

Yes

SpO2

Yes

Yes

Activity Tracking

Sleep tracking

Yes

Yes

Blood pressure

No

No

Blood Oxygen

Yes

Yes

Calories tracking

Yes

Yes

ECG tracking

Yes

Yes

Fall detection

Yes

Yes

Steps

Yes

Yes

Floor climbed

Yes

Yes

Stress tracking

Yes

Yes

Menstrual cycle

Yes

Yes

HR tracking

Yes

Yes

VO2 max

Yes

Yes

Sports Modes

Yes

Yes

Battery

Battery type

Non-removable Li-ion battery

Non-removable Li-ion battery

Battery timing

18 hours

18 hours

Solar power

No

No

Charging time

30 mins – 1 hr

30 mins – 1 hr
Apple Watch Series 7 GPS VS Cellular: Main Difference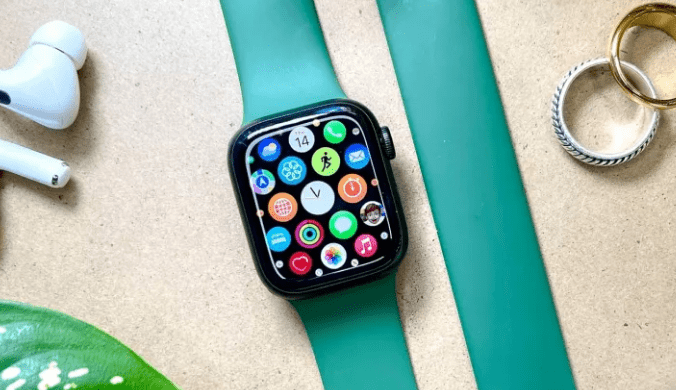 The cellular model of the Apple Watch 7 makes it a standalone smartwatch. It has a sim slot so you can insert the sim into it.
With cellular models, you can make calls, reply to a text, and use the internet without connecting your watch with your smartphone. You have the freedom to install apps, use the internet, and more, no worry whether your iPhone is nearby or not.
On the other hand, Apple Watch Series 7 GPS model can do all these things, but it requires a stable iPhone connectivity or Bluetooth connectivity. But still, you can connect it with wifi to use the internet or install apps.
In a nutshell, with cellular models, you can go on runs, hiking, or do any other outdoor sports without keeping your iPhone with yourself. The watch automatically gets notifications and makes calls undefended by your iPhone.
Apple Watch Series 7 GPS VS Cellular: Price
There is a price difference between the Apple Watch Series 7 GPS and cellular model. The cellular model is a bit more expensive than GPS because of its extra standalone capabilities. Here is a price table of all Apple Watch Series 7 models.
| | |
| --- | --- |
| GPS Model | Cellular Model |
| 41mm: $399 | 41mm: $499 |
| 44mm: $479 | 45mm: $579 |
So if you have a budget, the Cellular variant should be your priority as it gives you more freedom to use smartphone features on your watch.
Apple Watch Series 7 GPS VS Bluetooth: Design
Apple Watch Series 7 comes with a more premium look and a larger 1.9-inch display. In both GPS and cellular models, you will get Aluminium bezels, but the Cellular model also offers stainless steel and titanium variants which are expensive.
The Aluminium models come in blue, green, starlight, and midnight colors. At the same time, stainless steel material is bailable in space grey, graphite, space grey, and gold colors.
So in the case of the cellular Apple Watch 7, you have many options to choose from. Especially if you want more durability, stainless steel bezels are more recommended for you. Similarly, titanium and stainless steel look more luxurious than Aluminum.
Apple Watch Series 7 GPS VS Cellular: Battery Life
Now, most people think that the cellular variant of the Apple Watch 7 drains more battery, but this is not the fact. Both GPS and Cellular models come with a 309mAh battery that gives an average battery life of 18 hours.
But when you use cellular functionality, it uses more battery. But the fast charging support makes your life much easier, and it takes 45 minutes to charge your Apple Watch from 0 to 80%.
Similarly, both GPS and Cellular variants give 11 hours of battery timing on workout mode. So, you can ignore the battery comparison before choosing between cellular and GPS versions.
Apple Watch Series 7 GPS VS Cellular: Family Setup
If you want to give your Apple watch to your family member or buy a new Apple Watch and doesn't have an iPhone, they can still use Apple Watch to make phone calls or send SMS with the family setup feature.
You have to set up a family setup feature, and they can use it. Untethered. From your iPhone, you can also control the Apple Watch of your family member, like change the watch face, install apps, get fitness data records, and more.
Unluckily Apple Watch GPS models lack this feature; you will only get this family set up in the Apple Watch Series 7 Cellular model.
Apple Watch Series 7 Carrier Support
If you have a cellular version of the Apple Watch, then its cellular only works if you have the same carrier as your iPhone has. If your carrier doesn't support Apple Watch, its cellular watch is useless for you as you can't use its standalone capabilities.
That's why you should look for carrier support before purchasing a cellular Apple Watch 7. Similarly, you must also check whether cellular features are functional in your region or not, as cellular will only work for specific areas.
Here is a complete detail of Apple Watch 7 carriers and regions. Make sure to check your area and carrier before making any decision.
New Things To Explore In Apple Watch Series 7
Apple always gives something new and exciting with every new flagship watch. Similarly, with Apple Watch 7, you will get updates that make your life much easier.
Apple Watch 7 gives a larger display, QWERTY keyboard, 41mm and 45mm variants, different dustproof certification, and extra fast charging support. So let's discuss all these features one by one.
1- Larger Display:
The large display is more convenient to read and navigate, especially for the elderly. It's a big plus. When you are on the run or doing any outdoor activity, you can see stats or insights of your activity with just one glimpse.
A larger display creates more room for the QWERTY keyboard, so you can quickly type replies without any discomfort.
Plus Apple Watch 7 also has a 40% slimmer border that gives a more premium feel and an easy viewpoint.
2- QWERTY Keyboard:
QWERTY keyboard is a new addition to your Apple Watch that allows you to reply to texts directly. In previous models, you had to install third-party apps like Flicktype and WatchKey to use the keyboard and reply text.
3- Apple Watch 7 Comes in 41mm and 45mm Variants
Apple always focuses on its customers' needs and satisfaction; that's why it introduced the Apple Watch in 41mm and 45mm sizes. You can buy the best size watch according to your wrist size and comfort zone.
4- IP6X Certification:
Apple Watch Series 7 is more durable and best for outdoor enthusiasts because Apple has added IP6X certification. It is coated in a thick crystal cover which is 50% thicker than the previous Apple Watch 6.
5- Extra Fast Charging Support:
Apple Watch 6 also has fast charging support, but the Watch 7 charger is much quicker than that. Apple claims that the fast charging in Watch 7 is 33% faster than Watch 6. It takes only 45 minutes to charge your watch from 0 to 80%.
New Things In WatchOS 8:
WatchOS 8 is the latest Apple Watch operating system that gives a much faster and smoother performance. The OS is upgradable to the 8.4 version. The excellent news is WatchOS 8.0 is also supported on previous Apple Watch models down to Watch 3.
In WatchOS 8, you will get many new things that make your Apple Watch 7 more worthy and valuable. So let's discuss all these new updates one by one.
1- New Watch Faces
With the new OS update, you will get new fantastic watch faces that add more value to your Apple Watch 7. WatchOS 8 added Portraits and World Time that are becoming more famous watch faces.
2- Wallet
With new upgrades, you will get digital keys. You can add a digital car key to unlock your car if you have a supported model. Similarly, a house key can help you open your home door from your wrist. You can also share digital keys with your family members.
3- Mindfulness
With the new watchOS, 8 Apple has remained the Breathe app to mindfulness app with a more relaxing animated theme. The short and thought-provoking article helps you improve your thought process and reduce your stress levels.
4- Home App
Apple makes home apps more eye-catching with some new features and animated icons. The home also becomes more smart and intelligent, e.g., when someone rings your bell, the watch suggests you're to unlock the door and turn on the lights.
The interface also becomes very beautiful. You can see the temperature, home light status, and more on your wrist. You can also connect your home cameras and audio kits with a home app.
5- New workouts
Apple has added new workouts for fitness lovers. You will see new activities like Pilates and Tai Chi.
6- Respiratory rate tracking while sleeping
Your Apple Watch with the latest OS monitors your respiratory rate while sleeping. This feature will help you track your sleep and deeply improve its quality.
7- Advance cycling features
Cycling is becoming more popular in the USA; that's why Apple also improved the cycling mode in WearOS 8. Now your watch can automatically detect if you're out cycling. Plus, Apple has also added fall detection for cycling that sends SOS to your emergency contacts in case of any incident.
8- Better Apple Wallet App
Previously you could make payments from your Apple Watch, but now it can do more than that. Your flight tickets, sports event passes, and COVID 19 passports and certificates will appear within the wallet and can be screened from your watch.
9- Improve Messaging support
In WatchOS 8, users get scribbles to compose the messages, plus you can also add emojis while in the scribble view and send Gifs. This time Apple has also added the Contacts app on watchOS, making it easier to select contacts for messaging.
10- New hand gestures control
Apple has also introduced some new gestures that work with motion sensors to answer calls, control an onscreen pointer, etc. The same feature is also found in Galaxy watches, where you can close your watch with your palm.
Physical Features
Because of new physical features, Apple Watch 7 is the most practical version of the Apple Watches. Its bigger display and slimmer bezels have made it the most usable standalone smartwatch yet.
Its design has one physical button, a touchscreen, and a digital rotating crown with hepatic feedback.
When it comes to displaying size, it has a 1.9 inches bigger display than its predecessors, which allows you to see your progress and metrics more clearly and quickly.
Apple Watch 7 is packed with an LTPO OLED screen with 484 x 396 pixels resolution. Due to these resolutions, you'll get a crisp and bright image even in the direct sunlight.
In terms of durability, both models are fantastic. Sapphire crystal glass covers the display of titanium and stainless models, while the Ion-X glass covers aluminum models.
Looking at its IP rating, it is 5 ATM IP rated, due to which it is swim-proof. It is also rated IPX7 dust resistant.
Fitness And Health Features
When it comes to the fitness and health features of the Apple Watch 7, it has all the essential and unique features that help you stay healthy and fit. Its powerful apps allow you to live a healthier lifestyle.
First, let's talk about its health features. So, the most important health feature of the Apple Watch 7 is its advanced and improved ECG app. This app provides you the important information about your heart health.
Secondly, it has the heart rate notifications feature. Because of this feature, the watch will check for unusually high or low heart rate, which could be the signs of serious underlying conditions.
The Irregular rhythm notifications feature allows you to check for signs of irregular rhythms that may be suggestive of atrial fibrillation.
This feature uses the optical heart rate sensor to detect the pulse wave at your wrist and look for variability in beat-to-beat intervals when you are at rest. If the sensor repeatedly detects an irregular rhythm suggestive of AFib, you'll receive a notification.
Also, one of the breathtaking innovations with the Apple Watch 7 is its blood oxygen monitor, which helps you understand how well your body is absorbing the oxygen. This feature also allows you to take the reading day and night.
With the new Reflect feature in the Mindfulness app, you can take a moment to reflect. This feature includes animated animation, written prompts, and soothing, which guide you to be more mindful and sharp.
Apple cannot ignore the menstrual cycle tracking feature for women's health tracking. So, in the cycle tracking app, you can log daily information about your menstrual cycle.
Now let's talk about the fitness feature of the Apple Watch 7. So, with this watch, you can tap into dozens of workouts and can track all the ways you move.
You can advance your goals with Apple Fitness+ and see your progress and metrics more clearly and quickly on the larger display.
In the fitness department, what we like most is Activity Rings. Using this feature, you can move, exercise, and stand. These three rings show all the ways you move throughout the day.
If someone is curious about your activity, you can also share your activity rings with that person to encourage them. Also, you can invite your family or friends to compete in a seven-day activity challenge.