Are you worried and Want to make the battery life of your Apple Watch Series 6 last longer? In this article, we will go through 14 ways that can help you to save battery life on Apple Watch Series 6.
With each new collection and update, Apple aims to make significant changes to their devices, and this issue would be resolved by them soon by the company.
For a long time, Apple Watch has been successfully monitoring your health. It is the best smartwatch currently available on the market.
However, a few issues with the smartwatch can interfere with your daily activities. With its amazing features and capabilities, Apple Watch is frequently criticized for its battery life.
If you are one of those criticizers, and your Apple Watch's battery is draining faster than usual, then you are at the right place.
To fix the issues of battery drain in the Apple Watch 6, you can try various troubleshooting techniques. These suggestions will not only increase battery life but also improve performance.
So, without any further ado, let's dive straight in!
Why is My Apple Watch Series 6 Battery Draining So Fast?
When Apple releases a significant operating system update, some users report that their batteries for iPhones and Apple Watches deplete faster than previously.
The Apple Watch has a relatively short battery life compared to competing smartwatches.
Because an Apple Watch only lasts 18 hours, you'll need to charge it every day. Like many other smartwatches and fitness bands, it doesn't have a built-in sleep tracking app because most people charge it overnight.
So, if your Apple Watch Series 6 battery is draining or you want to know how to extend the life of your battery, keep reading for our insider advice.
How Much Battery Life Should I Get With My Apple Watch Series 6?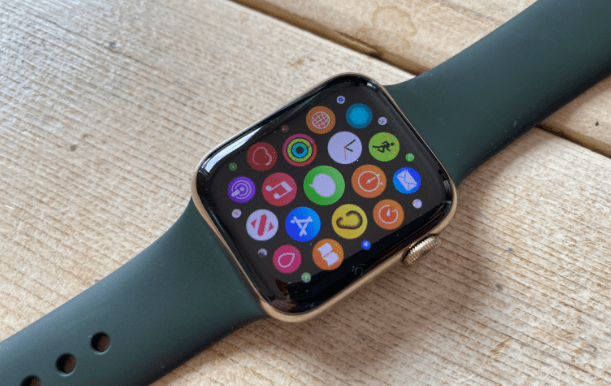 Since its release, the Apple Watch has proven to be a major smartwatch player, dominating the market each quarter.
Apple claims that the Apple Watch can last up to 18 hours on a single charge. This has been consistent from the Apple Watch Series 1 to the Apple Watch Series 6, unlike other Apple devices.
All-day battery life of 18 hours is based on the following types of use for the series 6;
90-time checks
90 notifications
45 minutes of app use
60-minute work with music playback from Apple Watch via Bluetooth
All this usage over 18 hours
As you can see, various things influence the battery life of the Apple Watch. When you add in unoptimized settings, heavy apps, and other features, you can end up with dramatically varied results daily.
Be aware that hardware issues rarely lead to a reduction in battery life. In 99 percent of cases, the source of these issues will be a software issue.
How Can I Save The Battery On My Apple Watch Series 6?
If your Apple Watch battery drains quickly after an update, It could be due to unmanaged times, wake screen, too many background programs, screen brightness, or it's a consistency issue after an update.
Because everyone uses their Watch differently, there is no one-way solution to Apple Watch battery life issues. There are, however, several things you can do to get a few more hours of use out of a charge.
We'll go through all of the methods you can do to extend your Apple Watch battery life, and you may choose the ones that work best for you.
So, if you're having trouble with your Apple Watch's battery life and want to fix the issue, you also want to protect your expensive gadget.
Read on to know how to fix it with only a few tweaks:
1- Check all Activities
It's essential to keep an eye on all of your Apple Watch's activities. It has been observed that it continues to run even after you have finished using a Workout app. So keep an eye on your built-in Workout app or any third-party software that tracks your workouts.
The fitness app could be one of those still operating, causing the Apple Watch battery to drain more quickly. After you've completed an activity, remember to touch the End button.
2- Recovering and Resetting
If all else fails to extend the battery life on Apple Watch 6, you can reset it to factory settings. All of your settings and material, including apps, Music, and workout history, will be erased if you do this. It's as if you're beginning over with your phone. As a result, make sure to back up your data to iCloud ahead of time.
Open the Settings app, go to General -> Reset, and then press Erase All Content and Settings to reset your Apple Watch to factory defaults.
3- Restart your Apple watch series 6
Here's how to get your Apple Watch Series 6 up and running again:
To begin, press and hold the side button on your Apple Watch Series 6 for a few seconds.

Next, select Power Off from the drop-down menu.

Wait a few seconds, then tap the Digital Crown on your Watch to turn it back on.
4-Install and update Apple watch series 6
Updating to a new software version fixes bugs and software glitches, which can help your Apple Watch Series 6's battery life issues. The most recent update for the Watch is version WatchOS 6.1. You can do this on your Series 6 or on your iPhone to see if an update is available:
Go to the Settings menu.

Select General.

After that, select Software Update.

Check to see if your watchOS is up to date. If not, when a new update becomes available, install it.
To proceed with installing the new update, make sure your Apple Watch Series 6 is connected to its charger or has at least 50% battery life.
5- Set up as new
This is a key step in resolving the Apple Watch Series 6 Life issue by unpairing the Apple Watch from our iPhone and repairing it. Follow the steps below to accomplish this:
From your iPhone's Home screen, open the Apple Watch App.

Next, tap on the "My watch" option, or if you've given your Watch a name, such as your name, tap on it.

Select I next to the Apple watch's name with a tap.

Unpair Apple Watch by tapping and selecting it.

A timely message "To use this Apple Watch again, you'll need to repair it," it advises.

Select Unpair Apple Watch from the menu.

If asked, enter your Apple ID password to confirm the activity.
After you've completed the un-pairing process, follow the on-screen instructions to repair your Apple Watch Series 6 and link it to your Apple iPhone device.
6- Disable Always-On Display feature
As this is a new feature only available on the Series 6, the Always-On display function is most likely the source of the battery life difficulties. Because a display that is always on consumes most of the battery on your Watch 6, it drains it more quickly.
To see if this solution genuinely solves the problem, try it:
On your Apple Watch Series 6, go to the Settings tab.

Select the Display & Brightness tab with a tap.

Tap the Always ON tab and select it.

Toggle the OFF switch to turn off the Always-On Feature.
Disabling the Always-On function can be advantageous in some situations. Still, it can also be problematic at times, especially around bedtime, because it not only shines on your face, making it difficult to sleep, but it also uses up a lot of your battery life when you're not using it.
7- Streaming Music on Apple Watch
Listening to Music on your Apple Watch drains your battery quickly. Download some music to the Apple Watch in advance, as the Watch has 8-16 GB of storage to save battery life.
On your iPhone, open the Watch app.

Select the My Watch option.

Add Music from Playlists and Albums by tapping Music.

You can also go straight to your library and add songs by tapping.
8- Turn Off Wake Screen on Wrist Raise
If you're familiar with Apple Watch battery efficiency, you already know that display consumption is a major factor in draining your Watch's battery. The longer the display is on, the faster the battery drains.
You don't want the screen to turn on every time you pick up a cup of coffee or adjust your glasses. It's a good idea to disable "Wake Screen on Wrist Raise," especially if you spend a lot of time on the computer or lifting things.
You can set a time limit for the display to wake up if you don't want to disable 'Wake Screen on Wrist Raise completely.' It takes no more than ten seconds to take a quick look at the screen to check the time or notifications.
To turn off the wake screen on wrist raise, follow these steps:
On your iPhone, open the Watch app.

Select "General" from the "My Watch" tab.

Select "Wake Screen" from the menu.

Press the "Wake for 15 seconds" button.
9- Brightness can be adjusted
The battery life of the Apple Watch is affected in the same way as the screen brightness of the iPhone is affected. There's no need to set the screen brightness to 100% unless you're wearing your Apple Watch in direct sunlight.
10- Disable some few push notifications
Sending many notifications to your Watch can also reduce your battery quickly. Only the most important notifications should be enabled.
On your iPhone, open the Watch app.

Select "Notifications" from the "My Watch" tab.

Tap each app mentioned on the Notifications tab and choose whether or not it should deliver notifications. "Mirror my iPhone" is the default setting in certain apps. Change the location to "Custom" if this is the case, and you'll be able to fine-tune the notifications.
11- Background App Refresh should be turned off
Apps can share data between the iPhone and Apple Watch when Background App Refresh is enabled, ensuring that they always have the most up-to-date information when needed.
Of course, this impacts battery life so that you may disable the feature entirely or select specific apps.
On your iPhone, open the Watch app.

Select "General" from the "My Watch" tab.

Select "Background App Refresh" from the drop-down menu.

Swipe the button at the top of the screen to the left on the Background App Fresh page to entirely of the feature. Alternatively, you can enable and disable particular apps so that just the most essential apps to you are automatically renewed.
12- Avoid talking on the phone or using a walkie-talkie
Making phone calls or using the Walkie-Talkie function on your Watch consumes more Power. A five-minute call will not deplete the battery.
However, if you want to be on the phone for much longer than that, it's best to make the call on your iPhone.
13- Turn On Reduce motion
On an analog watch face, the hands are the only thing that moves, but the digital screen on an Apple Watch is much more dynamic, such as when you move the screen to access icons.
Every action you take on your screen uses energy and drains your battery. Screen movements are reduced when Reduce Motion is enabled, saving some but not a lot of fuel for your battery.
14-Turn Off Hey Siri
When the display is turned on, your Watch is listening and ready for those two magic words, "Hey Siri." While asking Apple's assistant about the weather or if it can play your favorite song is extremely useful, you may want to turn it off if you don't use it frequently.
Although there are many other ways to save your Apple Watch Series 6 battery, keep things simple by following this basic rule:
Remove anything that you aren't using.
To sum up
If you stick to these steps, you'll be able to fix the problem of your Apple Watch battery draining quickly. We hope you can get your Apple Watch up and running again quickly.
Turning off the functions mentioned above on your apple watch series six can help you save and boost your battery timing.
Apple promise for 18 hours of battery, by switching off the always-on display and other third-party apps that keep on running on the background of your smartwatch even you switch off those that consume your battery.