Apple has recently added a new flagship in its smartwatch series, which is like a beast, and no one can outrank the new Apple Watch 7. From fitness and health tracking to GPS, it offers highly efficient performance.
On the other hand, the Fitbit Sense is also a top variant of Fitbit, offering most premium features that help you keep an eye on fitness levels.
Apple Watch 7 and Fitbit Sense have unique features like ECG, track workouts, SpO2, GPS, but both have different ways to track these things. So today we will compare both watches and which one is performed more efficiently? And which one has some additional features?
| | | |
| --- | --- | --- |
| Features | Apple Watch 7 | Fitbit Sense |
| Display | 1.8 inches Retina LTPO OLED | 1.58 inches color AMOLED |
| Weight | 44g | 45.9g |
| GPS | Yes | Yes |
| Water Resistance | IP68 50m | 50m |
| Storage | 32 GB | 4 GB |
| Mobile payments | Apple Pay | Fitbit Pay |
| RAM | 1 GB | – |
| Price | $399 | $299 |
Apple Watch 7 VS Fitbit Sense: Design
In design, both smartwatches follow their predecessor's format, although there are some minor changes that we will discuss in this section.
Apple Watch 7:
The look of Apple items hardly changed over the years. Watch 7 follows the design of its previous models, and there is a digital crown on the side that handles different functionality.
But if you look deeper, you will notice that Watch 7 has a little thick dial compared to the previous model. Following the tradition, Apple Watch 7 comes in two variants, 44mm and 40mm.
Both variants offer 5ATM water-resistant means you can wear it while swimming. The plus point in apple watch design is its premium quality material that looks so elegant and durable. You will get an interchangeable strap so you can change the watch design according to your outfit.
Fitbit Sense:
Sense also kept its formal design, but you will get an aluminum case this time, which is a big plus. Because of its sleek and slim design, I'm its big fan. The Fitbit Sense is the most Comfortable watch because of its 45g of weight.
You will get a button on the side that helps you to navigate and turn on activity modes. Fitbit Sense also allows you to change straps which is fantastic.
Because of its 5ATM water-resistant body, you can wear the smartwatch while swimming. Fitbit gives its full efforts to make this watch more durable, so we can't question its quality.
Apple Watch 7 VS Fitbit Sense: Display
You will get a vibrant display in both smartwatches that helps you to read the dial under direct sunlight easily. But in the display section, you will see some significant differences between both devices.
Apple Watch 7 offers a high-end display, and I think no one can compete with this display. It provides a 1.8″ Retina LTPO OLED display with 1000 nits (Peak), and a 1000 nits display is also present in iPhone 13 pro max.
With its 448 x 368 pixels resolution, you will get accurate and more vibrant colors that make the watch more worthy.
On the other hand, the Fitbit Sense comes with a 1.58″ OLED display that is also vibrant but can't beat the Watch 7 display. It has 336 x 336 resolution but 1000 nits that look more bright even under direct sunlight.
The touchscreen is pretty good in both watches, and the refresh rate of Watch 7 is a little high compared to the Fitbit Sense. But overall, in the display department, both models are offering valuable results.
Apple Watch 7 VS Fitbit Sense: Battery Life
Because of high nits and vibrant displays, no one smartwatch can offer a long-lasting battery life. Similarly, battery life also depends on other factors, including; GPS, fitness tracking features, and different sensors.
If you keep all the above factors in mind, we can say that Fitbit Sense has a powerful battery that can last up to 5-6 days. On the other hand, Apple Watch 7 offers all-day battery life that can last for 18-20 hours, so you have to charge the watch at night.
Fitbit Sense VS Apple Watch 7: Price
Apple watches are pretty expensive than competitors' brands, and this is because of their high performance and efficiency. Starting from $399 to $430, it's still the most expensive Apple watch. It also offers cellular in its models so that you can expect a higher price.
I think there is not a big difference between the Apple Watch 7 and its predecessor price. Watch 6 is available for $349, so $399 for Watch 7 is not a big deal.
On the other hand, Fitbit's latest smartwatch costs $299, which I think is reasonable if you compare it with its premium features.
Apple Watch 7
Excellent ECG App

GPS is very accurate

Comfortable

In-depth fitness tracking

Always-on Retina display
Apple Watch 7 & Fitbit Sense; Health & Fitness Tracking Features
Health and fitness features are the most crucial part of any smartwatch, and if your watch is losing in this section, it means it's not a worthy watch.
Apple Watch 7 and Fitbit Sense offer premium health-tracking features that help you achieve your daily fitness goals. So have a look at both!
Apple Watch 7
This time, Apple included many extra health-tracking features that come with an advanced electrical heart sensor and ECG app. The SpO2 sensor also performs more efficiently even though it can track your blood oxygen level underwater.
You have access to tons of workouts, Mindfulness exercises, Yoga trainers, and more. Further, you will get advanced sleep-tracking tools, respiration tracking, Pilates workouts, sports modes, 24/7 heart rate tracking, and more.
The big plus point here is efficiency and accuracy, and no other smartwatch can beat Apple Watch 7 inaccuracy.
Fitbit Sense:
Fitbit Sense is also an ornament for athletes and fitness lovers, and it can help you deeply analyze your activities and track your goals.
Fitbit Sense comes with an ECG app to track your heart health. The watch also follows the intake of oxygen in your blood, Sleep, heart rate, calories, and more.
The most exciting thing you will get in this smartwatch is the "Active Zone Minutes" features. With this feature, you can track your time spent in any heart-pumping activity. Greater the Active Zone Minutes more will be your performance.
Similarly, Fitbit Sense offers 20 different sports modes that help you track your outdoor and indoor sports and exercises effectively. You can see the in-depth data of your daily fitness activities on the Fitbit App.
Apple Watch 7 VS Fitbit Sense: Other Features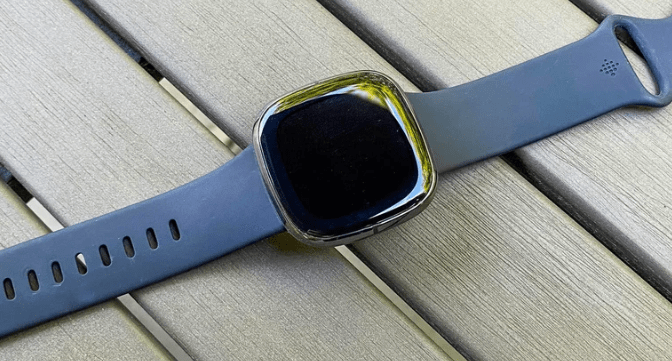 Apart from health and fitness tracking features, there are many things to explore in both smartwatches.
Both smartwatches offer storage for music, and you can install Spotify to make your playlist. Watch 7 offers 32 GB of storage, which is enough to store apps, songs, and other stuff. On the other hand, you can store up to 300 songs on Fitbit Sense.
With a built-in speaker and microphone, you can answer calls from both devices. But the Apple Watch 7 doesn't need any phone connectivity. At the same time, Fitbit Sense demands Bluetooth connectivity to receive calls.
Further, you will get notifications on both watches, and you can set alarms, stopwatches, see calendars, customize watch faces, and more. Apple Watch 7 offers more custom watch faces than Fitbit Sense.
Both devices offer built-in GPS systems, so you don't need to bring your smartphone with you while running or cycling to track distance or speed.
Final Words
Apple Watch Series 7 and Fitbit Sense are both premium fitness trackers offering tons of health tracking features. In some departments, the Apple Watch 7beats Fitbit Sense, while in the rest of the features, Fitbit Sense takes the lead.